When taking the stage at 'Love Rising' benefit, the 'My Church' songstress tells the audience that she brings her three-year-old son backstage to meet some of the show's participants.
AceShowbiz –Maren Morris continues to champion the LGBTQ+ rights. The country music star has performed at Nashville's "Love Rising" benefit in Tennessee amid the state's recent anti-drag legislation and she took the chance to introduce her young son to the community.
While taking the stage at the show which took place at Bridgestone Arena on Monday night, March 20, the mother of one said, "I brought my son here earlier today for soundcheck, and he's turning 3 this week, and we got to go in the room where all the queens were getting ready and doing their makeup. And he freaked out when he went in there because it's just magic what drag queens do. There's wigs everywhere, and the smell of hairspray and wig glue; there's glitter; everyone's in a good mood. It's just like a room of love."
"And we went back to my dressing room and my son is like, 'I need the queens!' I'm like, uh, you're looking at her?" Maren quipped. "And yes," she added, "I introduced my son to some drag queens today, so Tennessee, f**king arrest me."
The 32-year-old songbird took to Instagram on Tuesday to share photos and video from her appearance at the benefit shot that night. "Love rose up," she wrote in the caption. "Thank you Nashville, the gorgeous Queens and the LGBTQ+ community for showing up last night."
For the event, Maren rocked a black, long-tail suit jacket paired with a white shirt, black tie and black miniskirt. Following the show, she explained the meaning behind her look. "I asked [stylist] @danixmichelle to put me in a suit to demonstrate the subjectivity of drag and gender expression," she wrote on her Story.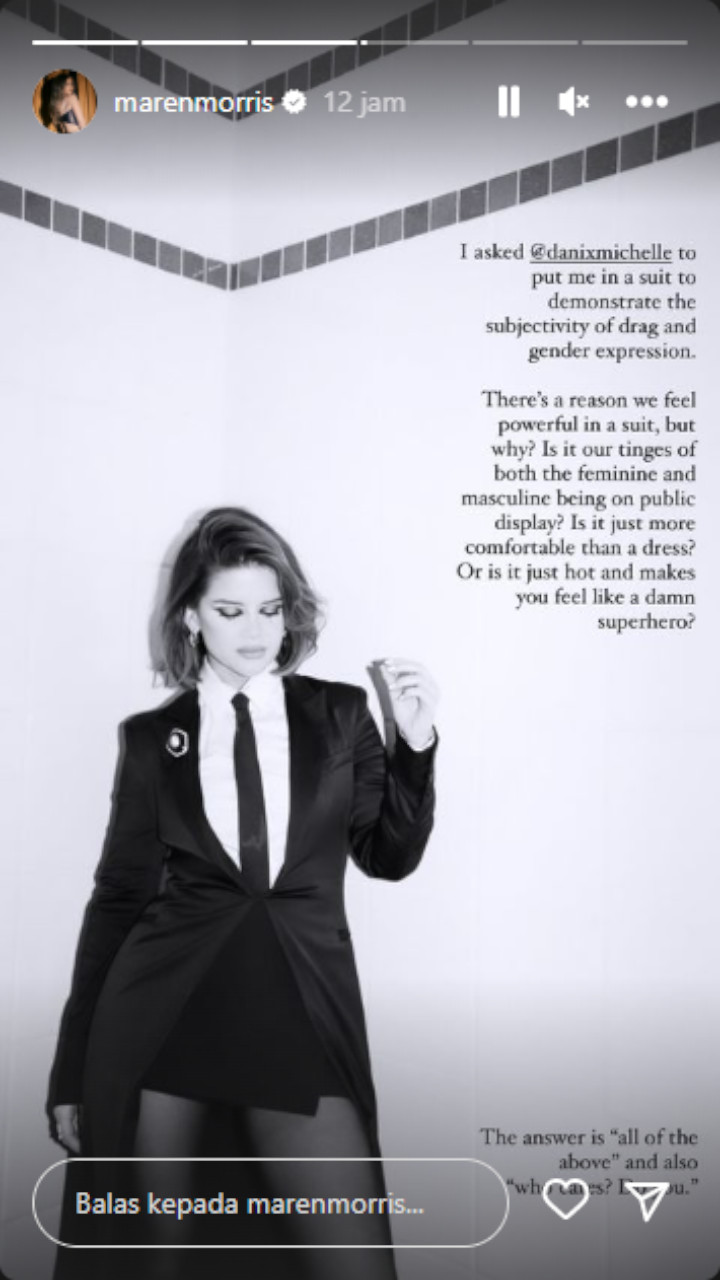 Maren Morris explained the meaning behind her outfit at the 'Love Rising' benefit.
Maren wasn't the only Nashville-based star who joined the benefit concert. Paramore's Hayley Williams, Yola, Sheryl Crow and Jason Isbell as well as Irishman Hozier took part in the event which aimed to protest recent state legislation aimed at cross-dressing performers, trans youth and same-sex marriage.
You can share this post!
Source: Read Full Article