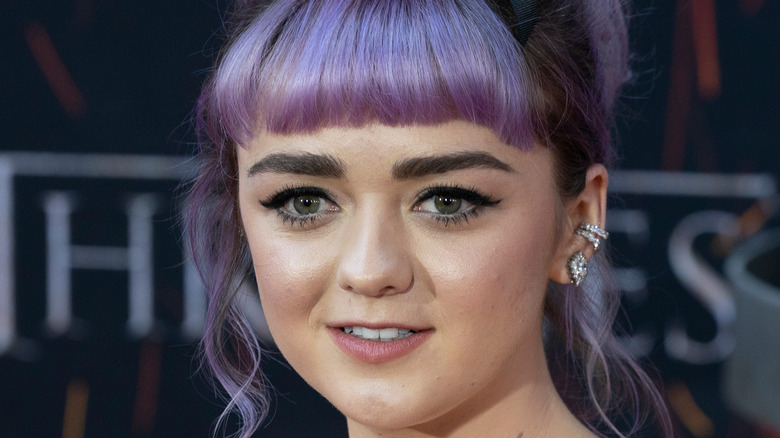 Maisie Williams has really graduated from the fur-lined coats and gray undercoats she sported in "Game of Thrones." The former Stark now accessorizes her constant hair evolution with a wardrobe that has a ratio of equal parts edgy and vintage. "In this new phase of my style it's nice to look more feminine, have a real waistline, and, you know, embrace the body I have," she told Vogue. However, the road to fashion icon-hood isn't an easy one to walk, especially when you're juggling indie movie projects and the paparazzi's expectations for street style moments. But after 2019, Williams didn't have to do it alone. She can be spotted coordinating artsy outfits with her boyfriend, Reuben Selby, who is as accomplished as Maisie at serving looks on and off the red carpet.
The two met as creative professionals, with Selby working as the Communications Director for Daisie, Williams' app for creators in 2018 (according to his LinkedIn profile). They've now been together for three years and Selby, a fashion enthusiast himself, is accustomed to matching Williams' outfit energy, creating a fashion power couple nobody can contest. Here's everything you need to know about the couple who is "the moment" right now.
Reuben Selby was Maisie's date to Sophie Turner's wedding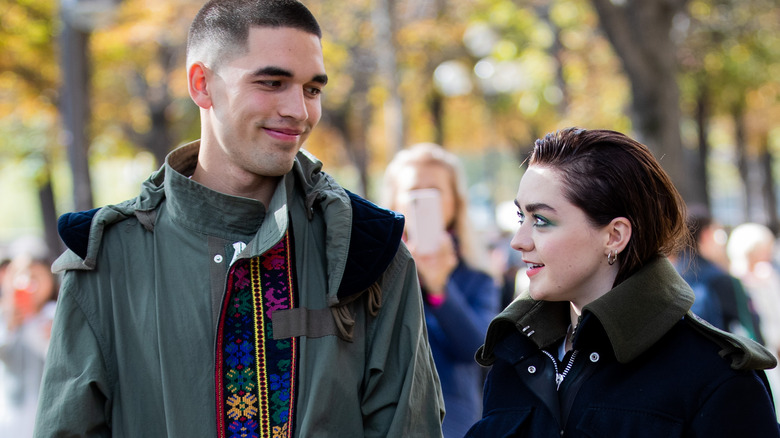 Reuben Selby's mid-2018 tweet, "This is super inspiring," about a Tech Crunch interview with Maisie could be seen as a strictly professional post. However, Daily Mail may have photographed the exact moment things took a turn from business to casual — just in time for fashion week. Williams and Selby were seen walking around New York City, holding hands in February 2019, just a month before they headed out to Paris Fashion Week (via Daily Mail). The two were still on their way to creating their signature couples uniform; Selby wore a melange of prints while Williams went with an all-grey checked set.
In June of that year, Williams' Instagram post held significance for three reasons: one, she and Selby were a step closer to being Instagram official and two, it was the first picture to mark the series of matching outfits that were to follow. Three, it was Sophie Turner and Joe Jonas' wedding and some may say their all-white wedding dress code for the guests got Williams and Selby hooked on coordinating.
Maisie's red carpet gown was designed by her boyfriend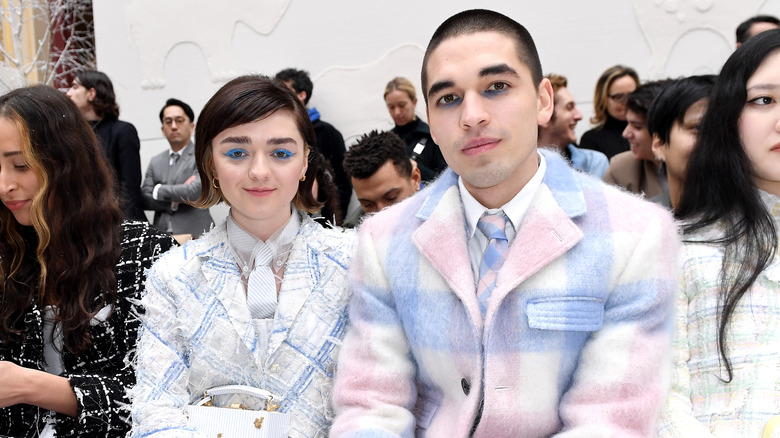 As a serial entrepreneur and creative, Reuben Selby took on Maisie's request for a dress enthusiastically. Maisie told Elle, "I asked Reuben if he would design something with me in mind; my height, my shape, my likes and insecurities. I love collaborating on the dresses I wear, I wish I could do it more. Being five feet tall it is almost impossible to wear something straight off the hanger." The dress in question was the asymmetrical piece featuring crystals and custom embroidery that Maisie wore to the Emmy Awards in 2019.
Selby believed the custom piece was the perfect collaboration with designer JW Anderson, "I think we have a similar way of visualizing things, which meant that when he saw the sketches he immediately understood the concept and what we were trying to achieve," Selby said. Selby also imbibed Williams' stye into the dress — she said, in an Instagram post, "Thank you for making my red carpet dreams come true — I felt unstoppable."
Maisie's heartwarming Instagram post made things official with Selby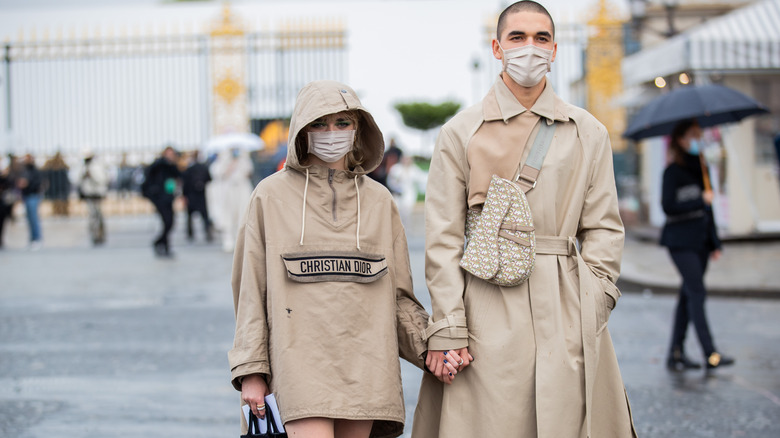 It was January 2020, and Maisie Williams made things super-official on Instagram with an adorable post. Surrounded by potted plants and plant daddy Reuben Selby, the series of pictures were captioned, "this year was the best (sic). i fell in love with a boy and i fell in love with myself." She continued, "i made time to do more of the things that bring me joy. 2020 will probably be filled with more days spent tending our pot plant children which sounds perfect to me. for anyone who needs to hear this: it starts with you and the changes you're willing to make. it's out there for you to take. so don't just seize the day, seize your life. happy new year."
The post began a series of coordinated appearances, a notable one was when they attended Thom Browne's show at Paris Fashion Week in March 2020 (via Insider). Both smudged blue pigment on their eyelids and wore pastel checked prints, Williams in a tweed suit and Selby in an overcoat. The pandemic added an extra accessory — the mask — to more outfits, like their appearance at the Jacquemus show in September 2020.
Reuben and Maisie have talked about marriage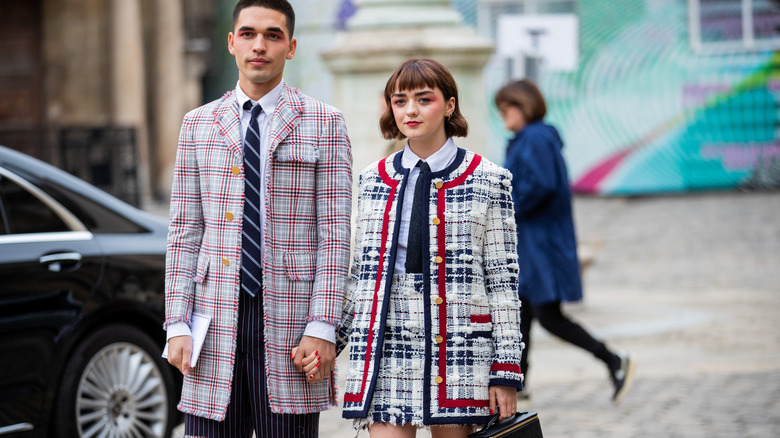 During the pandemic, Reuben Selby also made his debut into the world of fashion design with his eponymous brand. "Designing clothes and having my own line is something that I've always dreamt of," Selby told Vogue. "I started designing clothes when I was super young. What really pushed me to make it happen was the time that I had during lockdown. It made me realize that there's nothing stopping me other than myself." Maisie Williams also makes sure to show her support at all of his shows (via Left Oye).
Despited being on everyone's fashion radar, Williams and Selby moved out of London and into a home in Sussex (via Metro UK). She told Metro, "My idea of heaven is friends over, everyone in the garden, BBQ on, that's what we want to create. We have this lovely house, we want to build to make it more of our own, and we want to build a place…" Clearly things are getting serious. In a podcast "Table Manners With Jessie Ware," interview with Williams, the host's mother Lennie quipped, "You're almost married." To which Maisie replied, "Yeah, we're getting there, one day, maybe. Reuben, if you're listening! Joking. Yeah, I think so." She also mentioned that they had talked about marriage and that Selby would be the one to design the wedding dress! Getting abroad a ship has never been easier.
Source: Read Full Article