Lisa Rinna has said she is "a lot nervous" about her 20-year-old daughter Amelia Gray Hamlin dating father-of-three Scott Disick. Lisa did not keep her opinions to herself during the latest episode of "Real Housewives of Beverly Hills" on June 30, as she revealed her honest mother/daughter thoughts. Lisa's youngest child Amelia has been linked to Kourtney Kardashian's ex since October 2020, when she was just 19-years-old, per Page Six. Just two months prior, Scott was in another controversial relationship with Sofia Ritchie, per Cosmopolitan. Despite their 16-year age gap, the couple was together for more than three years, per Elle.
Scott previously defended his infamous relationships during the "Keeping up with the Kardashians" reunion, confessing he doesn't "go out looking for young girls," per Page Six. "They happen to be attracted to me because I look young. That's what I'm telling myself." While it's unclear how Amelia and Scott's courtship began, it's palpable the relationship has gone from strength-to-strength.
For Amelia's 20th birthday, Scott spoiled her with a diamond-encrusted chain and a signed Helmet Newton print worth $57,500, which reportedly made her cry. And on June 29, the pair was snapped on a date at Nobu in Malibu … with Scott's 11-year-old son Mason, per E! News While an on-looker said they all looked "super relaxed and happy," suffice to say after Wednesday's "RHOBH" episode, Lisa is not yet warming up to the idea of being a future grandmother-of-three any time soon.
Lisa Rinna recalled learning of her daughter dating Scott Disick as a 'what the f*** moment'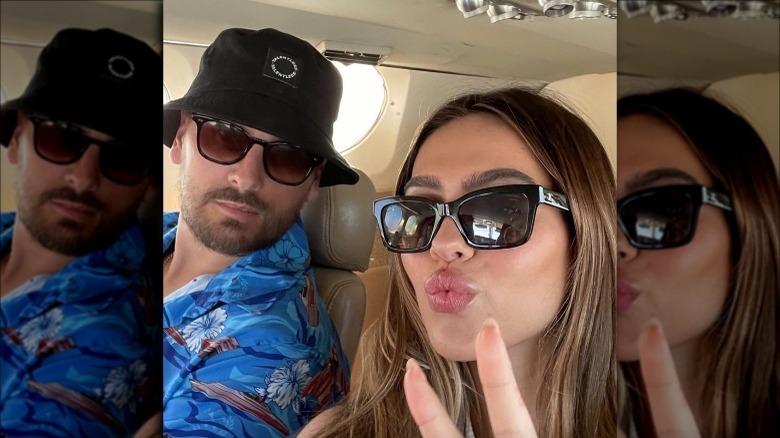 While Lionel Ritchie said he needed "a good drink" to fathom that his daughter Sofia Richie was dating Scott Disick (per E! News), Lisa Rinna has called her experience a "what the f**K moment," per E! News. The 57-year-old recalled her relationship discovery while driving with fellow Real Housewife Erika Jayne to buy Christmas decorations, and said, "She's 19 and he's 37 with three kids, hello!" At first she didn't believe reports, as daughter Amelia Gray Hamlin initially had insisted her and the "Flip It Like Disick" reality star were "just friends." Lisa continued, and said, "And then, I guess, a couple days ago, Amelia sends me a video of Amelia and Scott on the beach." 
Erika admitted she's "not the person" to take advice from regarding relationship age gaps, having met her-now estranged husband Tom Girardi when she was 28 and he was 50, but asked Lisa how her husband Harry Hamlin feels. Lisa explained that Harry was "more calm" about it as he believes it to be "just a phase." The actor was previously in a relationship with Ursula Andress when he was 28 and she was 44. 
And from one-on-one girl chats to full-blown mothers' advice group, Lisa received more stern words from other castmates about Amelia's new beau ranging from "he's too damn old" to a simple "hell no." But despite giving little approval, Lisa seems to have retained her sense of humor. She even asked the other housewives, "When I meet Scott Disick for the first time, do I need to call him Lord?" 
Source: Read Full Article