Kaley Cuoco's second marriage to Karl Cook ended with a big bang heading into Labor Day weekend. According to Us Weekly, Cuoco asked the court to deny Cook spousal support after she filed for divorce, but this certainly doesn't mean that there's any bad blood between the exes — Cuoco worked hard to earn her stratospheric net worth, after all, so why shouldn't she want to keep her money?
When Cuoco and Cook announced that they were separating after three years of marriage, they reassured fans that they were not parting ways with bitterness in their hearts. "There is no anger or animosity, quite the contrary," read a statement that they shared with People. "We have made this decision together through an immense amount of respect and consideration for one another." They also wrote that they would "not be sharing any additional details." However, you might remember what happened after Cuoco divorced her first husband Ryan Sweeting in 2015.
Their divorce announcement claimed that there would be "no further statement" on their split, but in September 2018, Cuoco told Cosmopolitan that Sweeting had "ruined" marriage for her. She also offered some insight into what went wrong. "I married someone the first time who completely changed," she said. "The person I ended up with was not the person I originally met." It remains to be seen whether she'll share further details about divorce No. 2, but she did just react to a photo of Cook on Instagram.
Is Kaley Cuoco going to have a friendly relationship with this ex?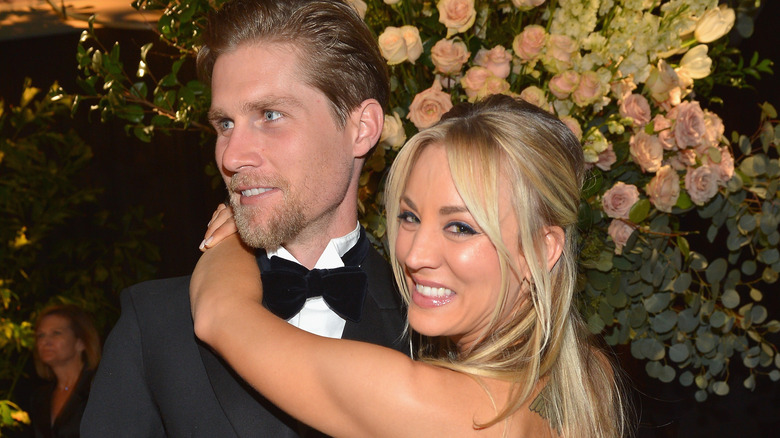 With one small action, Kaley Cuoco possibly proved that all that stuff about an animosity-free breakup just might be true. As reported by TMZ, she dropped a string of emoji — three hearts and a trio of raised hands — in the comments section of an Instagram photo of Karl Cook. The picture appeared on the account for Traverse City Horse Shows. It showed Cook and one of his show horses, Calliou, showing off the blue ribbon they won at a competition in Michigan. Cook told Equestrian Living that Calliou is "very difficult to ride," making his victory even more impressive.
Cuoco's display of support makes us wonder if she and Cook will have a post-split relationship like she and her ex Johnny Galecki have. "The Big Bang Theory" co-stars continued working together after their 2009 breakup, and Cuoco told Cosmopolitan that they "became best buddies." Galecki occasionally leaves funny messages on Cuoco's Instagram page. "If, God forbid, something happens to me can my child live in Karl's goatee?" he wrote in response to a photo of Cuoco and Cook, who was rocking some long, bushy facial hair (via Metro).
Cuoco and Cook seemed like such a perfect match due to their obsession with horses and rescue dogs, so forget math, science, and history — we'll be here trying to unravel the mystery of what went wrong with "The Big Bang Theory" star and the billionaire heir.
Source: Read Full Article