While television culinary pioneer Julia Child is rightfully viewed as a larger-than-life legend now almost 20 years after her death, she got her humble start in the early 1960s at Boston's public television station WGBH.
Her program The French Chef ran for a decade on the station and would go on to inspire other television chefs and even, eventually, the creation of the Food Network. Here's the recipe WGBH named its favorite from the iconic television personality.
WGBH, Child said, initially 'didn't have much mazuma' 
In her autobiography My Life in France, published posthumously in 2006, Child described the Boston station as a "fledgling" operation.
"It didn't have much mazuma," she wrote, "and was mostly run by volunteers. … [the show's producer] scrounged up a sprightly tune to use as our theme song. And after considering dozens of titles, we decided to call our little experiment The French Chef until we could come up with something better."
All the plans had been made for Child's television debut, and then quickly fell apart, when "WGBH's studio … burned to the ground right before we were going to tape The French Chef." 
Anyone else might have given up at that point, but Child and her husband Paul persevered, she wrote, thanks to The Boston Gas Company which  "came to our rescue, loaning us a demonstration kitchen to shoot our show in.
"I careened around the stove for the allotted 28 minutes, flashing whisks and bowls and pans, and panting a bit under the hot lights. … And with that, WGBH-TV had lurched into educational television's first cooking program," the chef recalled.
WGBH chose her Quiche Lorraine as their favorite Julia Child recipe
The public television station recently pondered the question of what Child's best recipe actually was.
"That's a debatable topic," an article on its website stated. "We decided to reach out to some of the chefs we know best — aka our colleagues here at GBH — to discover their favorite Julia Child recipes."
While it wasn't clear specifically which chefs had been consulted in picking Child's best dishes, her impressive collection of recipes was scaled down to five favorites, including chocolate mousse, roast chicken, boeuf bourguignon, and French onion soup. The top spot, however, went to her recipe for Quiche Lorraine.
"Child's Quiche Lorraine is a fool-proof recipe for a buttery and flaky crust cradling a rich and creamy filling that couldn't be more delicious, which is why employees at GBH voted it as their favorite," the article continued.
The site's senior editor stated for the 2020 article, "I like to make two at a time and keep one in the freezer for an easy midweek meal. It makes a hearty breakfast, or is substantial enough for dinner when paired with a green salad and a glass of wine — as Julia would appreciate!"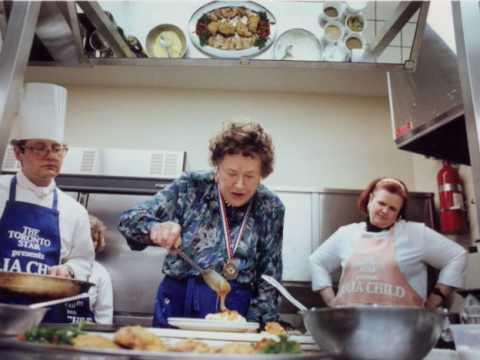 How to make Julia Child's Quiche Lorraine
Naturally, the celebrated chef's quiche recipe is available on WGBH's website. This simple yet elegant dish calls for bacon, "an eight-inch partially cooked pastry shell," eggs, heavy cream, salt, a "pinch" of pepper and nutmeg, and butter.
The bacon is browned and drained of fat, then placed in the pastry shell. Child's instructions call for the eggs, cream, and seasonings to be beaten together and then added into the shell, "just before baking."
The butter is diced "into bits" and spread over the cream mixture in the shell. It's placed in the oven at 375 degrees F on a baking sheet and baked for about 30 minutes until the quiche "has puffed and browned."
And the beauty of her dish is you can have it warmed up or enjoy it at room temperature.
Source: Read Full Article