Photos of the former NFL player in the buff while in the shower are up for at least 30 minutes on Instagram before a friend alerts the country music singer.
AceShowbiz –Jessie James Decker may need to apply a stricter policy on using phone to their children. The singer and her husband Eric Decker were barely saved from embarrassment after one of their kids accidentally took and posted naked pictures of the former NFL star.
On Monday, July 11, Jessie and Eric's 4-year-old son Forrest somehow got his hands on his father's phone. The boy snapped two selfies, which appeared to be innocent at first glance. However, after a closer inspection, Eric's followers noticed that he was there buck naked in the images.
One of the photos featured Forrest giving an innocent smile, while Eric was on the left, showering with his back and the side of his bum facing the camera. The second image showed the boy laughing, seemingly aware that his dad was in the corner in the buff.
The photos were up for at least 30 minutes on Eric's Instagram page before one of Jessie's friends texted her a screenshot to alert her of her son's activity. "I am not even sure if u know he has his phone but if u don't go grab," the concerned pal texted the country singer, which screenshot was uploaded on her Instagram Story.
"Omg," Jessie replied in shock, before taking back her husband's phone. She, however, seemed to find it hilarious rather than upsetting as she added a laughing emoji on her Story.
Eric himself laughed off the accidental post on his own Instagram Story. "Time to change the code…so much for letting Forrest watch his Avengers videos during my shower," he wrote.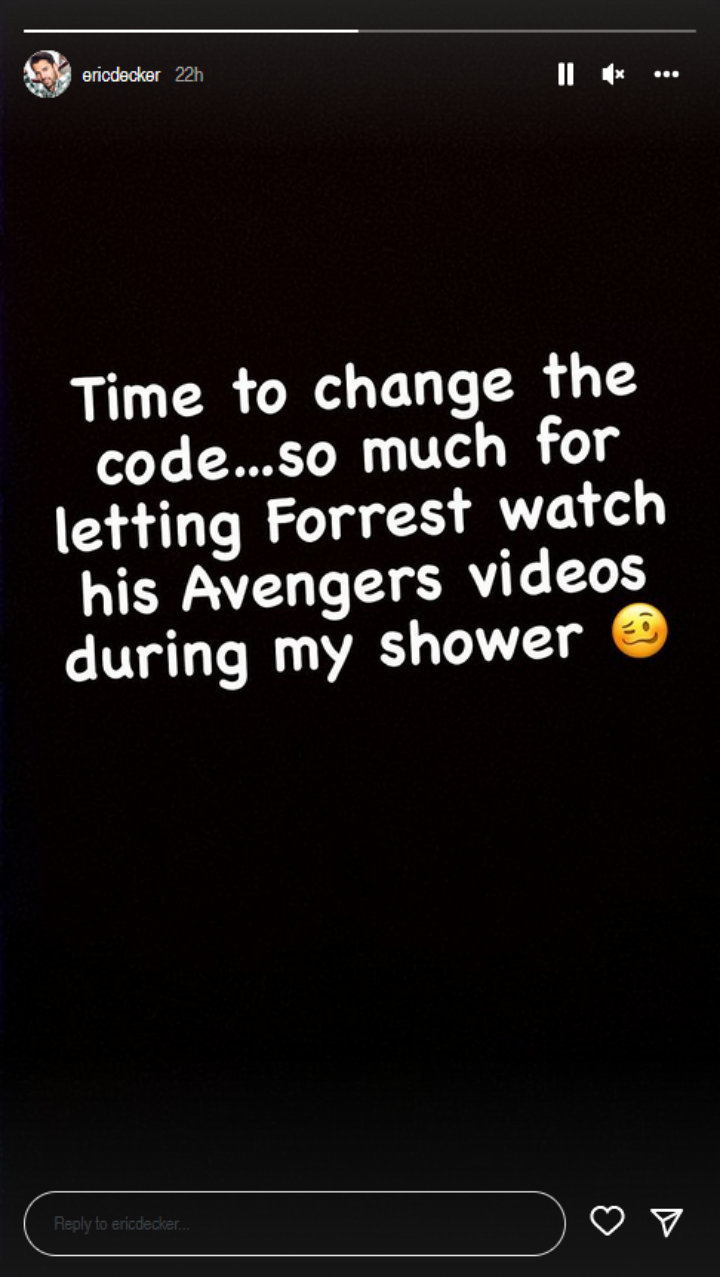 Eric Decker laughed off the accidental post of his naked pics.
This, however, isn't the first time a naked picture of Eric has been publicly shared. Back in March, Jessie herself posted a nude picture of her husband in an appreciation post to celebrate his 35th birthday.
In the sexy image, the former Denver Broncos wide receiver posed in his birthday suit by the pool while flaunting his sculpted figure. The "Boys in the Summer" songstress gushed over her husband in the caption, "The birthday boy In his birthday suit lookin like a statue from Greece. My man is 35 and aging like fine wine."
"Happy happy birthday to the love of my life, my best friend, my soulmate, my baby daddy, my ride or die," the 34-year-old mother of three went on declaring, before adding, "I'm so happy you were born today. I sure do I love growing old with you."
Source: Read Full Article