You may have noticed that Jennifer Lopez and Ben Affleck got married in Vegas this weekend in a simple / super-chill ceremony during which they waited with other random couples (IMAGINE BEING ONE OF THOSE COUPLES) for the chapel. And if this level of laid back sounds surprisingly off brand, please be advised that they have another, fully giant, wedding planned.
According to a People source, Bennifer "plan on having a bigger party so they can celebrate with family and friends. They don't have a honeymoon planned yet. Jennifer says that every day with Ben is a honeymoon. Ever since they started dating again, Jennifer has truly believed that this is it. She is looking forward to growing old with Ben. She is very happy and content with Ben. She couldn't ask for anything else. She thinks it's all perfect."
In other words, they're pulling a Kravis with the whole Vegas wedding + fancy second ceremony thing.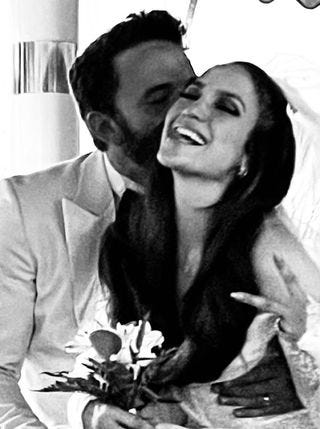 Meanwhile, TMZ reports that the second wedding will take place at Ben's home in Riceboro, Georgia, in just a few weeks. According to the outlet, Jen and her manager visited the home a while back to party plan—and get this: apparently their big Georgia wedding is almost identical to the one they were planning 20 years ago when they were first engaged.
Anyway! The house reportedly sits on 87 acres, and has 3 bedrooms and 5 bathrooms. TMZ has some pics if you're feeling nosy.
Source: Read Full Article