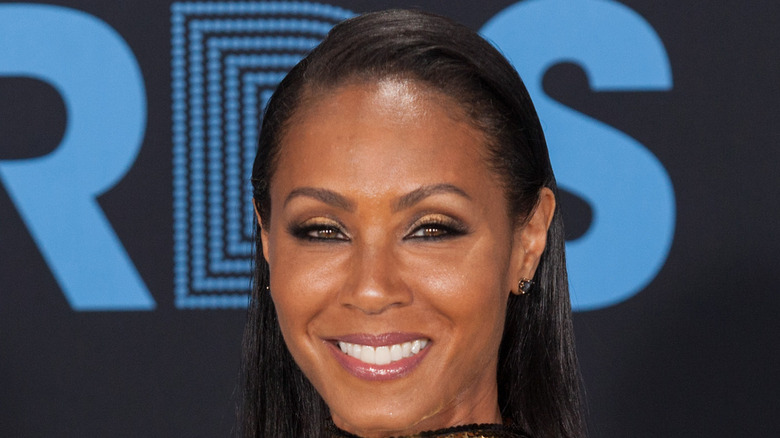 Jada Pinkett Smith is a bona fide fashion icon, having rocked many killer looks over the years. A well-established actress, who graced movies as wide-ranging as "The Matrix" series and "Magic Mike XXL" with her presence (via IMDb), as well as fronting legendary metal band Wicked Wisdom, Will Smith's wife and the dedicated mother of fellow visionaries Willow and Jaden Smith has also reinvented herself as a talk show host thanks to popular Facebook Watch series "Red Table Talk." 
Aside from drawing high-profile guests including Kristin Davis and Jordyn Woods, Pinkett Smith also utilizes the show to discuss her own issues, with remarkable frankness, frequently alongside Willow and her own mother. As People reported, back in 2018, the style icon opened up about her struggles with hair loss, admitting she was concerned about going bald since hair is a huge part of her identity. Pinkett-Smith has been rocking short cuts ever since but now she's gone even further.
Jada Pinkett Smith is confidently rocking her look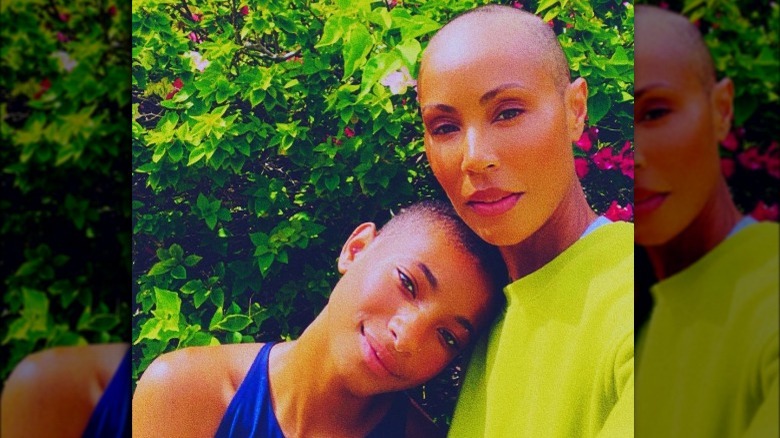 Although she's had buzz-cuts before, Jada Pinkett Smith decided to fully shave her head in solidarity with daughter Willow Smith. Taking to Instagram to share the stunning new look, the proud mother noted it was in celebration of her 50th birthday. "Willow made me do it because it was time to let go," she advised, quipping, "BUT … my 50's are bout to be Divinely lit with this shed." Willow posted the photo initially, advising sagely, "A gift is pure when it is given from the heart to the right person at the right time and at the right place, and when we expect nothing in return." It seems Pinkett Smith wanted to take back the power losing her hair stole from her. 
In 2018, she admitted on "Red Table Talk," via People, "It was terrifying when it first started. I was in the shower one day and had just handfuls of hair in my hands and I was just like, 'Oh my god, am I going bald?'" Pinkett Smith openly acknowledged that she really enjoyed taking care of her hair, and having that option taken away was heartbreaking. Medical professionals couldn't figure out what was going on, so the "Magic Mike XXL" star worked hard to put everything into perspective, advising things could be much worse, comparably. Thankfully, it seems she's turned a loss into a big win since it's tough to imagine anyone else looking this good bald (except maybe Willow). 
Source: Read Full Article