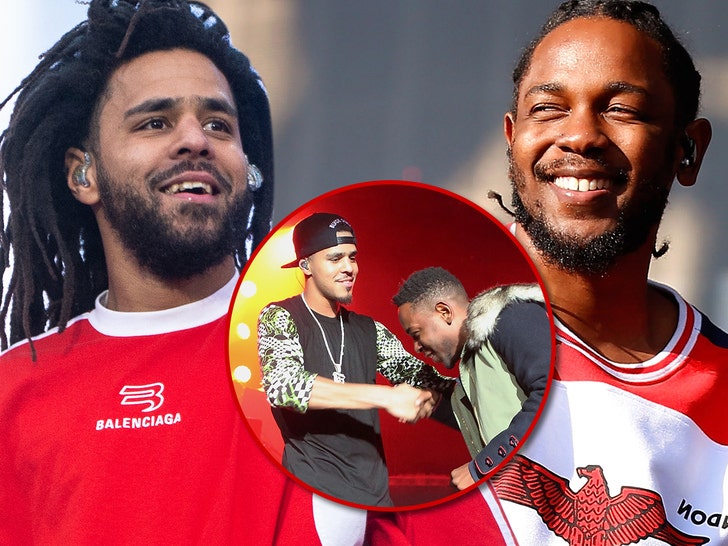 J. Cole and Kendrick Lamar could have predated super collab albums such as Drake and Future's 'WATTBA' and maybe even Jay-Z and Kanye West's "Watch the Throne" — that is, if the stars, moons and schedules aligned for them.
Cole looked back at a would-be K. Dot pairing that never materialized during his lengthy new podcast with Lil Yachty. — and he talked about why the rumored project never came to be.
Take a listen for yourself on his breakdown here — JC says the two formed a friendship in 2010 just as both of their future careers as hip hop legends were beginning to take off … and right off the bat, it sounds like there was chemistry between them in style and musical taste.
Neither MC had released an album just yet and Cole says he supplied Kendrick with several beats he made, with Dot even using one of them for his 2011 album "Section.80" on album anchor "HiiiPower."
The two teased fans even further by freestyling on one another's beats for Black Friday 2015 … but it's been radio silence ever since.
Cole says he and Kendrick would need a full year to make the project of their and fans' dreams and points out neither had the time to commit amid their growing careers — and family lives.
From the sounds of it, Cole and Kendrick put the idea to bed … although, if they were able to find a convenient schedule for both of them — perhaps the possibility to pick it back up again could resurface. J. Cole certainly doesn't seem opposed to the idea of a collab.
In the meantime, enjoy what they're putting out respectively … and keeping holding out hope!
Source: Read Full Article