While Kayleigh McEnany's tenure as Donald Trump's press secretary was short-lived, it seems she's remained a loyalist at her core. McEnany, who currently co-hosts the Fox News program "Outnumbered," dedicated an episode segment on September 8 to theorize that Dr. Anthony Fauci, the director of the National Institute of Allergy and Infectious Diseases (NIAID) and one of the most prominent figures in the fight against the coronavirus pandemic, is responsible for the spread of COVID-19.
Per Fox News, McEnany based her theory on a 900-page report obtained and published by The Intercept earlier in September which stated that an organization called EcoHealth Alliance "used federal money to fund bat coronavirus research at the Chinese laboratory." Included in the document were at least two grant proposals authored by EcoHealth Alliance which were also funded by the NIAID (the National Institute of Allergy and Infectious Diseases). According to The Intercept's … report, scientific research related to these studies was conducted in the city of Wuhan, China. (The possibility that COVID-19 originated in Wuhan has lead to an alarming surge in anti-Asian racism in the U.S., including a fatal mass shooting in March). So what did McEnany have to say about Fauci? And is there any validity to her wild claims? Read on after the jump to find out.
Kayleigh McEnany accused Dr. Anthony Fauci of lying while pushing conspiracies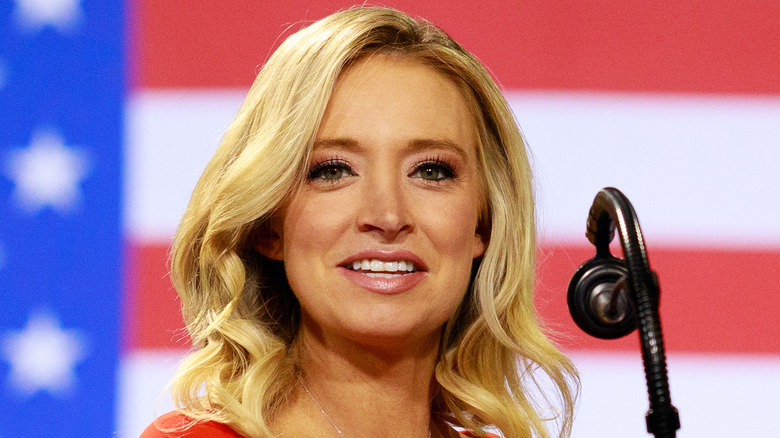 Highlighting Kayleigh McEnany's recent "Outnumbered" segment, Fox News emphasized the figure's main accusation against Dr. Anthony Fauci — that, in McEnany's opinion, Fauci "can't be truthful." "The truth would mean that very likely, if this did originate in the lab, U.S. taxpayer dollars helped to fund a pandemic that was unleashed upon the world out of a lab in Wuhan, China … when you read these 900 pages of documents that were obtained by The Intercept, the grant request actually acknowledges the dangers of this research," McEnany elaborated to her fellow Fox News co-hosts during the episode. Again, the whole thing is pretty wild.
McEnany then went further, accusing Fauci of outright lying to Congress in May after Sen. Rand Paul asked Fauci outright during a hearing at Capitol Hill if Fauci "[supported] funding of the NIH funding of the lab in Wuhan," per The Washington Post. At the time, Fauci rebuked Paul's claim, stating "Senator Paul, with all due respect, you are entirely and completely incorrect that the NIH has not never and does not now fund gain-of-function research in the Wuhan Institute of Virology." (Per The Intercept, none of the proposed scientific research was conducted at the Institute of Virology.) 
But even though McEnany's campaign against Fauci is nothing new — she made similar comments blaming Fauci earlier in the summer — it also seems her claims might deflect more pressing, current concerns related to COVID-19.
Dr. Fauci seems more concerned with curbing COVID-19 in the present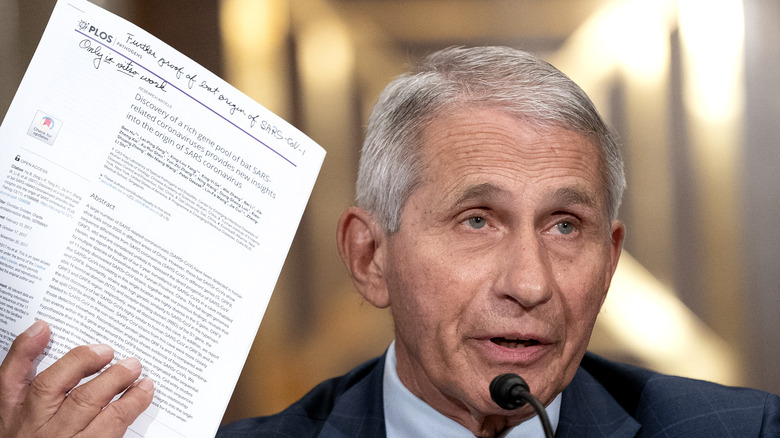 While Kayleigh McEnany's comments could give conservative conspiracy theorists yet another reason to rail against the Biden administration under which Dr. Anthony Fauci still currently serves, it might also aid in directing focus away from the current dangerous COVID-19 uptick in the U.S. — one due to a dangerous admixture of the delta variant spread and the anti-vaxxer movement. As Axios reported on September 9, Fauci told the media outlet that despite the initial de-escalation of the coronavirus spread earlier this year — one mainly due to the availability of vaccinations to begin with — the pandemic is not only far from over, but still lethal to millions. 
"The endgame is to suppress the virus," said Fauci. "Right now, we're still in pandemic mode, because we have 160,000 new infections a day. That's not even modestly good control … which means it's a public health threat." He then added that "in a country of our size, you can't be hanging around and having 100,000 infections a day. You've got to get well below 10,000 before you start feeling comfortable." 
It seems pretty outlandish to accuse Fauci of giant intricate plots instead of simply focusing on curbing the virus, but that's seemingly what's happening here.
Source: Read Full Article