It seems "The Talk" will have another seat to fill before the start of their newest season. The CBS talk show, which made headlines earlier in 2021 for the controversy surrounding former panelist Sharon Osbourne, is now down two co-hosts, as Elaine Welteroth has also announced she will not be coming back for the show's 2021-2022 season, reported Deadline. The news follows Carrie Ann Inaba's August announcement she would not be returning to "The Talk" following a hiatus she had from the show since April, per The Hollywood Reporter. And although Inaba departed "The Talk" after two and a half years on the show, Welteroth is leaving after having joined just in January. 
Executive producers for the show wished the author and former editor-in-chief of Teen Vogue well, stating, per Deadline, "We are grateful for her passion, enthusiasm, and insight she brought to the show daily." They also reportedly indicated they were hoping to fill at least one of the two co-host vacancies before the new season premieres on September 13. Deadline also reported that producers are looking for one of those seats to be filled by a "person of color."
But just why did Elaine Welteroth decide to leave "The Talk"? Keep scrolling to find out.
Elaine Welteroth is ready for a different dance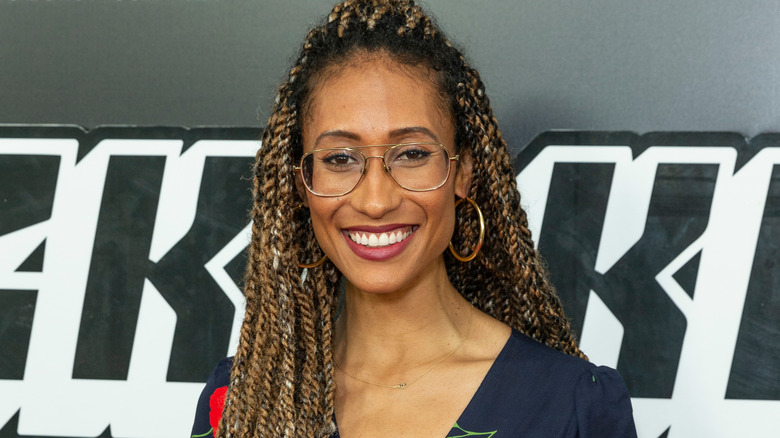 Elaine Welteroth became a permanent co-host on "The Talk" in January 2021 after having guest-hosted numerous times in fall 2020, reported Deadline. However, Welteroth has decided to leave the show, stating that she felt the environment had changed and it was time for her to move on. In a statement conveyed by Deadline, she spoke about how her time on "The Talk" was "an absolute honor" and cited how important it was for "a young Black woman to occupy space on-air where our perspectives are largely underrepresented." She also mentioned that her time on the show was "gratifying" because she could "show up" as her "authentic self in front of a live national audience every day."
However, the author and "Project Runway" judge also indicated that her time on "The Talk" was done, because the "music change[d]," so she had to change her "dance." She spoke about how she came to "The Talk" to get out of her own "echo chamber" and to try and "bridge some of the divides in our world through conversation and empathy." She went on to state that she was "proud of how I represented myself and my community." 
Although Welteroth will still be on TV weekly for "Project Runway," she hasn't indicated where fans can next see her, although she did hint in the statement that she had some "upcoming creative projects" and would be sharing details about them "soon."
Source: Read Full Article