Having been the top dog in Russian government for more than 20 years, Vladimir Putin is one of the most powerful people in the world. He is also one of the most reclusive. In June, Putin gave his first interview with an American news outlet in three years leading up to his meeting with President Joe Biden in Geneva, per NBC News. In the interview, the notoriously cold leader denied launching a cyberwar against the United States and denied ordering the poisoning of a political rival. "We have been accused of all kinds of things," Putin said during the sit-down with NBC News. "Election interference, cyberattacks and so on and so forth. And not once, not once, not one time, did they bother to produce any kind of evidence or proof. Just unfounded accusations." What a fun, lighthearted conversation.
While Putin mostly keeps to himself, a 2014 profile in Newsweek gave the public a glimpse into the leader's daily life. Per the report (via Insider), he rises early, swims for two hours, and then does a weight workout every day before heading to work. Putin likes to wear Kiton and Brioni suits with Valentino ties. Wherever he goes, he definitely doesn't look cheap.
So, how much money does Putin have to keep his designer wardrobe fresh? And where does he get it from? Read on for more.
Vladimir Putin's true net worth is a mystery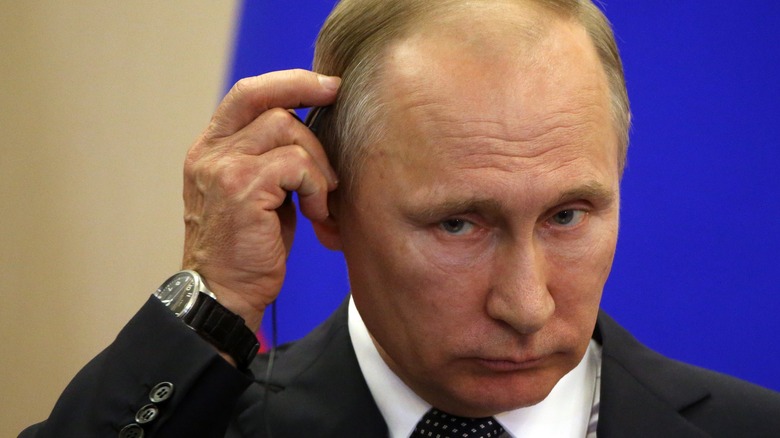 There are a few estimates as to Vladimir Putin's net worth. Celebrity Net Worth puts Putin's net worth at $70 billion, despite an annual salary of only $187,000. Bill Browder, the former CEO of Hermitage Capital Management, told the Senate Judiciary Committee in 2017 that he estimated Putin "has accumulated $200 billion of ill-gotten gains," per Fox Business. "[Putin] keeps his money in the West and all of his money in the West is potentially exposed to asset freezes and confiscation," Browder said. 
A spokesperson for Forbes told Town & Country that they simply could not determine an accurate figure. "While Forbes has been able to track money tied to Putin's allies," they told the magazine, "we have not been able to come up with a defensible, provable estimate of his net worth." Putin's former banker Sergei Pugachev — who had a falling out with the president and now lives in exile in France — echoed the same sentiment to The Guardian in 2015. "Everything that belongs to the territory of the Russian Federation Putin considers to be his," Pugachev said. "Everything – Gazprom, Rosneft, private companies. Any attempt to calculate it won't succeed. He's the richest person in the world until he leaves power."
So while we don't know how much money Putin has to his name nor how he obtains it, we do know he lives a life of luxury.
Source: Read Full Article