While it was a beautiful, star-studded night at the 2021 Met Gala, the event did not go off without a few hiccups, unfortunately. Case in point: Selenators mocking married couple Justin Bieber and Hailey Baldwin as they made their way through the crowds at the fundraising extravaganza. 
As you may recall, the history regarding the love triangle between Bieber, ex-girlfriend Gomez, and current wife Hailey Baldwin is long and riddled with strife mostly due to the celebrities' sold-out fans fanning the flames. Though Jelena called it quits for good in 2018, fans often go to great lengths to pit Gomez and Baldwin against one another. As reported by Page Six, in one particular instance, Bieber clapped back at an apparent internet troll who called for all Gomez fans to harass Baldwin online. "Go after, please, let's all go after her," the wayward fan pleaded before Bieber intervened. 
"This sad excuse of a human just encouraged people on video to literally go after my wife telling people to say that my previous relationship was better [and] so on and so forth," he responded about the vitriol. "It is extremely hard to choose the high road when I see people like this try and rally to gather people to bully the person I love the most in this world. It is not right," he lamented. Unfortunately, that was only one instance of many. Keep reading to learn all about the latest Jailey versus Selenators debacle.
Selena Gomez fans chanted 'Selena' at Justin Bieber and Hailey Baldwin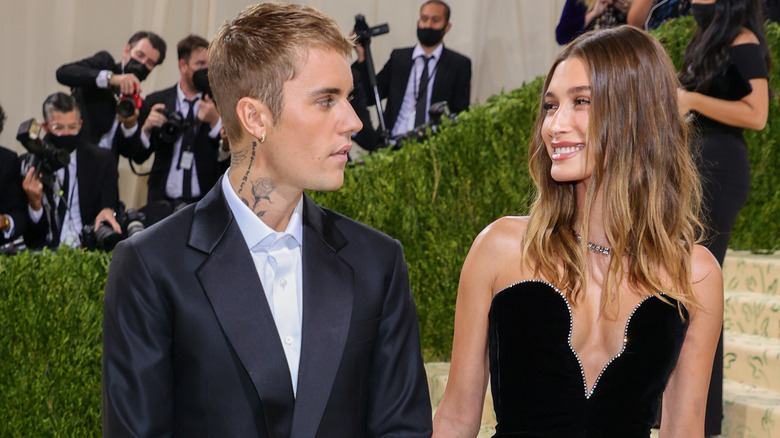 As reported by Page Six, Justin Bieber and Hailey Baldwin arrived to the highly anticipated 2021 MET Gala dressed to kill in coordinating black ensembles. While Bieber opted to dress himself in his own Drew House clothing line, which he aptly titled "La Maison Drew" for the night, Baldwin chose a dress by the French fashion house, Saint Laurent. 
It was while the young married couple sauntered the famous carpet, however, that they were met with a gaggle of die-hard Selena Gomez fans who started chanting "Selena" at them. Fortunately, it's reported that the pair was seemingly unfazed and unbothered by the schoolyard antics. Perhaps the "I Don't Care" crooner and his blushing bride really don't care.
There's still no word yet on how Gomez felt about her fans' shenanigans at the gala, but we can't imagine she was pleased. In fact, in the past, she's been known to call out her fans for their bullying. As reported by E! News during one particular instance wherein one fan was bullying another and even encouraging self-harm, Gomez took action right away, penning a direct and firm response. "This is ridiculous. … My fans don't do this to others. That's not what I stand for so you can gladly stop being a fan of me," she wrote. "I only encourage love, confidence, kindness." Right on, Selena!
Source: Read Full Article