Kim Kardashian usually goes alllllll the way out for Halloween, but apparently the vibe this year was more mellow. Meaning, she didn't spend hours/days/weeks putting together a super intricate costume and then stage a full blown professional photoshoot like other celebs (hi, Ariana Grande and Hailey Bieber). However! Kim did dress up for the Kardashian kids' Halloween party, and shared pics of her makeup look and part of her costume on Insta Stories. Which is how we know that Kimberly was what her makeup artist Ash Kholm described as a "sexy platinum cowgirl."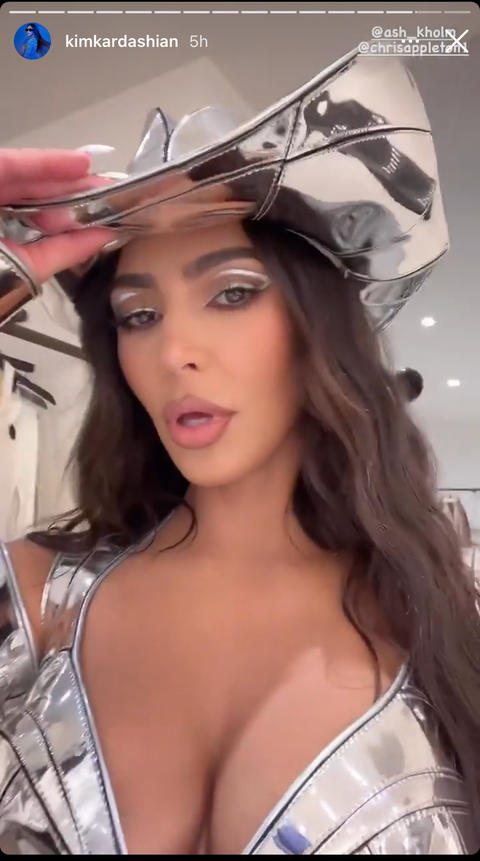 TBD on why Kim kept her costume relatively low key this year, but she has been busy fielding, ya know, some casual rumors that she and Pete Davidson are dating.
In case you somehow missed this absolute 2021 PLOT TWIST, Kim and Pete were spotted together at Knott's Berry Farm with some family and friends (including Kourtney Kardashian and Travis Barker). And in a pic published by People, Kim and Pete could be seen fully holding hands while going down a roller coaster—prompting a ton of excited panic/speculation that they are dating. Though, 1) maybe they were just scared and wanted to hold hands for spooky solidarity, and 2) according to multiple sources / eyewitnesses, the vibe between them was purely friendship.
"They hang in the same circles so they will be together from time to time. "It's just friends hanging out," one source told People, while a seperate eye-witness told Us Weekly that "Kim and Pete seemed like good friends. Kim seemed very chill. It did seem like she was trying to hide."
Cool cool cool, though reminder that Kim and Pete did share a brief kiss when she hosted Saturday Night Live a few weeks ago. Just! Saying!
Source: Read Full Article