If you think making lasagna isn't possible on a weeknight, think again.
Food Network star Giada De Laurentiis' Skillet Lasagna is the easy, quick, and delicious way to have the classic casserole any day of the week without all the work.
De Laurentiis' Skillet Lasagna 'is here for you'
On her lifestyle and food blog Giadzy, De Laurentiis heralds this simple spin on the beloved Italian casserole.
"[W]hat if you could get [lasagna's] gooey, cheesy, hearty goodness in less time than it takes to watch an episode of Game of Thrones? This skillet lasagna is here for you," she writes. Prepared in "a heat-proof skillet that can go from stovetop to oven, … you'll be shocked at how quickly it comes together. Get ready to make lasagna your go-to weeknight dinner!"
The chef's easy lasagna cooks up quickly and easily
With no-boil noodles, spicy Italian sausage, spinach, and three kinds of cheese, De Laurentiis' skillet wonder results in a flavorful, hearty, and just-as-delicious-as-the-original kind of meal.
To start, the chef combines ricotta cheese, spinach, and Parmesan cheese in a bowl and sets it aside. In an oven-proof skillet, she browns the ground beef, adding diced onion and garlic and cooking until tender. Finally, tomato paste, crushed tomatoes, dried oregano, and water are stirred in.
Here's where it takes on more of a resemblance to lasagna: the Italian-American chef spoons out some of the meat mixture to make room for the casserole's classic layering effect.
Break the no-boil noodles up to fit the pan and arrange them in a layer on the simmering sauce. Top with some of the reserved meat, followed by a layer of the cheese mixture and shredded mozzarella cheese. Repeat these layers, ending with more mozzarella.
Finish it off by baking in a 375-degree F oven for about 40 minutes.
You can find the complete recipe and reviews on Food Network's site.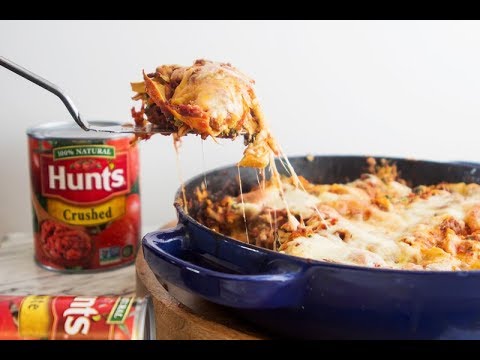 Reviewers loved how quickly De Laurentiis' Skillet Lasagna happens
De Laurentiis' very doable lasagna recipe is done in a flash, as reviewers on Food Network's site noted.
"I have watched Giada's Show a thousand times and have never made a recipe until now. This lasagna is fantastic and not time-consuming. Thanks, Giada!," one reviewer wrote.
Another home cook added, "This Lasagna was amazing!  I am not one to write a review usually, but this had so much depth of flavor and quite easy to make that I had to share. My entire family loved it!!!!"
One reviewer discovered the skillet lasagna tasted even better a day after making it: "Very good! I even had it for lunch two days after since we had leftovers and didn't mind eating it again and again!"
Lastly, a fan of the recipe summed it all up saying, "Not a lasagna fan, but this recipe is a winner! Easy to find ingredients and easy to swap ingredients to what you prefer. I used good quality cheeses, as well as a good jarred sauce. This made all the difference. Literally stovetop to oven. Great for when you have guests. This recipe is a keeper…"
Source: Read Full Article