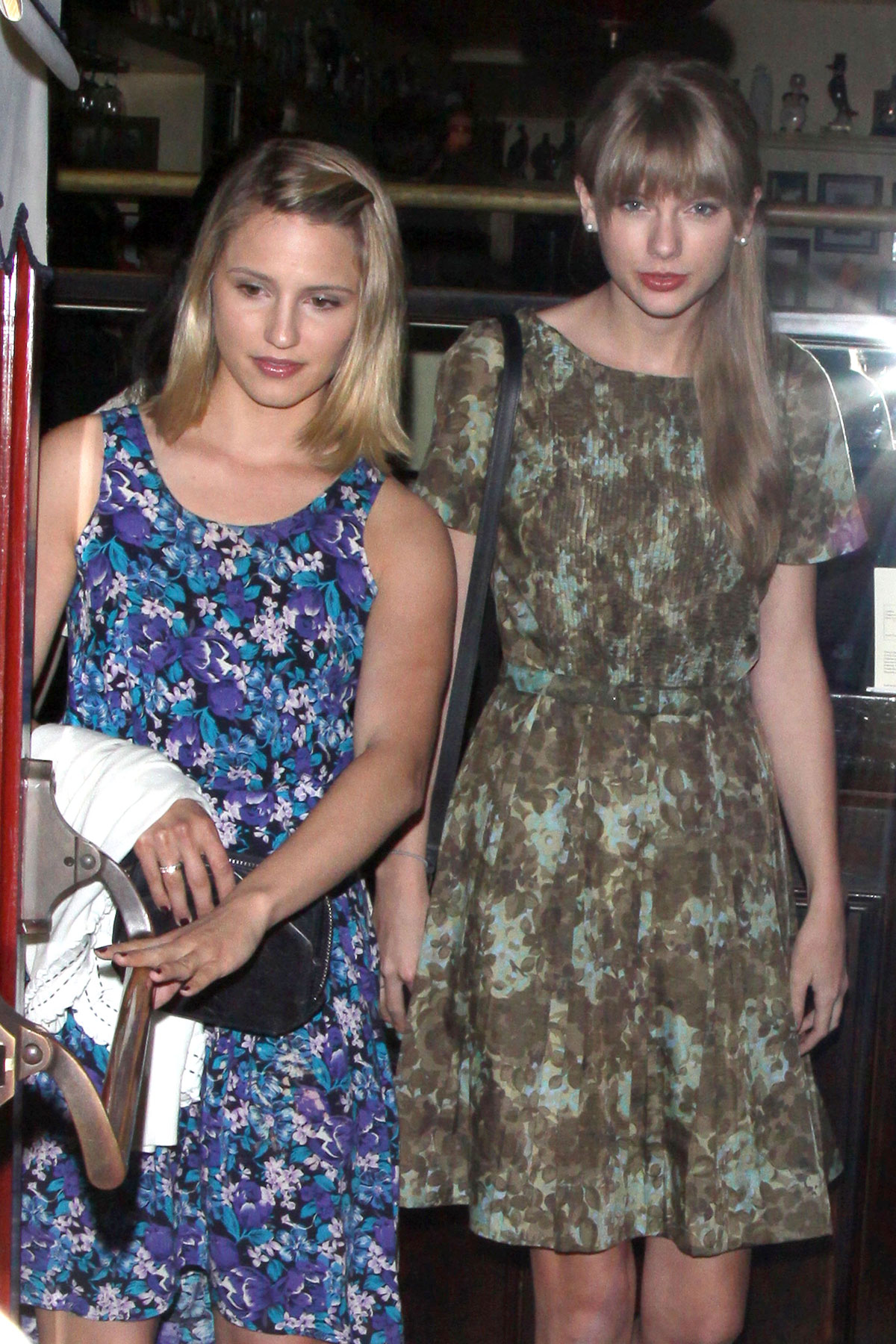 Dianna Agron is a truly low-key, easygoing celebrity. She's been working steadily in indie films and when she's not on the promotional circuit we don't hear too much about her. Dianna did an interview with Rolling Stone that was mostly about her time on Glee, her upcoming film Clock, and the fact that many of her recent roles have been as Jewish characters (Dianna is Jewish). The whole interview is worth a read. But right at the end, there was a little back-and-forth about Taylor Swift, and the long-rumored relationship between Taylor and Dianna:
Rolling Stone: You have inspired music as well, since you're in the liner notes as one of the inspirations for Taylor Swift's song "22."
Dianna: Me? Oh, if only! That's more because of a friendship than being the inspiration for the song. But I would not be the person to ask about that. I cannot claim that!

RS: How do you feel about the way that friendship was covered in the media? You two were shipped.
Dianna: Shipped?
RS: You two were made out by the media and some fans to be in a relationship.
Dianna: That is so interesting. I… I mean, there have been many stories about my dating life that are so wildly untrue. That's funny.
[From Rolling Stone]
What do we actually know about Taylor and Dianna? They were friends for a few years in the early 2010s, around the dawn of Taylor's #squad. And that's how Dianna refers to it in the interview–as a 'friendship'. It's an awkward exchange though, right? She seems taken aback, but you'd think she would have heard the term "shipped" before. And back in 2012, Jimmy Kimmel asked Dianna if she was dating Taylor. So it's not the first time she's been asked about it, but it has been a while. She laughed it off then, too. She also blew a kiss to the camera and said "hi Taylor," clearly joking–but that would have been enough for some fans to "ship" them.
There's been speculation about Taylor's sexuality in some corners of the fandom for a while. I think a couple of things are going on with that. I think Taylor does write some songs to be open to many perspectives ("Betty" being a prime example–it could be about a gay or straight couple, and it makes sense either way). A lot of her songs can be read as queer. But some of Taylor's fans see 'easter eggs' where they want to see them. You have to squint–or be familiar with a bunch of clues and theories from fan forums–to see the 'hidden meanings' in these songs.
It reminds me of how in Old Hollywood, there was a rumor that the actresses Marlene Dietrich and Greta Garbo were lovers. Marlene was openly bisexual, but Garbo was reserved about her relationships. The evidence for this rumor is pretty thin on the ground–it sticks around just because people want it to be true. And that's how I feel about a lot of these rumors with Taylor Swift and her female friends, like Dianna or Karlie Kloss. Sure, Dianna and Taylor would have been a cute couple, and could have borrowed each other's Ted Baker dresses. But I'm not convinced.
Embed from Getty Images
https://www.instagram.com/p/CsB7LKGAQ6l/
Photos credit: David Tonnessen, PacificCoastNews.com/Avalon, MPP/Avalon, Getty and via Instagram. Candids of Taylor and Dianna are from 2012
Source: Read Full Article