Update 9/12/21: More info has emerged about Machine Gun Kelly and Conor McGregor's fight on the VMAs red carpet. A source tells Page Six they "got into a fight at the top of the carpet" and "had to be pulled apart." Apparently, Conor threw his drink at MGK, security had to get involved, and "everyone was screaming."
Another source added that Connor "was ready to throw fists" and "security was having trouble holding him back."
Somewhat amusingly, Conor's rep has denied that a fight occurred despite the literal photos and video to the contrary, saying "Conor only fights fighters."
Original article: 9/12/21: The 2021 VMAs red carpet has mostly been pretty chill and kinda horny (hi, Kourtney Kardashian and Travis Barker), but it looks like *checks notes* Conor McGregor and Machine Gun Kelly got into a fight on the red carpet. Like, they had to be physically held back by the people around them.
not MGK getting into a fight at the VMAs red carpet pic.twitter.com/KWQeRAbc6Y
There are also some intense pics: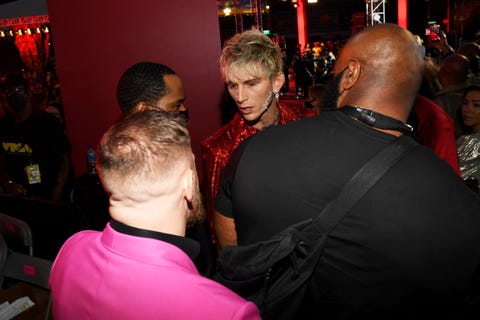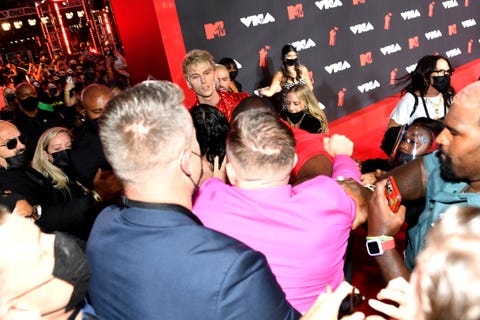 So…what's going on here? TMZ's "sources connected to the situation" claim that Conor asked MGK for a photo, which…seems like no bigs! But apparently Machine Gun Kelly went ahead and denied this request, which "escalated into him pushing Conor, whom we're told stumbled back and spilled his drink." Yiiiiiiikes.
Anyway. In other MGK news, he and Megan Fox looked amazing on the VMAs red carpet, and apparently their looks were MGK's idea. "He was like, 'You're gonna be naked tonight,'" Megan told Entertainment Tonight. "I was like, 'Whatever you say, daddy!'" She also added that she's "so proud" of her boyfriend, saying, "He's the most talented boy in the world."
FYI, there are rumors floating around these two could be getting engaged tonight. By which I mean a source told Us Weekly that Megan arrived at Machine Gun Kelly's VMAs rehearsal wearing a "ring on that special finger" and there could be a "surprise announcement" during MGK and Travis Barker's performance of "Papercuts."
TBD on what happens, but back in December 2020 a source told Entertainment Tonight that "MGK totally sees marriage in his future with Megan and friends could one hundred percent see them getting engaged within the next year" while Megan "doesn't think about getting engaged [or] married and she doesn't put a timeline in place and it's not something that really crosses her mind."
Source: Read Full Article