The former reality star appears to argue that everyone is allowed to have some 'fun' after an internet troll told her that her 3-year-old daughter Emmy shouldn't wear makeup.
AceShowbiz –Jade Roper has defended her decision to let her 3-year-old daughter Emerson "Emmy" Avery wear makeup. After receiving backlash online, the "Bachelor in Paradise" alum posted on her social media account about having some "fun."
Over the weekend, the 34-year-old reality star shared adorable Instagram Stories showing her daughter Emmy applying eyeshadow and lipstick on her face. Over the snap, the proud mom wrote, "She wanted to get ready with me." In the following Story, she detailed her toddler's reaction, writing, " 'Good,' she says as she smiles at herself in the eyeshadow mirror and shuts the compact."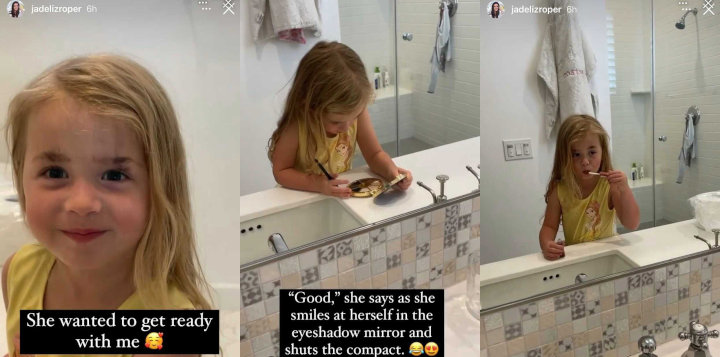 Jade Roper shared adorable moments of her daughter Emmy playing with makeup.
Shortly afterward, Jade shared a screenshot of an Instagram direct message she received after letting Emmy play with makeup. "She GREAT & BEAUTIFUL as she is without any of that. In my opinion, she should be thought that. I respect whatever you decide, just reminding wearing makeup may subconsciously tell her that she needs it because she's not beautiful enough," the DM read.
Jade, who replied "Mkk" to the user, shared her thought as she noted that she was just having fun with Emmy. Over the screengrab, she penned sarcastically, "Maybe we all should just become robots with zero emotions and zero interest or curiosities and have zero fun."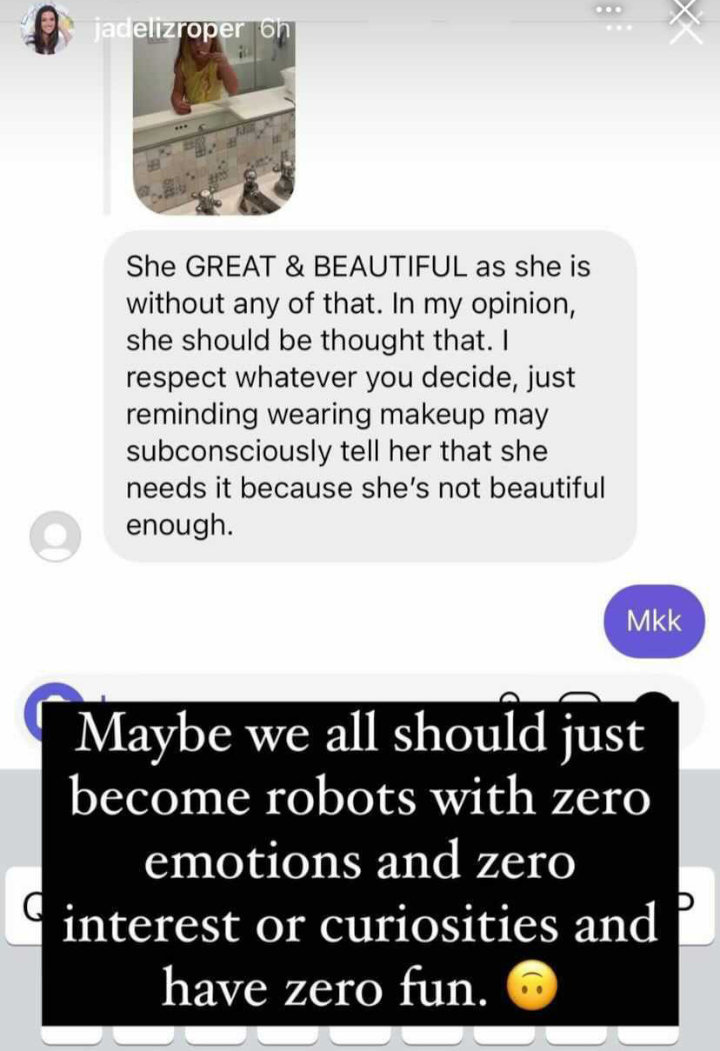 Jade Roper fired back at online critic.
Jade, who shares Emmy as well as sons 22-month-old Brooks and 7-month-old Reed with husband and fellow "The Bachelor" member Tanner Tolbert, had previously opened up about her attitude toward parenting police in an episode of the "Bachelor Happy Hour" podcast in 2019. "Everyone will comment on every little thing, especially once you become a parent," she explained. "Because everybody feels like they know better than you."
However, Jade admitted that she tried to "take a step back" from the criticism. "They may be meaning well, they may be not," the ABC star continued. She elaborated, "But in the end, it's my family. I know what's best for my family. I know what's best for my child, and I'm going to listen to my mother intuition."
"And there may be something that's good advice that somebody has said about me. And I will look that up and will, like, take that for what it is," Jade said. The mother of three then stressed, "But ultimately, I've just had to learn to, like, not get defensive because the mommy bear will come out, especially when it's your kid."
Source: Read Full Article