In other news related to Andrew, it is claimed that the controversial YouTuber has done some 'dumb things' that potentially incriminate him in a jail phone call amid his human trafficking case.
AceShowbiz –Andrew Tate has once again played down reports of his alleged health issue. The former professional kickboxer has denied that he was rushed to the hospital, after he denied reports that he had cancer.
On Friday, March 10, rumors emerged that the British-American social media personality was taken to the hospital. Setting the record straight, a representative for the Tate brothers said in a statement to Romanian press within hours, "I know that there were rumors today that Andrew was rushed to the hospital. I deny these rumors."
"Andrew has regularly scheduled medical check-ups, even before he was arrested, appointments that he honors from now on in Romania at a private hospital because of the custodial measure," the rep explained, before claiming, "His state of health is very good and there is no cause for concern."
Previously, Andrew took to his Twitter page to shut down reports that he's battling lung cancer. "I do not have cancer. My lungs contain precisely 0 smoking damage. In fact, I have an 8L lung capacity and the vital signs of an Olympic athlete," he addressed the rumors on March 4. "There is nothing but a scar on my lung from an old battle. True warriors are scarred both inside and out."
"As one of the most influential men on the face of the planet, it is important for the food of humanity that I live as long as possible," he went on bragging in a subsequent tweet. "At my current strength levels, I estimate to survive for at least 5000 more years. With this in mind, I take my medical care extremely seriously."
"I had a regular checkup organized in Dubai pre-detention. The doctors were extremely interested in the scar on my lung. They do not understand how I survive without treatment. They do not know the secrets of Wudan," so he claimed.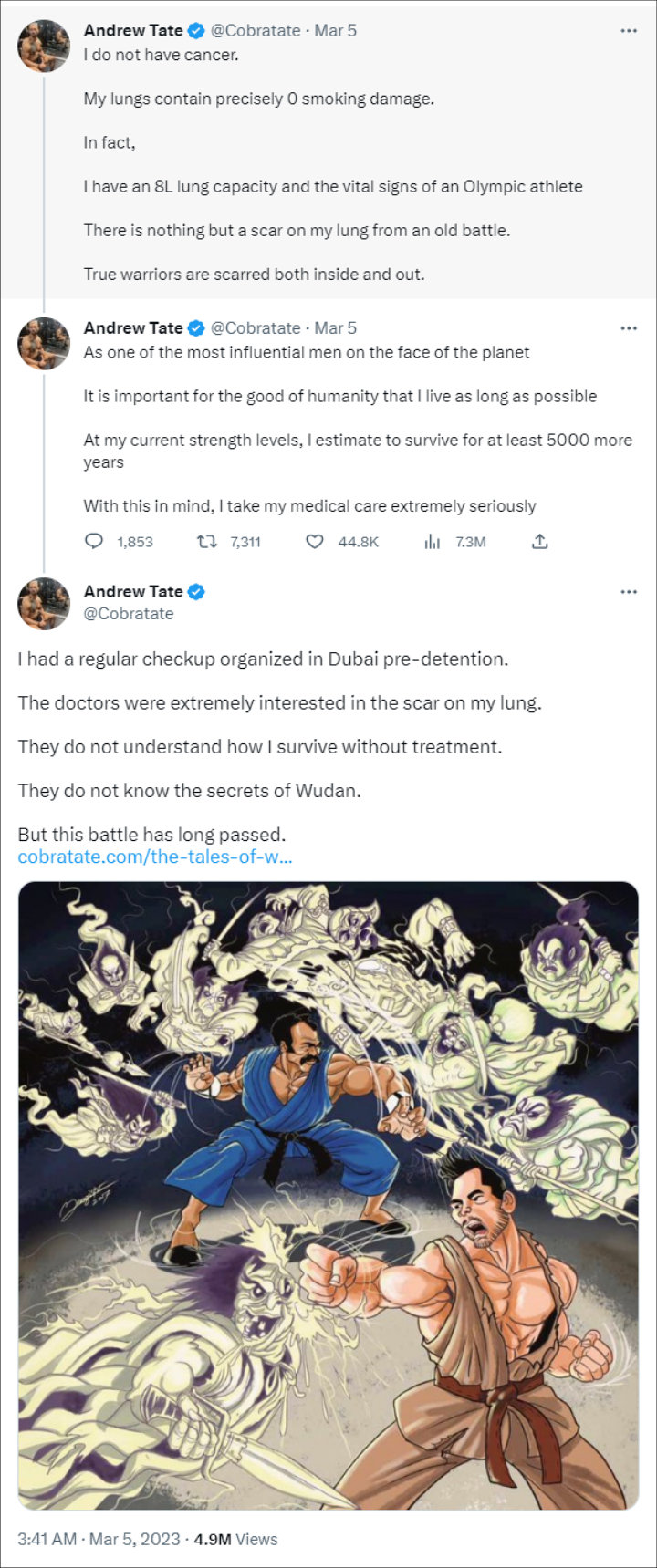 Andrew Tate denied he had lung cancer.
In other news related to Andrew, it's reported that he has done some "dumb things" that potentially incriminate himself in jail. Lawyers For Workers claimed that a source allegedly close to the controversial YouTube star revealed he might've messed up in a jail phone call that could be used against him and his brother Tristan amid their human trafficking case.
"We got a credible report of Andrew Tate doing some really dumb things," the lawyer said in a video. "So, he's in Romanian prison, lock-up, detention, waiting for his trial. Like in the United States, they let you make calls. Like in the United States, they monitor your calls… anything you say can and will be used against you."
"The reports are that this guy did two outrageously out of bounds things on jail calls," he continued. "So often, jail calls is what gets people screwed. They end up admitting stuff that gets them charged with the crime or they start committing whole new crimes. In this guy's case, first, there's only a list of people that he's allowed to call. The reports are that he called people on the approved list, but then they patched in other third parties."
"That could be its own crime, certainly not going to help his attempts to get out on bond," the lawyer elaborated. "Big trouble, if you ask me. Number two- this is actually the real problem. They're saying he's on jail calls discussing with another individual bribing two Romanian public officials."
Andrew and his brother were arrested in December on suspicion of human trafficking, rape and forming an organized crime group. On February 21, a Romanian judge extended their period of detention for the third time while no charges have been officially filed against them.
You can share this post!
Source: Read Full Article