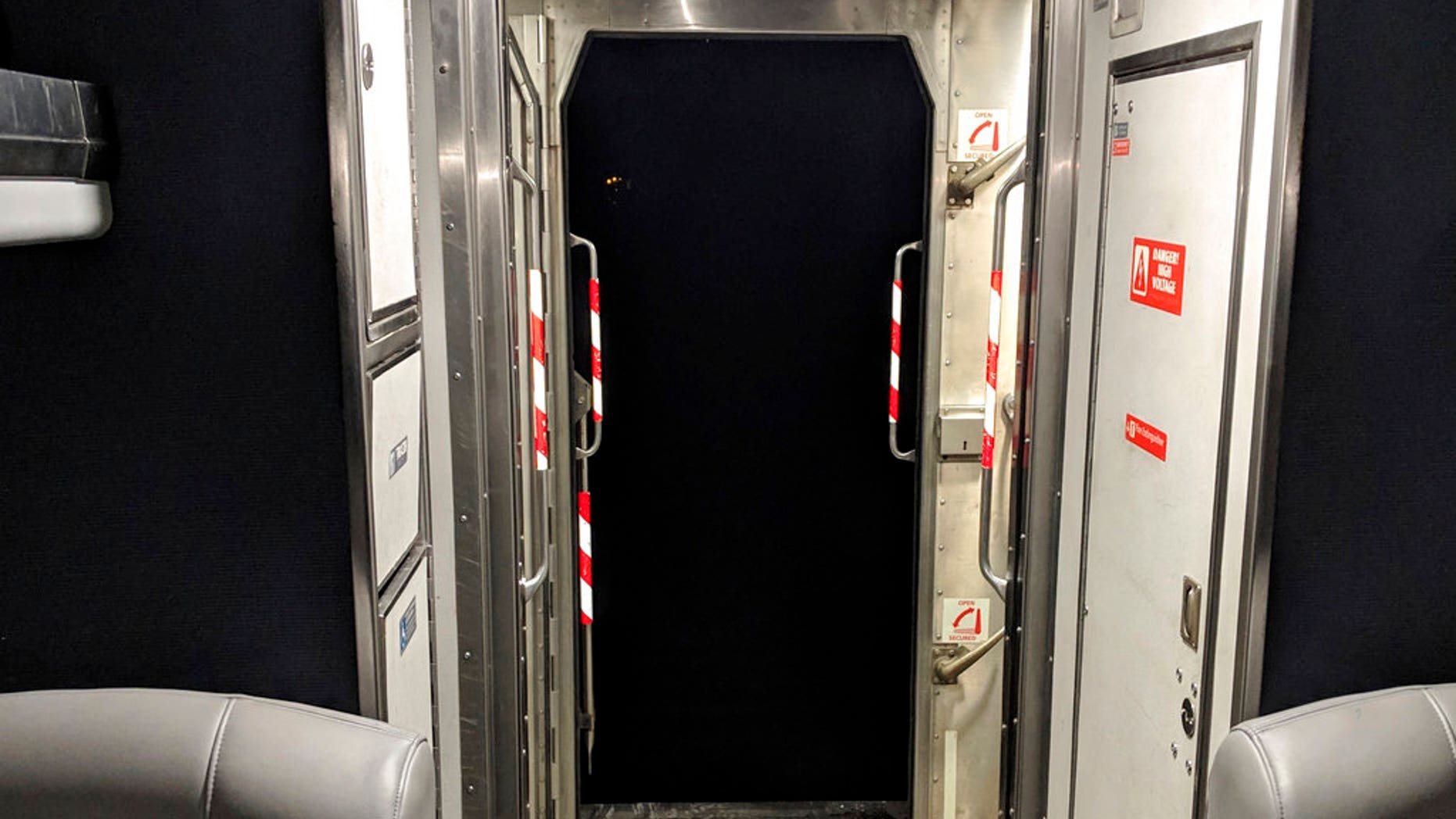 This photo shows the end of a New York City-bound Amtrak train car after it was separated from another, outside of Ravena, about 25 miles south of Albany-Rensselaer station in Albany.
(Chuck Reeves via AP)
An Amtrak train bound for Penn Station Wednesday evening was stalled after two of its cars separated near Albany, leaving nearly 300 passengers stranded in freezing temperatures on one of the busiest travel days of the year.
Train 68 was traveling from Montreal when the train experienced a "mechanical issue" just before 7:30 p.m., Amtrak said.
"When the carts disconnected, I felt a rumble. I thought, 'Oh God this can't be good.' Next thing you knew we were stopped in the middle of the tracks," a commuter told Fox News.
Chuck Reeves, another passenger, had boarded the first car behind the locomotive in Albany. Shortly after the train pulled away, he said, he heard a pop and a hiss, smelled electrical burning and felt a rush of cold air.
"Everyone started turning around," he said, only to see there was no more train behind them. The train soon slowed to a stop, and a conductor left the detached cars behind and boarded his car.
"No heat, no electricity, temperature was dropping every time we opened the sliding door it just got colder and colder," another passenger told WCBS-TV.
The commuter told Fox News  that some tensions were high between passengers, with two nearly breaking out into a fight before staff eased the situation. The passengers were stranded for about two hours after the cars had separated, WABC-TV reported.
Some crying children were comforted by their parents, Reeves said, but for the most part, no one panicked. A state trooper soon boarded to make sure everyone was safe.
Another train was brought in to take passengers on the rest of their journey. The Amtrak said it was operating more than three hours late.
There was no word on what caused the problem. Officials are investigating the incident. No injuries were reported.
The Associated Press contributed to this report.
Source: Read Full Article