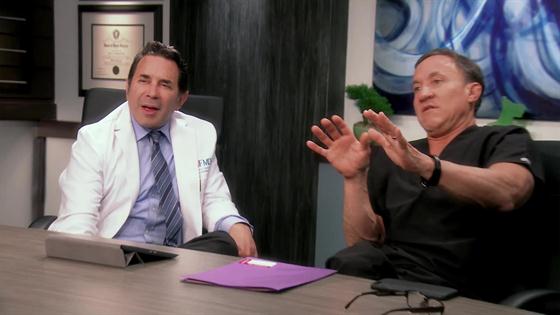 When in doubt, ask questions.
On Wednesday's all-new Botched, new patient Karla turned to Dr. Terry Dubrow and Dr. Paul Nassif after a trip to Colombia for a breast augmentation didn't go according to plan. Per Karla, she traveled to South America for the cosmetic procedure at the advice of her cousin.
During a consultation, the doctor at the time informed Karla that she'd need a lift along with her implants. Not realizing that this would be a far more invasive procedure, Karla awoke to her breasts covered in stitches and tape.
"I started to panic and my mom's like, 'You didn't ask questions?'" Karla explained in a confessional. "I'm like, 'I did, but I didn't know it was gonna be like this.' I lied, I didn't ask questions."
In the time following the surgery, Karla's breasts became uneven, her nipples pointed down, the scars were noticeable and her areolas were comparable to "pepperoni." Understandably, Karla hoped Dr. Dubrow would be able to right some of the damage done to her body.
"I'm definitely gonna make sure to ask questions this time," Karla further relayed. "I feel like that was the biggest mistake I ever did was not to ask questions."
During the presentation of her case, Karla revealed to the doctors that she spent $2,800 on her initial surgery. This low price shocked the docs as in the U.S. silicone alone "is about $2,000."
"When they say the term, 'You get what you pay for,' it really means 'You really get what you paid for!'" the new patient remarked.
After further detailing her situation, Dr. Dubrow hypothesized that Karla had encapsulated breasts and invited her into the exam room. Upon examining Karla's breasts, Terry confirmed his hypothesis and presented a game plan for a revision.
"You want implant removal, replacement, a revisional lift, release of the muscle, removal of some scar tissue—you want the whole shooting match, yeah?" Dr. Dubrow noted to Karla. "If you're in, I'm in!"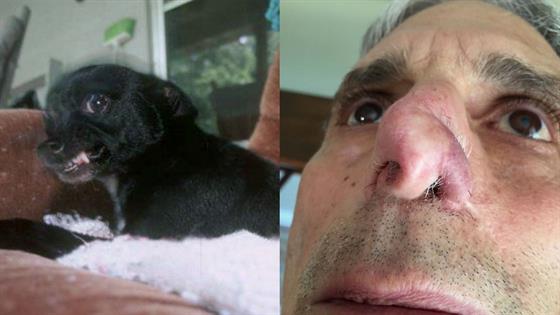 As explained by Jim in a confessional, his late dog Zeus attacked his nose after being startled one morning.
"I leaned in to kiss Zeus goodbye and he startled and I felt blood," Jim shared to the Botched camera. "When I got up and I looked in the mirror, I realized that he had just taken a whole chunk of my nose off. I screamed, 'Call 911!'"
Sadly, the dramatic scene only worsened as Jim underwent an unsuccessful reattachment surgery and required a cheek flap procedure. Of course, Jim was eager to meet with Dr. Nassif to see if the famed plastic surgeon could restore shape and function to his nose.
Although, Jim made his case more difficult by revealing he wanted nothing to do with a forehead flap surgery. Since Jim vocalized an objection to another flap procedure, Dr. Nassif suggested they try using a composite graft.
Watch a new episode of Botched Wednesday at 9 p.m., only on E!
Source: Read Full Article