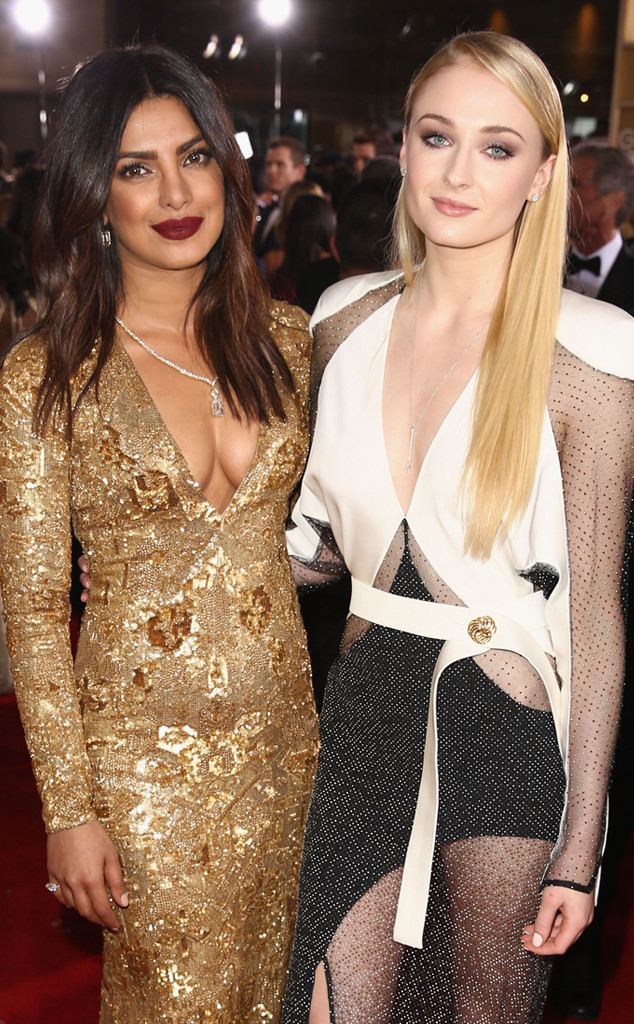 Joe Scarnici/Getty Images for Moet & Chandon
Presenting, the co-Queens of House Jonas.
While people were still busy getting over the Battle of Winterfell, Sophie Turner up and married Joe Jonas on Wednesday night after the Billboard Music Awards, which featured the Jonas Brothers' first award show performance since officially reuniting. By the bride's side were the only other people who know exactly what it's like to whip up mad fascination in the minds and hearts of JoBro fans: Danielle Jonas and Priyanka Chopra.
Kevin Jonas' wife of nine years and Nick Jonas' wife of five months were Turner's bridesmaids at the surprise ceremony in Las Vegas, ahead of a splashier wedding party we hear they're still planning to have this summer.
Having her two sisters-in-law by her side obviously made perfect sense, as Danielle and Priyanka were the closest Turner had to family at the small Vegas chapel, and Sophie and Danielle, of course, were among Priyanka's dozen Ralph Lauren-clad bridesmaids when she married Nick last year. But while she's had more time to get to know Danielle since she and Joe started dating in 2016, Turner's super-close friendship with Chopra developed over the same whirlwind timeline as Priyanka and Nick's own courtship.
All are said to get along famously, but since Kevin and Danielle have two kids to keep them occupied, that has let Turner and Chopra more alone time—with each other, and as a foursome with their cupid-designated Jonas brothers.
Once Priyanka started dating Nick last May after officially meeting at the Met Gala, it wasn't long before she was swept up in the family fold, which by then included Turner, who got engaged to Joe in October 2017 after almost a year together.
https://www.instagram.com/p/BqsT-kfHaHh/
View this post on Instagram
Friends.. family.. ❤️
A post shared by Priyanka Chopra Jonas (@priyankachopra) on
"It is one of the things we were so drawn to about each other," Nick told Entertainment Tonight last month about the shared importance he and Priyanka place on maintaining close family ties.
"And the family's just getting bigger and bigger, and that's a beautiful thing. We love including our loved ones, our family, in everything we do… our house is for everyone, our doors are always open. That is, in my opinion, how it should be."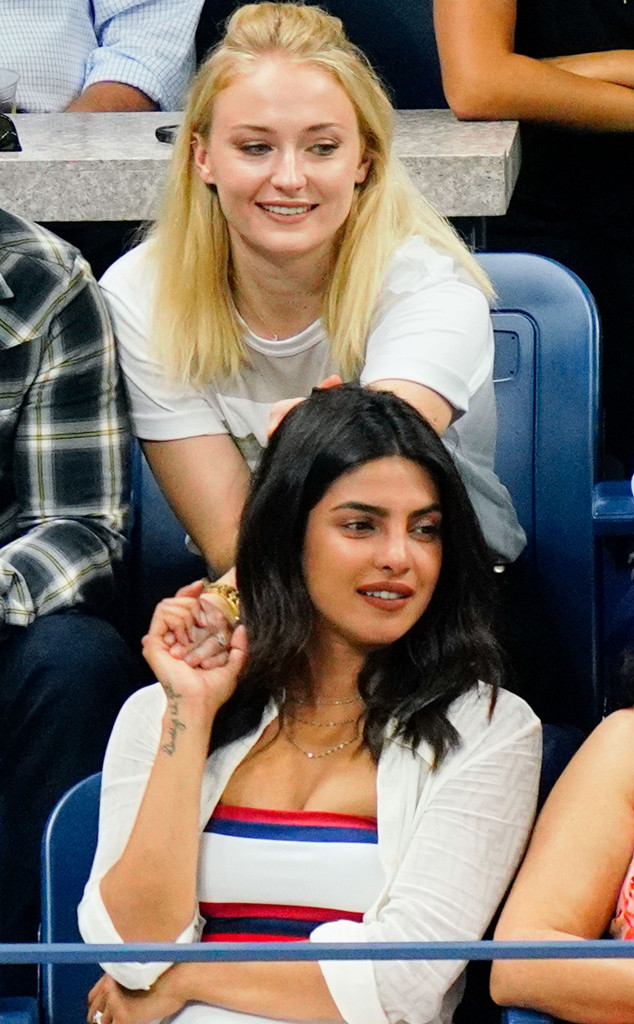 Gotham/GC Images
Nick brought Priyanka to his cousin's Atlantic City wedding in June and she spent Fourth of July with the sprawling Jonas family in New York, which started off with Priyanka and Nick on a bike ride with Sophie and Joe.
"Happy Fourth of July everyone. I hope you've had a great day with the ones you love," Chopra shared on Instagram.
Later that month they were all in London together and, in September, the foursome shared a box at the U.S. Open and reunited for dinner after a long day of watching tennis.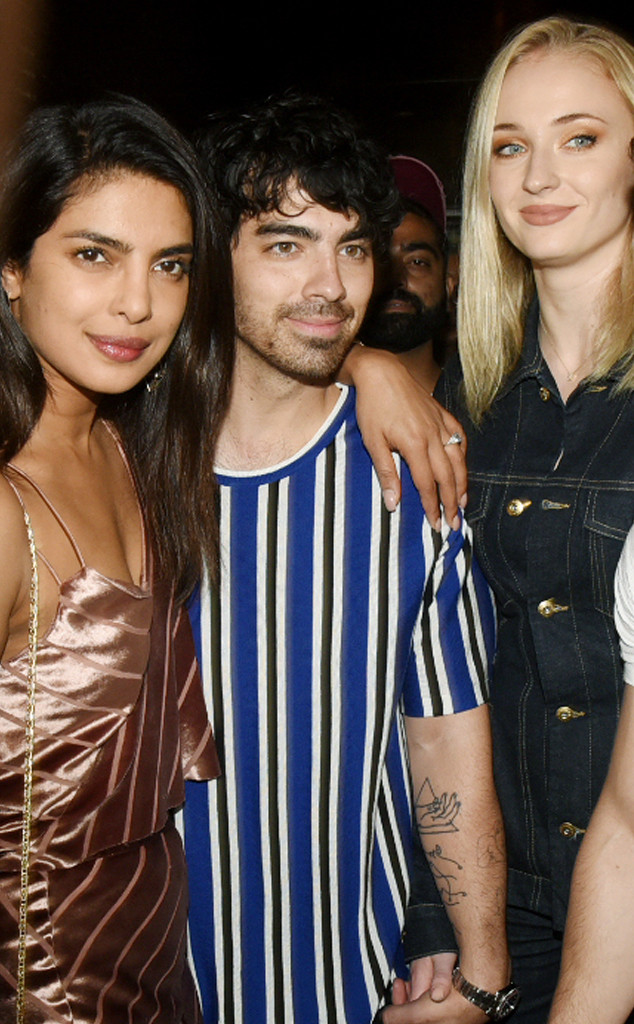 Prodip Guha/Hindustan Times via Getty Images
Turner, who spent some very formative years as a member of the relentlessly scrutinized cast of one of the world's most talked-about shows, and who has reliably used her platform to stick up for people who have been treated unfairly, added, "This is wildly inappropriate and totally disgusting. Very disappointed that The Cut would give anyone a platform to spew such bulls–t."
Priyanka chose to ignore the insult publicly, but surely she was grateful for the support from her brother-in-law and then-future sister-in-law—who, in her eyes, was already as good as family.
Priyanka has, in turn, been there for Sophie, who shared recently with Harper's Bazaar how much her fellow actress—a former Miss World who was an unfathomably massive star in India before breaking through in the U.S. with Quantico—had helped Turner in her own times of need.
https://www.instagram.com/p/BpzoQg0HKy2/
View this post on Instagram
The morning after… #TheJSisters #Bachelorette @sophiet
A post shared by Priyanka Chopra Jonas (@priyankachopra) on
"I asked her, 'Where do you get all this confidence from?'," Turner recalled, "and she said, 'Well of course I'm insecure about bits and bobs, but if you want to get the reaction that you want to get, you have to walk into that room and be confident, and walk into that room and own it, and make people feel welcome and loved and happy to be there with you.
https://www.instagram.com/p/BwQS66wnhdx/
View this post on Instagram
Good luck @sophiet you are a boss babe. And are very loved.. #jsister #gameofthrones tonight
A post shared by Priyanka Chopra Jonas (@priyankachopra) on
"Good luck @sophiet you are a boss babe. And are very loved.. #jsister#gameofthrones tonight," Priyanka captioned a photo of Sansa Stark on the Iron Throne last month (with the queen's would-be Hand, Priyanka's dog Diana, rather adorably Photoshopped in next to her) for the beyond hotly anticipated premiere of Game of Thrones' final season.
Instagram
In a case of it's-a-small-world-after-all, Chopra was photographed chatting with Kit Harington backstage at the Emmys in 2016, a year in which Game of Thrones was nominated for 24 Emmys and won 12, including Outstanding Drama Series, and most of the cast was in attendance, including Turner. That was also right around the time when Nick Jonas slipped into Priyanka's DMs, and she eventually gave him her phone number.
Nick and Priyanka eventually honeymooned just the two of them in the Caribbean, but they sure enjoy traveling in a group with Sophie and Joe, whether it was spending Christmas with Turner's family in the U.K., skiing in Switzerland, preening on a boat in Miami, or making snow angels en masse while in Mammoth Lakes during Super Bowl weekend.
https://www.instagram.com/p/Btb9YJMBEYY/
View this post on Instagram
Super Bowl Sunday ready with a Coors Light tower and built in chairs.
A post shared by Sophie Turner (@sophiet) on
Also this year, all of the Jonases' main squeezes have been trekking along with the brothers for a handful of performance dates before they hit the road for their first tour in a decade starting in August.
Source: Read Full Article