Spoilers ahead for Riverdale Season 3, Episode 6: "Chapter Forty-One: Manhunter." Riverdale already turned the clock back to the '90s for the incredible "Midnight Club" flashback episode a few weeks ago, but it had another nostalgic surprise in store in this week's episode. "Chapter Forty-One: Manhunter" had a ton of major twists and reveals in its jam-packed hour, but it was when the Gargoyle King paid a visit to Betty's (Lili Reinhart) house that all '90s kids watching got a real treat: an almost shot-for-shot remake of one of the most memorable scenes in Scream featuring none other than Riverdale star and Scream alum himself, Skeet Ulrich.
When Betty and her mom Alice (Mächen Amick) were under attack from the mysterious Gargoyle King, they ran to Betty's room to escape the home invasion. And who came in through Betty's bedroom window? FP Jones! It was the exact same move that Ulrich pulled 22 years ago as Billy Loomis, one of Scream's legendary villains. But does this callback mean that FP is ultimately going to be a villain on Riverdale? Is he the Gargoyle King, or affiliated with the Gargoyle Gang in any way? Or is the callback simply just a fun flashback to Ulrich's previous role that made him a '90s icon?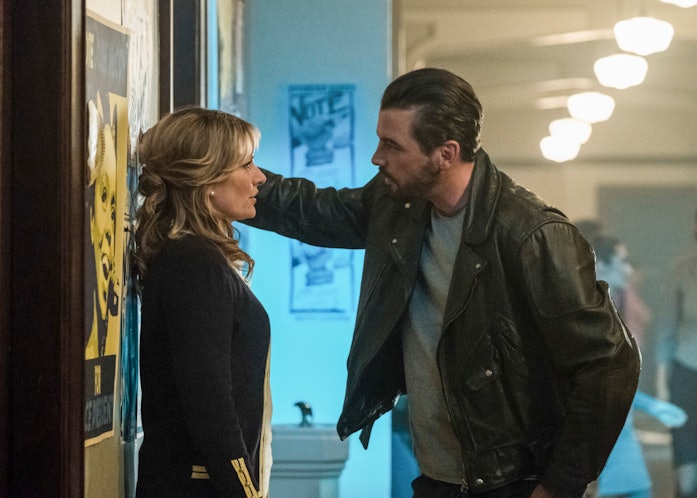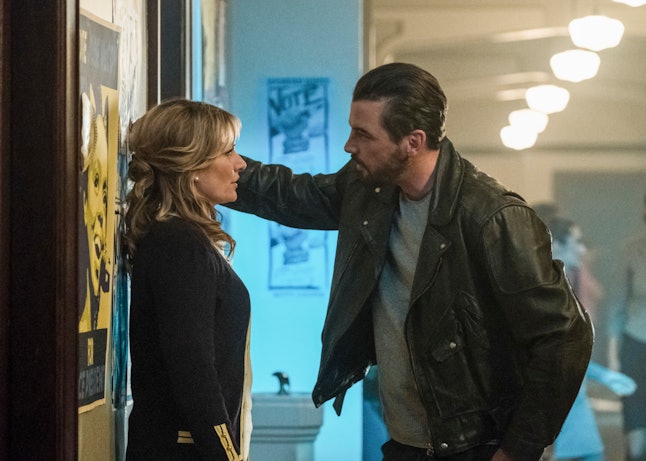 Sitting on the Riverdale set in Vancouver, Ulrich smiles as he thinks back on filming that extended Scream homage. "It's so apparent what the source material was," he says, grinning. The details of the sequence — the way it was shot, the way it was lit, even small moments like the Jiffy Pop popcorn popping on the stove — all reference the 1996 classic.
"The only flashback I had was [to] when we shot that [same] scene outside of Napa Valley," Ulrich tells Bustle along with a group of journalists about his time filming Scream. "It was a real house and they had built this ledge onto the roof for me to squat down on and wait for the cue, and [then] I climbed in."
But climbing in through Betty's window in this episode of Riverdale was a lot easier. "This one, I got to climb a real ladder, so our show's better," he says with a laugh. "It's been a long time, obviously, since I made that movie and this is a very different character and world, but I think in a way, it really speaks to what Scream was, you know, this sort of self-effacing of the genre kind of film. They took components of that and used it in an interesting way."
In Riverdale's version of the scene, it's very ambiguous as to whether or not FP is going the way of Billy Loomis. Is he the Gargoyle King? Did he set up the home invasion to try and give himself an alibi, comforting the Cooper women upstairs while the Gargoyle King is downstairs?
"I don't know, to be honest," Ulrich says. "I mean, the great thing about doing our show is I don't really know what to expect sometimes. There are times I'd get the script and I'm like, 'God, I wonder if I live through this one.' There's a lot of plot twists that go along with the show and so you never really know what to expect."
So all those fan theories about FP being the Gargoyle King could be true, according to Ulrich. "I certainly don't feel safe, necessarily," he adds. "And I'm always up for good drama. So if they want to do more of that and point in that direction and see how we dig our way out, it's always fun."
Is it FP underneath that creepy mask? You'll have to keep watching Riverdale to find out, one way or the other.
Source: Read Full Article