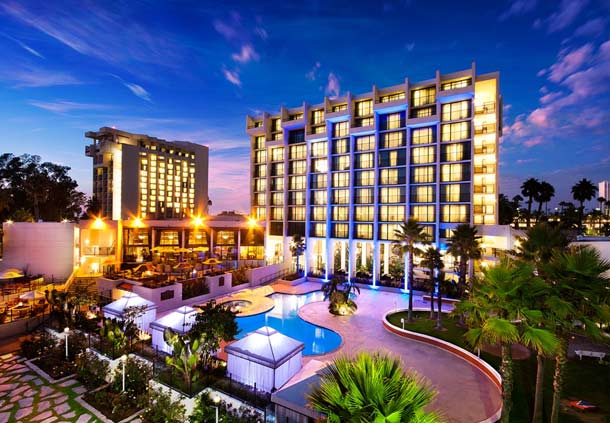 Newport Beach Marriott Hotel & Spa | Marriott
Marriott reports that as many as 500 million Starwood guests' personal and financial information was breached, USA Today reports. The breach may have captured information over the past four years. This includes data like name, mailing address, phone number, and email address. But also passport numbers, Starwood Preferred Guest account information and reservation data.
Some guests' had credit card numbers and card expiration dates too, according to Forbes. Those at risk are customers who made a reservation at a Starwood hotel on or before  September 10, 2018. The Marriott data breach is just the latest hack in the line of some pretty large data breaches in the past few years. And possibly one of the largest.
Equifax
Customers impacted: 143 million
In 2017, hackers nabbed people's names, social security numbers, birth dates, addresses. And, in some instances, driver's license numbers through credit reporting service, Equifax, according to the Federal Trade Commission. Hackers also stole credit card numbers for 209,000 people. Plus the personal information for people from the UK and Canada.
Some consumers placed a credit freeze on their report to prevent further vulnerability. And added fraud alerts to their files.
Anthem
Customers impacted: 80 million
Hackers penetrated the second largest health insurer in America in 2015, Forbes reports. In addition to personal information, hackers gained access to the company's servers to steal social security numbers. Plus, in a statement issued by Anthem, hackers nabbed, "names, birthdays, medical IDs/social security numbers, street addresses, email addresses and employment information, including income data."
Target
CHICAGO, IL – AUGUST 22: Customers shop at a Target store on August 22, 2018 in Chicago, Illinois. Target today reported a 6.4 percent jump in store traffic for the quarter, the biggest increase in at least a decade. The retailer also reported a 41 percent increase in online sales for the quarter. (Photo by Scott Olson/Getty Images)
Customers impacted: 70 million
In 2013, at least 70 million shoppers had their personal and financial information compromised, Tech Crunch reports. This included names, mailing addresses, phone numbers, and emails. But also, 40 million credit and debit card numbers. Expiration dates and CVV codes were ripped off as well. This includes even PIN data. The breach occurred over a short period of time, November 27 through December 15.
Home Depot
Customers impacted: 56 million
Customers who used credit or debit cards at a Home Depot self-checkout were part of a hack in 2014, Reuters reports. The breach occurred in the U.S. and Canada between April through September. Approximately 53 million people also had their email address stolen.
eBay
Headquarters for eBay | JasonDoiy/iStock/Getty Images
Customers impacted: 145 million
In 2014, eBay said hackers lifted personal information like customer names, e-mail addresses, addresses, phone numbers and dates of birth, The Washington Post reports. The attack in one month, between February to March. "Cyberattackers compromised a small number of employee log-in credentials, allowing unauthorized access to eBay's corporate network," according to a statement made by eBay.
Widespread business hack
Customers impacted: 160 million
Five Russian and Ukranian individuals stole more than 160 million credit card and debit card numbers, New York Daily News reports. The hackers used sophisticated hacking methods to break into over 800,000 bank accounts on servers like the NASDAQ stock exchange.
The attack occurred over seven years, from 2005 and 2012. But many attacks occurred in 2008 and 2009, during the Great Recession.
Yahoo
Customers impacted: 3 billion
The 2016 Yahoo! data breach is considered to be the largest in the 21st century. The hack included names, birth dates, email addresses, and phone numbers for 500 million people. However, Yahoo! tried to avoid news leaking that they were previously hacked in 2013. That hack impacted 1 billion accounts. Yahoo! updated their statement in 2017 to say 3 billion users were violated.
Check out The Cheat Sheet on Facebook!
Source: Read Full Article