Meghan Markle has been going through it. Over the past few weeks, the Duchess of Sussex has been in the news now more than ever. She has finally had enough of the paparazzi and negative media slamming her every move, and Prince Harry recently announced the two are suing several British tabloids. Then, the duke and duchess opened up about their struggle with the media in a recent interview. But talk show host Wendy Williams had something to say about it.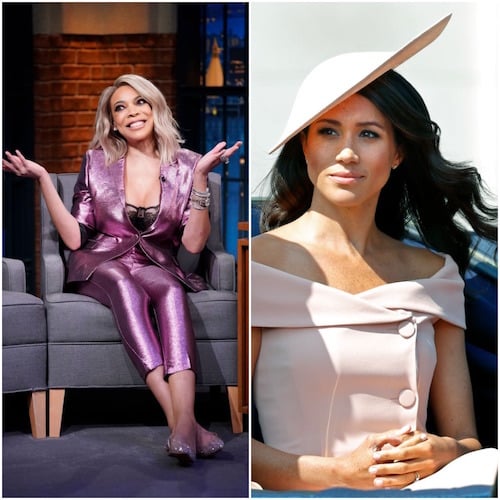 Meghan has been attacked by the media since she and Harry started dating
Things haven't been easy for Meghan in terms of her battle with the negative press. Ever since she started dating Harry back in 2016, she's been at the mercy of the media digging into her life. As soon as Meghan and Harry wed, there were rumors that Meghan had started a massive feud with sister-in-law Kate Middleton. Then, there were stories that Meghan was rude to her staff and was causing them to quit at an alarming rate. And tabloids were always publishing new drama about the duchess' family — especially her relationship with her father.
The couple recently released an interview about their experience with the press
In late September, Meghan and Harry took an important trip to Southern Africa to work with various charities and organizations they support. While there, they documented their entire trip on social media and showed off photos and videos of their son, Archie. Things finally seemed to be going well for the two in the public eye; that was, until Harry released a statement announcing the two were suing various British tabloids. Later, an interview that the couple did with journalist Tom Bradby was released to the public, and everyone finally saw how much the negative spotlight has affected them.
Wendy Williams seemed to have a problem with Meghan's ignorance
On The Wendy Williams Show on October 22, Williams showed a clip of Meghan saying that she had been naïve about the British press. "I didn't get it," Meghan told interviewer Tom Bradby, referring to her misunderstanding of what life as a royal would be like. But Williams called her out on her ignorance. "Yes you did," Williams said after she paused the clip, to which the audience laughed in response. Williams then said that she likes the royal couple, but she didn't seem to have great words for Meghan alone. "There's something about her," Williams said, suggesting the duchess' sweet personality and helpful actions aren't what they seem. The audience had mixed reactions to Williams' accusations.
Williams suggested Meghan and Harry should move to America
The talk show host then went on to suggest that Meghan andHarry should buy a place in the United States. She said the two should justmove to Malibu, then buy "a big hut" in Africa and keep their home in theUnited Kingdom, which would allow them to always spend time in their threefavorite places. Again, the audience laughed. Williams seemed to throw seriousshade at Meghan's naivety with the whole situation and didn't appear to believethat the duchess truly had no idea what she was getting into.
Source: Read Full Article