There is green slime everywhere. It's covering the floor, pooling in some dangerously slippery areas. The giant pool filled with whipped cream, Hershey's chocolate syrup and cherries overflowed at one point, so the radioactively green slime has turned murky brown in some places. It's an absolute mess, but Kenan Thompson and Kel Mitchell couldn't be happier as they slip and slide through it all. The Kenan & Kel stars have reunited to compete against each other on Nickelodeon's rebooted Double Dare for charity, and they battled it out in front of a live studio audience earlier for the title of champion. Now, the former Nickelodeon stars are going to run the Double Dare obstacle course together for the grand finale, and it's truly like they're kids again.
This past June, Kenan and Kel filmed this highly-anticipated reunion for Double Dare and Bustle was on set for all of the action. While fans will be able to see which of the two stars reigned supreme in the competition when their one-hour Double Dare special airs Wednesday Nov.21 at 8 p.m. on Nickelodeon, it was the little moments in between filming that proved that these two former co-stars still have the magic that shot them to international fame 17 years ago. There was a ton of friendly trash talk, silly dance breaks, and all kinds of goofing around. But most of all, both Kenan and Kel couldn't stop smiling throughout all of filming, because they had finally gotten to live out their dream they had since they were kids.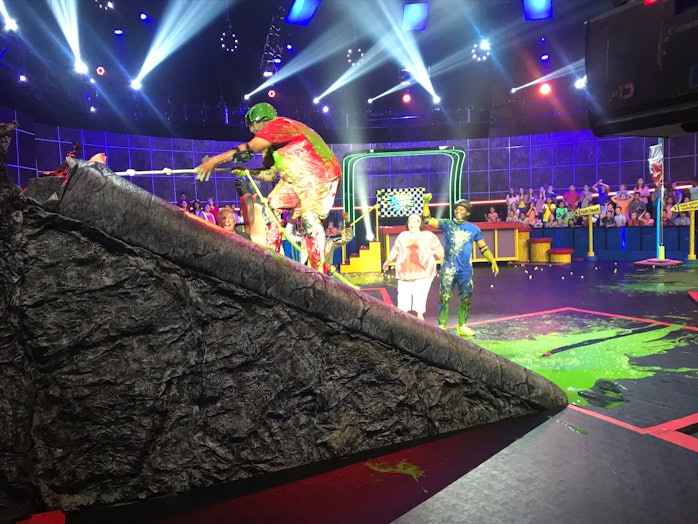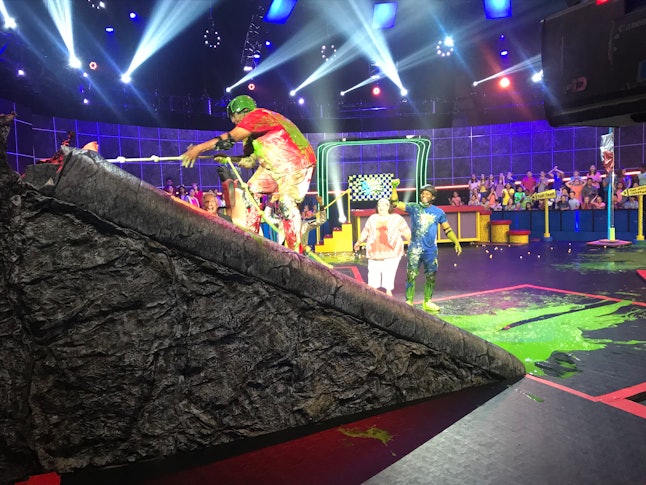 "I never did this back in the day," Kel tells Bustle after running the obstacle course. "When Kenan and I got on All That, Double Dare had stopped at that point. So I genuinely watched this as a little kid at home and Kenan did, too. Doing it now is crazy!"
"It's been a life-long dream of mine to be on Double Dare, ever since I was a little kid watching Nickelodeon growing up," Kenan says. "I can't believe this. This is the greatest show ever in the world."
While Kenan and Kel have reunited for small sketches and videos over the past couple of years, it was the reunion on Double Dare for which Kel had been waiting. "Doing it with Kenan, like we're cracking jokes between shots, you see that onscreen, you can see the magic," he says. "It's just like when we were kids. We're built for this. We know what happens at Nickelodeon. We know what's about to happen. There's going to be sliming and a lot of screaming."
Playing for Make a Wish Foundation and the National College Resource Foundation made Kenan and Kel's obstacle course run even more meaningful, and Kel couldn't wait to get his hands dirty … literally. "It was awesome running the course," he says. "The 'Pick It' giant nose one, that's the one that's always so hard, getting that flag from the boogers. That's the one to beat. We went all out."
While we won't spoil which team won the day, the highlight was watching Kenan and Kel join forces to run the obstacle course at the end. Along with their All That co-star Lori Beth Denberg, Double Dare host Marc Summers was even on set to witness the epic reunion, and he was proud to see how both Kenan and Kel had grown up since the last time he had seen them.
Summers tells Bustle, "They were stars back then — and talk about chemistry. They really didn't know each other and then all of a sudden All That became Kenan & Kel and that exploded. So it's fun to just be in the same room as those guys now all these years later. Now we're all grown-ups!"
But just because they're grown-ups doesn't mean they're not down for a Kenan & Kel revival. In fact, Kel says that they're all for it.
"We talk about it all the time," he says. "When [Kenan and I] did the Jimmy Fallon reunion, we knew. We were like, we got to do some more stuff. We keep doing these little things for the fans but we're definitely going to have something big for you guys to check out. We still have it. We're still on it."
As for what the onscreen versions of Kenan and Kel would be up to now as adults? "Kel would probably own some orange soda company," Kel says. "His parents were astronauts and brain surgeons so I think he would have finally tapped into something pretty big but then end up messing it up in some type of way. And then Kenan was always scheming on the show so maybe he's doing something crazy with Kel's company and they end up losing everything."
It may be a while until fans see a grown-up version of Kenan & Kel, but their episode of Double Dare will certainly make the wait a little easier. Kel even has the perfect plan for watching the hour-long special: "Sit down with the whole family. Get some pizzas, get some good burgers and watch the show," he says.
While you're at it, grab yourself a nice glass of orange soda, check out an exclusive clip of Kenan and Kel's Double Dare special above and prepare for all the slimey action to take you right back to the late '90s. But whatever you do, don't drop the screw in the tuna!
Source: Read Full Article