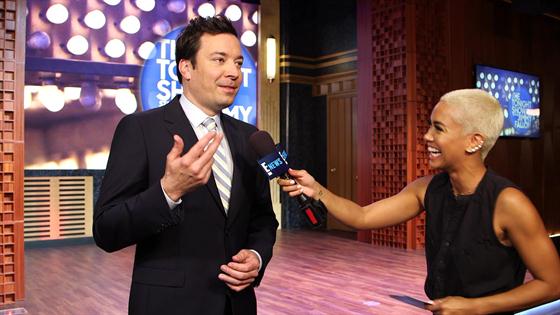 It's The Tonight Show starring Jimmy Fallon…and his kids!
The late-night host's two daughters—Winnie, 6, and Franny, 5—sweetly stole the spotlight once again during Thursday's at-home episode.
For the opening monologue, Jimmy decided to provide a change of scenery and sit in the back of his car with his loved ones. However, it wasn't long before the children got a little antsy. From dancing in their seats and putting their feet up on their dad to walking right up to the camera and singing songs about Tic Tacs, the little ladies enjoyed tons of silly shenanigans.
"That's not a song," Jimmy said as his kiddos performed their minty melody.
"It is now," his wife, and substitute camerawoman, Nancy Juvonen said.
At another point, Winnie and Franny decided to switch seating arrangements and crawled over their dad in the middle of a joke. However, the fun times didn't end once the monologue was over. During a game of "Hashtags" the sisters played a game in which they pretended they couldn't see their father and then proceeded to "play ball" by passing his body back and forth.
Watch the video to see them totally take over.
This wasn't the first time the young ones had made adorable cameos. To see a few other examples, check out the gallery below.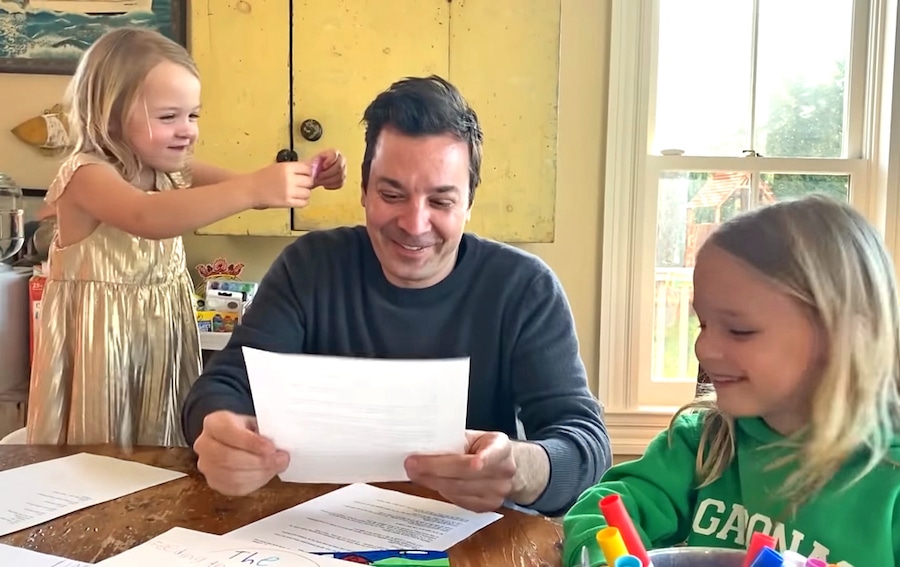 YouTube
Impressive Much?
When Jimmy Fallon was interviewing Adam Sandler, he couldn't help but share an impression of his guest. As it turns out, The Tonight Show host's children couldn't get enough of it during arts and crafts. "This is the first [and] only time they've ever laughed at me," Jimmy pointed out.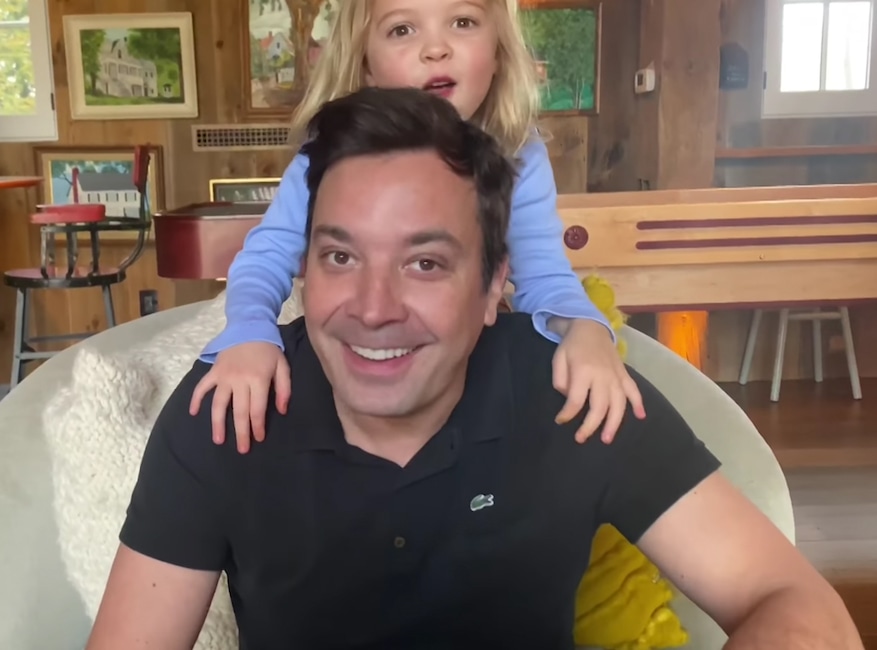 YouTube
Family Affair
It's a family affair! During one at-home episode, Winnie Fallon filled in for The Roots while Frances Fallon crashed dad's monologue to snuggle. As for Jimmy Fallon's wife Nancy Juvonen, she took over filming and handled the camera.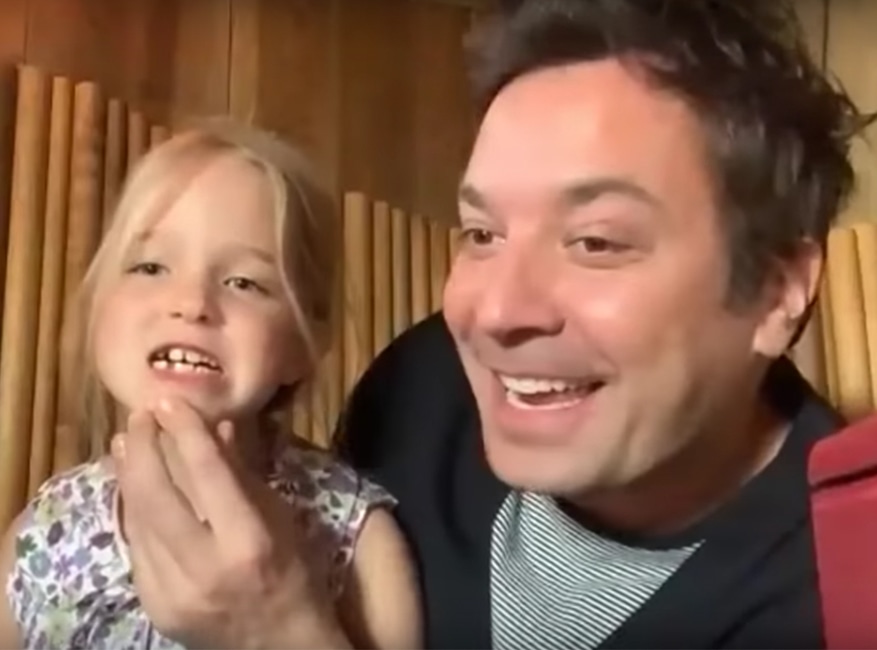 YouTube
Tooth Fairy
Paging the Tooth Fairy: You have a house to visit ASAP. In the middle of interviewing Ciara and Russell Wilson, Jimmy Fallon discovered his daughter had lost a tooth. "Mommy put a string around my tooth," Winnie Fallon said. "Then, she tried to pull it out, and then it worked."
Article continues below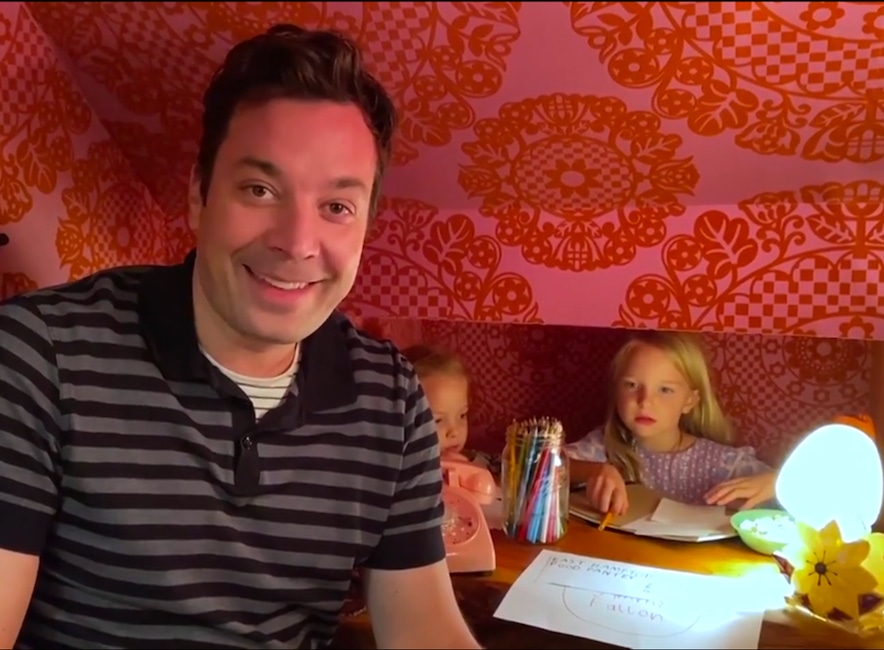 Instagram
Dad Jokes
In a March opening monologue, Jimmy Fallon tried to recite his jokes in front of his two daughters. Spoiler alert: They weren't impressed but their reactions sure made us laugh.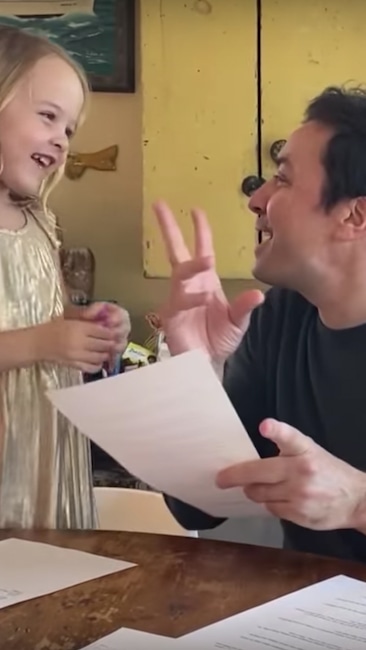 YouTube
Dad's Best Friends
"I am getting to spend so much time with my kids, which I really love. They're amazing," Jimmy Fallon shared with Entertainment Weekly when discussing his at-home shows. "I don't know if the feeling's mutual, but I absolutely love hanging out with them. I'm going to be sad when I have to go back to work."
Instagram
Wash Your Hands
In an effort to help stop the spread of COVID-19, Jimmy Fallon and his daughters participated in a song appropriately titled "Wash Your Hands." We'd tell you more but just watch the video for yourself.
Article continues below
(E! and NBC are both part of NBCUniversal).
Source: Read Full Article