To the average person, it might seem like once you've toured with Beyoncé and Jay-Z and danced with Missy Elliott, you've pretty much made it. But for others, including the winners of the first season of World of Dance, Les Twins, you keep pushing for more.
The French hip-hop-dancing twins Laurent Nicolas and Larry Nicolas Bourgeois wowed the World of Dance judges—J.Lo, Ne-Yo, and Derek Hough—all season long with their in-sync isolation movements, self-taught style, and unmatched musicality they brought to the stage. No wonder the crowd went wild week after week after week…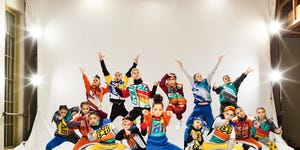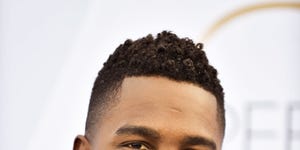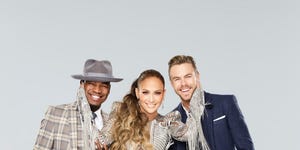 Their win didn't come easily though (um, do they ever?). Just before the Divisional Finals, Laurent suffered an injury to his right leg which immediately put Les Twins' place in the competition on shaky ground.
But instead of dropping out to focus on recovery, Laurent danced in a wheelchair (OMG) alongside his brother in the performance that earned them a standing ovation—and the top spot in the Upper Division sending them to the finals.
From there, with only Les Twins, solo dancer Eva Igo, and the final team Swing Latino left in the competition, Les Twins continued to crush it in their next two performances. They danced their first performance on a small rotating circle in the center of the stage—a feat only these twins could make look easy—and the second was an electrifying number performed to Michael Jackson's "Scream," surrounded by mirrors.
In the end, Les Twins dominated the finals with an average score of 93.8. They took home $1 million in prize money and became the first-ever World of Dance winners.
Nbd for two brothers who are about to take over the silver screen in Men In Black International, out Summer 2019. Les Twins play—yup, you guessed it—twins in the action film starring Chris Hemsworth and Tessa Thompson. And while little is known about their exact roles, the duo reportedly put their legendary dancing skills to work in an epic fight scene, per Entertainment Weekly.
"The twins are out-of-this-world incredible, amazing," Chris Hemsworth told the publication about their performance in the film. "…I've just been rapt watching them move. It's like some sort of high-speed very postproduction altered state." Tessa Thompson echoed Hemsworth's praise: "In between takes they'll teach us some of their dancing, which Chris and I are both to varying degrees pretty horrible at, but it's so fun."
Can't wait for 'World of Dance' season 3 to start? In the meantime, get to know the judges:
Who knows if season three (which premieres on February 26 at 9 p.m. EST on NBC) will feature any other movie-stars-in-the-making, but after these fierce first two seasons—hey, anything's possible.
Source: Read Full Article