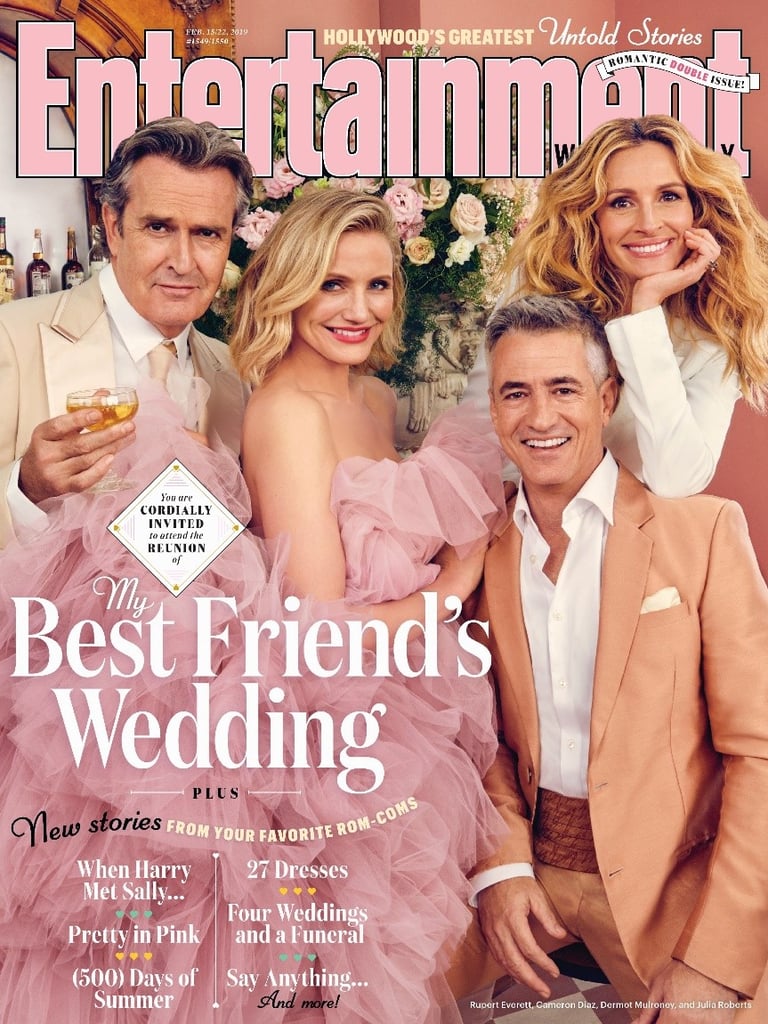 The My Best Friend's Wedding Cast Reunion Is More Than We Could Have Ever Dreamed of

It's been forever (and ever!) since we've seen the full cast of My Best Friend's Wedding in the same room, and more than 20 years after its 1997 release date, the gang is back together!
Entertainment Weekly reunited stars Julia Roberts, Cameron Diaz, Dermot Mulroney, and Rupert Everett in a super dreamy photo shoot for their rom-com issue, and the group sweetly reminisced about their summer filming in Chicago. For those who need a quick refresh on the iconic film, My Best Friend's Wedding follows the schemes of food critic Julianne Potter (Roberts) after she learns that her best friend Michael (Mulroney) is getting married to Kimmy (Diaz), a Chicago college student. Julianne and Michael had a "hot month" in college but have remained strictly platonic ever since, and the news of his impending nuptials make her realize she's in love with him. With the help of her best friend, George (Everett), Julianne plots to ruin the wedding and steal Michael.
"I just thought it was really clever and just funny," recalled Roberts, who recently had a wild reunion with Mulroney thanks to Ellen DeGeneres. "Lots of falling down and falling through things, falling all over myself, falling over Dermot."
It may seem like standard rom-com fluff, but My Best Friend's Wedding had a bit of edge to it. Having Roberts, who is basically America's Sweetheart (did you see what I did there? 2001's America's Sweethearts, check it out), as the movie's villain is inspired. Most people couldn't help but root against her, even with a smile that could light up a small country. And it's apparently stood the test of time since the cast revealed people still come up to them to gush about it. "I think about these guys every day," Mulroney said. "Because people come up to me and they bring up this movie every day for the last 22 years."
Check out the full interview on EW — which Diaz adorably shared a sweet photo from — and do yourself a favor by watching the film on Amazon Prime. Oh, and in case you were wondering, Mulroney and Diaz believe Michael and Kimmy are still living happily ever after and Roberts asserts that Julianne lives across the street.
Source: Read Full Article