The soothing combination of hot water, bubbles, and vibrations make the best heated foot spas a great way to alleviate sore feet, improve circulation, and promote relaxation throughout your entire body. They give you a mini spa session from the comfort of your own home.
While the best foot massagers offer similar feel-good benefits, foot spas go the extra mile by using water to create a completely luxurious experience. There are a few notable features to consider when choosing an at-home foot spa:
Here, find three of the best best heated foot spas available on Amazon. You'll see all these features — and more! — included on this list, which contains a variety of price points and bonus specs. Cheers to some future rest and relaxation.
1

The Overall Best Heated Foot Spa, All Things Considered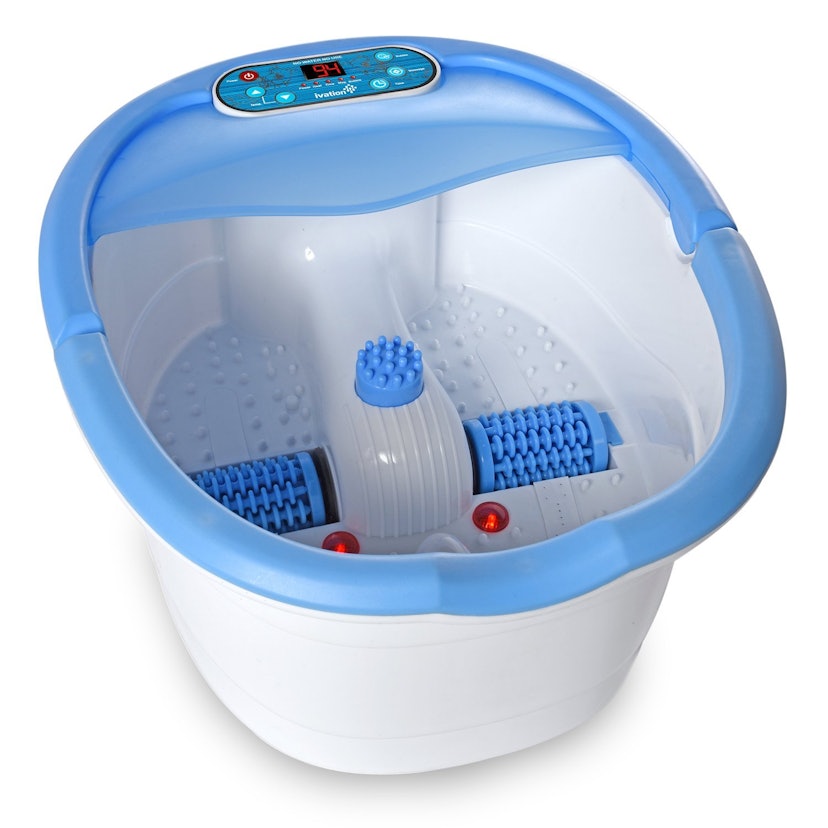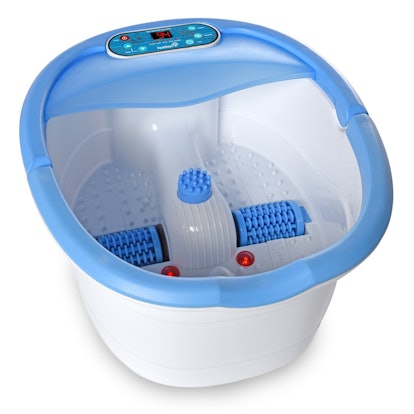 Ivation Foot Spa Massager
$70
Amazon
Ivation's foot spa massager boasts all the customizable features you need for an indulgent experience, from water jets that create soothing bubbles to vibrating massage rollers. It even has two infrared lights on the bottom as well as a fast-acting heating system capable of temps as high as 122 degrees Fahrenheit. The unit's sleek digital display boasts touch controls that adjust all its timers and settings, and it won't get ruined should you decide to add some of your favorite bath salts or oils.
To use it, simply plug in the unit, fill the basin area with water, and select your desired settings on the LED display.
2

Also Great: This Self-Heating Foot Spa With Manual Massage Rollers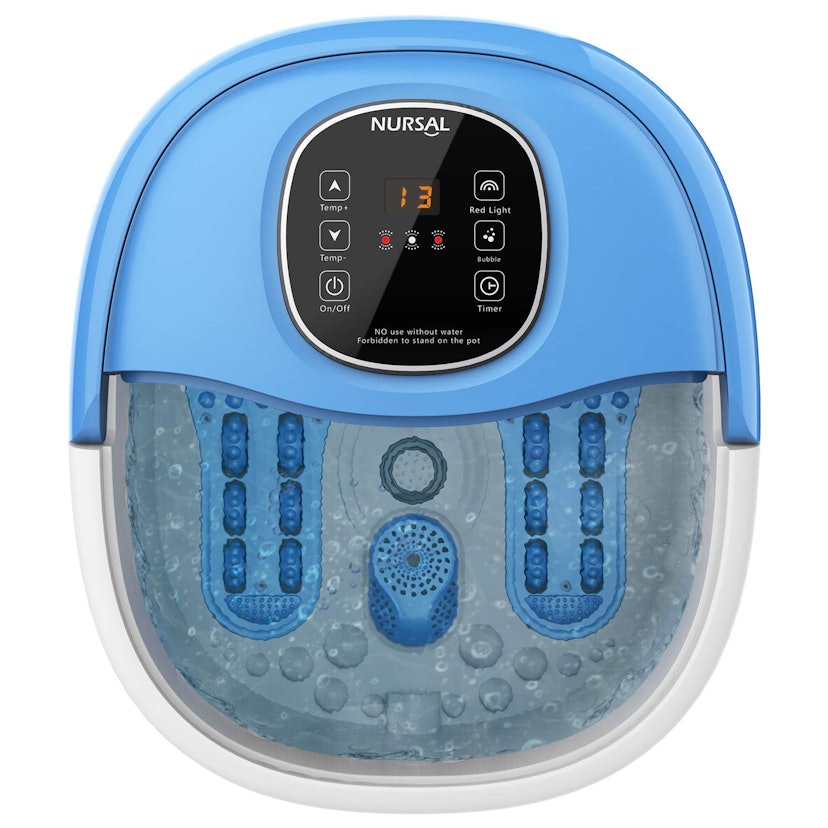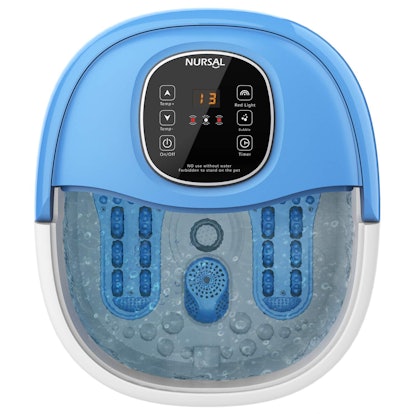 Nursal Foot Spa Massager
$63
Amazon
With an easy-to-use design, Nursal's foot spa is another great choice. This spa maxes out at a slightly-cooler 118 degrees Fahrenheit, but it has a digital display capable of controlling its bubble, temperature, and timer settings. To give it salon-level quality, it has a motorized jet that creates massaging bubbles, a red light for infrared therapy, and 11 manual massage rollers. (Note: You'll have to physically roll your feet over the rollers to reap their benefits.)
Made with leak-proof, temperature-resistant plastic, this one has a handy drainage plug to make emptying the basin a total breeze. It even comes with a dust-proof cover and a handle for easy transport.
3

The Best Budget-Friendly Option With Basic Specs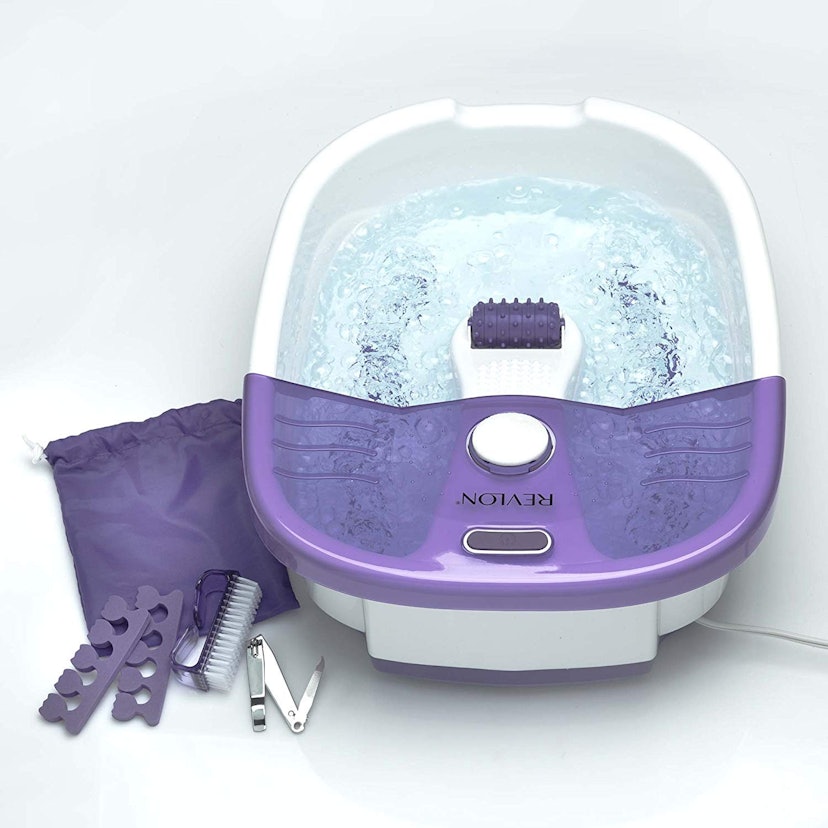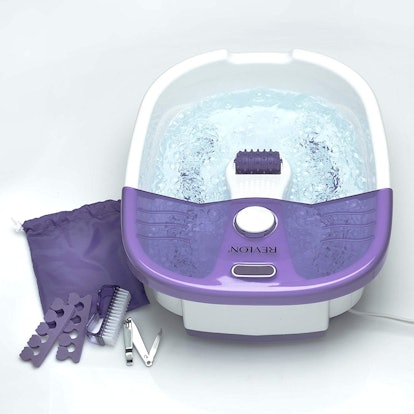 Revlon Pedicure Foot Spa
$35
Amazon
Looking for an affordable foot spa with basic features? This one from Revlon is your best bet. It uses a jet to create massaging bubbles and is capable of maintaining heat, but, unlike other options on this list, it won't actually heat up water. Instead, you'd need to fill the basin with already-hot water before use. The bottom of the unit has raised bumps that mimic acupuncture spikes, while the middle contains a manual massage wheel for achey arches.
As a bonus, it comes with a five-piece pedicure set and a removable pumice stone. While there's no digital display, heating technology, or customizable settings — it has just one main button for powering on and off — the low price really can't be beat.
Elite Daily may receive a portion of sales from products purchased from this article, which was created independently from Elite Daily's editorial and sales departments.
Source: Read Full Article