You aren't quite over summer yet. You're watching the temperatures drop and dreaming of the island life, where mornings are spent walking along the beach with coffee in hand, and afternoons are made for savoring the perfect acai bowl by the pool. You're wondering how good it would really feel to take a vacation right now, packing only a camera and a couple of swimsuits. (It would be heavenly.) Yes, you're in desperate need of somewhere else. So, you should check into Shoreline Hotel Waikiki, located in the heart of Waikiki. It's the millennial pink escape straight out of your dreams.
In a perfect world, you would be surrounded by palm trees at all times, instead of skyscrapers and bustling city sidewalks. You'd leave behind the subways for shorelines, and live in a place that has colorful and tropical #content for your 'Gram. Let's be honest: You can already imagine yourself posing with your coconut drink, or taking snaps of fresh fruit at the market down the road.
Take time out of your busy schedule, and plan a vacation to a designer hotel. Hang by the sweet pool in a hot pink lounge chair, and notice the cute neon signs everywhere. Make some new friends, and disconnect from anything beyond the sand and surf. By the end of the day, you'll saying, "Winter, who?"
The newly renovated Shoreline Hotel Waikiki should be the location of this dreamy, and totally Insta-worthy, escape. Island life has never looked so good.
What's the scoop on the Shoreline Hotel Waikiki?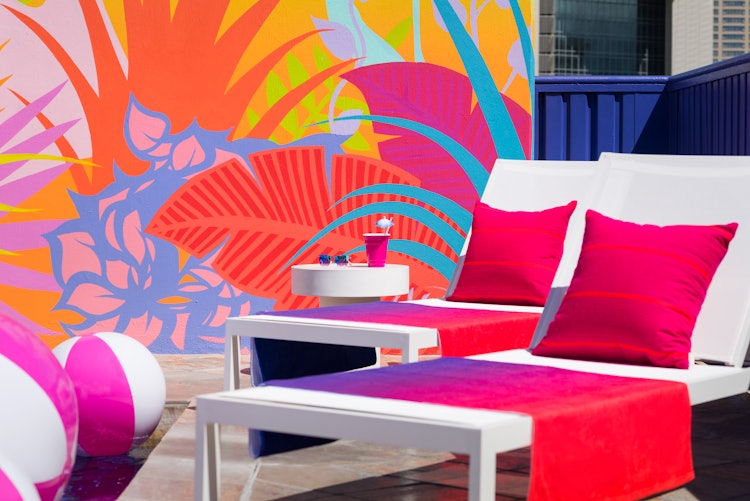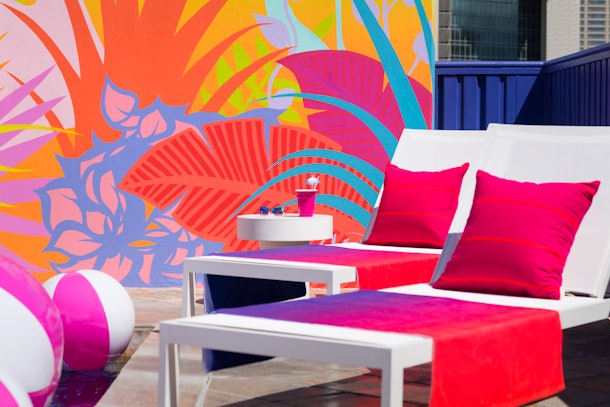 Let's dive right in, because you don't want to miss out on another minute of paradise. Shoreline Hotel Waikiki is the prime destination for a millennial traveler, like you — especially with its latest design haul by BHDM Design. Everywhere you look, this place is a photo shoot just waiting to happen. There are neon signs in the lobby and large murals by the rooftop pool. Can you save me one of those sunset-colored lounge chairs? Thanks!
The hotel recreated their look using the theme of "Nature Meets Neon," a concept by Army of Moon People, that combines palm trees with bold pops of pink and contemporary pieces. They brought in quirky furniture, electric art installations, and Hawaiian-inspired details to bring this vision to life. Walking through the door, you can see the thought and time that went into making this new space. Even the concierge desk will call your name, with its warm and welcoming pink walls.
Now, after all the renovations, the spirit of endless summer is ready to be enjoyed by the public. You and your bestie will want to book a room as soon as possible, because everything about this hotel is meant to be shared on social media. Being a guest who dedicates their travels to the 'Gram? Required.
What can you and your bestie expect upon arrival?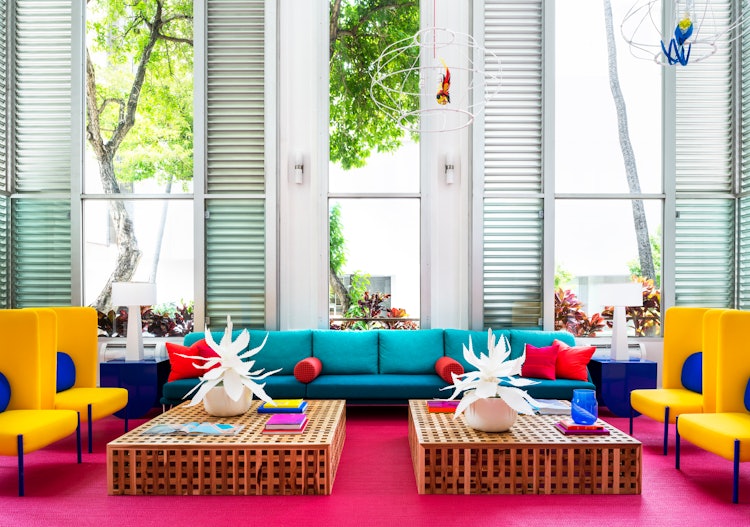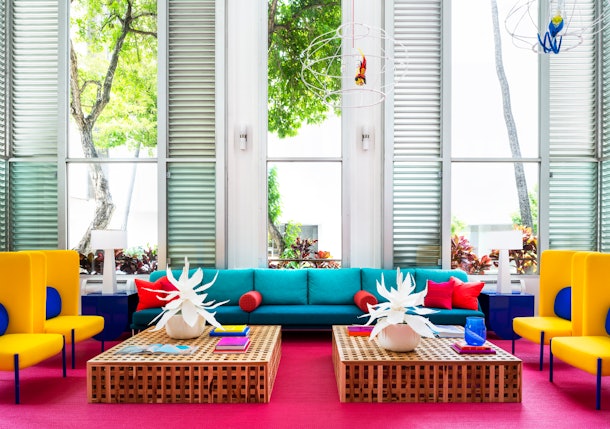 From the second you arrive, you'll want to have your camera in hand. The lobby alone has an "Aloha" sign above the check-in area, and an open-air layout that welcomes your good vibes. Not to mention, there's an ombré wall painted by California-based artist, DJ Neff, and "jungle walls" that would be the ideal back drop for a photo shoot.
After you grab your room keys, you and your bestie can expect to be treated to some amenities. A welcome package of Hawaiian snacks, Hawaiian Kukui Nut Lei necklaces, and beverages will be waiting for you, along with complimentary WiFi. Coffee will be replenished in your room every day, too.
During the day, you may choose to relax on the beach, or explore the shopping and restaurants. The hotel will also have some programming that you can take part in, including: live music, a shave ice cart, markets with local artisans, and a "relax and refresh" hour. (Yes, put me down for everything, please.)
How can you stay in this tropical and dreamy hotel?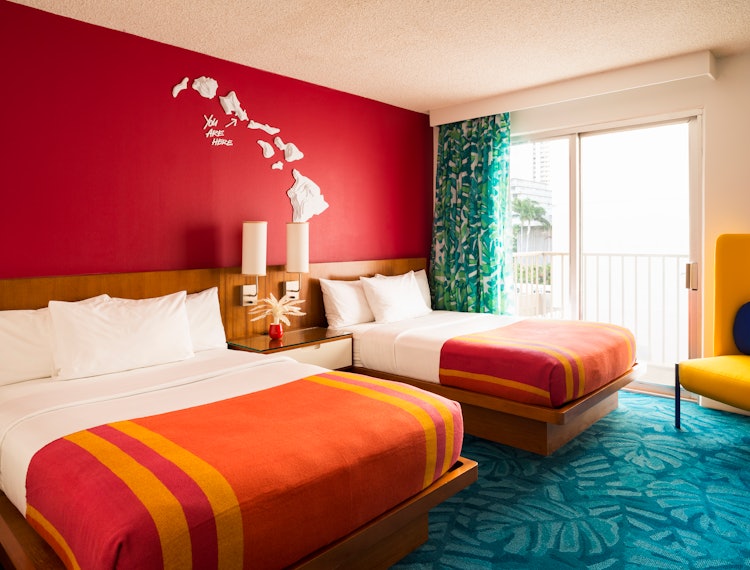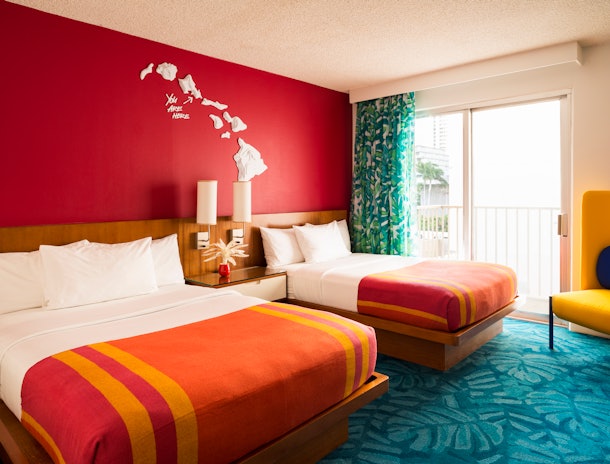 So, what do you need to do now to stay in this tropical and dreamy hotel? Start by heading to the hotel's website and picking out the dates for your vacation. There are rooms with a single queen or single king bed, or two doubles. If you and your bestie really want to experience everything this escape has to offer, then you may even choose to book a suite.
Rooms are typically around $239 to $359 per night. But, that rate includes the amenities and Insta-worthy walls. Plus, splurging on travel is always a good idea. You won't be able to get this experience anywhere else!
What kind of photo shoots can you have with your bestie at the hotel?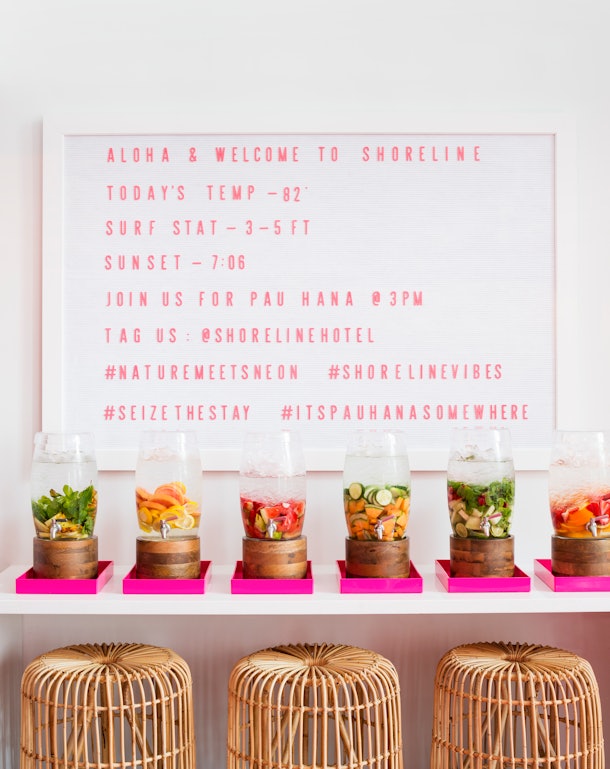 You may already feel pretty inspired by this hotel, just from a few pictures and descriptive words. But, staying here means planning your photo shoots in advance, and knowing that you need some extra space in your camera roll.
Aside from the neon signs and brightly-colored couches, Shoreline Hotel Waikiki is a dream for anyone on either side of the lens. If you're taking pictures of your bestie, consider these angles: Holding a cup of fruit-infused water by the bar, wearing a tropical cover-up; carrying a beach bag by the big windows in the lobby, with her sunglasses by her side; or laying in bed with a plate of fresh fruit and a magazine, in total relaxation mode.
If your bestie is taking pictures of you, think about what outfits would look good with certain backdrops. For example, anything white and a little boho chic touch would match the vibe of the vibrant wall near the rooftop pool. And gold rings and bracelets will bring out the lively and luxurious atmosphere of this hotel. OK, don't wait another second. Ready, set, and see you later, winter!
Source: Read Full Article