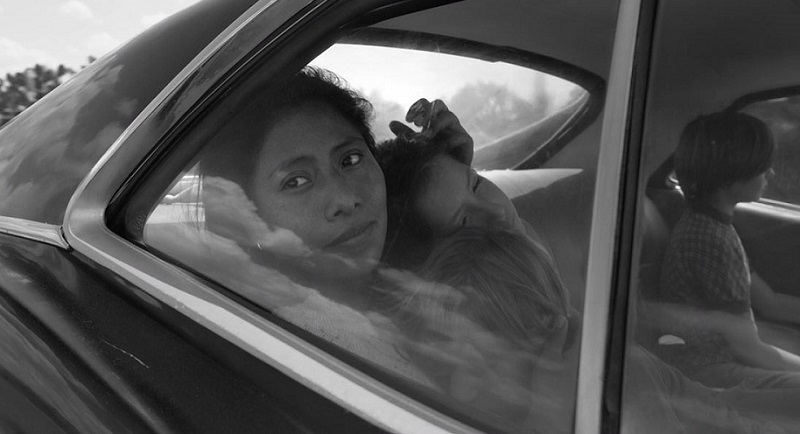 A still from 'Roma' | Netflix
If you go by the early returns, Roma should be a strong contender for several Academy Awards. Critics have raved about it; the film already received multiple Golden Globe nominations; and it landed the Golden Lion for best picture at Venice.
In any other year, Roma would have a shot at sweeping the Oscars. However, a few things stand in the way of this beautiful, devastating film and its director Alfonso Cuarón. The first is strong competition from A Star Is Born and Bradley Cooper, who wrote, directed, and starred in the remake of that classic title.
But there's also an elephant in the room: Cuarón produced the film in partnership with Netflix studios. That means his festival-dominating feature film only got a three-week run in theaters before it began streaming online. In Hollywood, where box office remains king, that's dangerous for so many reasons — and Cooper stands to benefit.
Yet in the real world, people watch classic films by the art form's great masters on television every day. And Roma had the longest theatrical run of any Netflix film before it went live for steaming. So there's little-to-no shame in taking in the latest by the director of Gravity and Y Tu Mama Tambien through an appropriate device (i.e., not an iPhone).
Here's how to stream Roma when you get the urge.
Now playing on Netflix's standard on-demand service 24/7
By now, most people with an internet connection know how to use an on-demand service like Netflix. First, you have to sign up for the service and provide payment information for later. (New users can get a free trial for as long as one month.)
If you have Roku or another service that allows your internet connection to flow to a larger screen (recommended), you just download Netflix to watch feature films via that device. The experience of watching such a film on a bigger screen is infinitely better than you will get on, say, a laptop or tablet.
As soon as you log on to Netflix, you simply track Roma down and press play. The film became available on the service December 14 — even as it continues its run in theaters worldwide, including in a 70mm print. Naturally, the filmmaker would prefer you see it on as large a screen as possible, but Cuarón isn't a snob about it.
Cuarón's take on home viewing vs. in the theater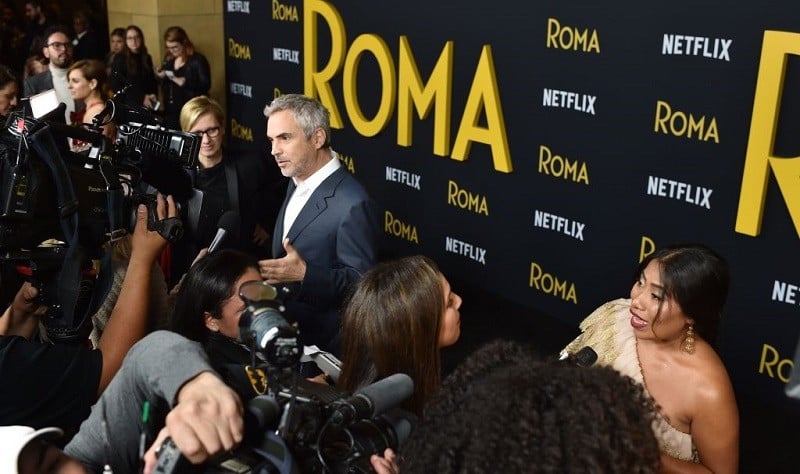 Mexican director Alfonso Cuarón (l) and Mexican actress Yalitza Aparicio (R) talk to journalists at the Los Angeles premiere of "Roma" at the Egyptian theatre in Hollywood on December 10, 2018. | Robyn Beck/AFP/Getty Images
In a statement (per The Hollywood Reporter), Cuarón let his audience know where he stood on the matter when its largest format (70mm) had its upcoming theater run announced.
"Roma is designed to be meaningful whether experienced at home or on the big screen, but offering cinema lovers the opportunity to see it in theaters is incredibly important to me," he said. "The 70mm print of Roma shows unique details not available on any other version."
With that said, we suggest you approach Roma as you might any film (or a book you take out of the library). If you are a big Cuarón fan or enjoy it on the small screen, make time to catch a 70mm showing in your area. Otherwise, do your best to tune out distractions and take in the film on the largest home screen you have.
Once you see the extraordinary work Cuarón put into Roma — especially with respect to the film's cinematography — we guarantee your effort to honor the film will be worth it. But it's ready on Netflix whenever you are.
Check out The Cheat Sheet on Facebook!Now 
Source: Read Full Article