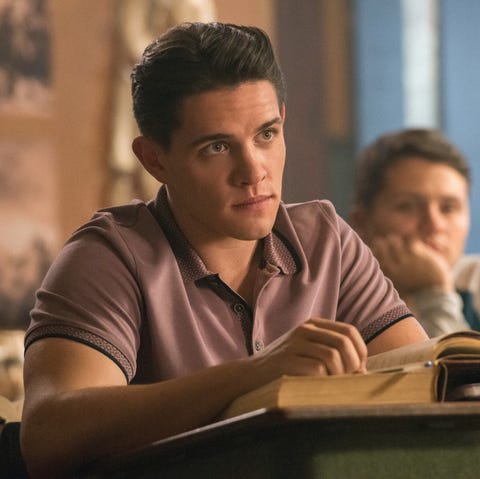 I think we can all agree that the hottest ship of Riverdale season one was not Bughead nor Varchie, but the show's true star-crossed lovers: a Southside Serpent and the Sheriff's son. No? Just me? Well, I know I'm not the only one who hoped Joaquin may have turned out to be Alice Cooper and FP Jones' long-lost son Chic, giving Riverdale the excuse to bring him back into the waiting arms of the under-appreciated Kevin Keller.
Alas, Hart Denton was cast as Chic, and that theory was quashed. Season two came and went without a peep from the leather-clad, blue eyed gang member. Kevin moved on to Moose, a jock who keeps his relationship a secret from his ROTC buddies. Then, in Season three, Joaquin made a less triumphant return as one of Archie's fellow incarcerated teens.
But it wasn't until last night's episode, 'The Great Escape,' that Kevin came face to face with his former boyfriend once again. Casey Cott spoke to Cosmo about what Joaquin's return will mean for Kevin, the Gargoyle King, and his team up with the group Cott tells me he'd call "the Tasmanian Trio" (i.e. Kevin, Reggie, and Josie).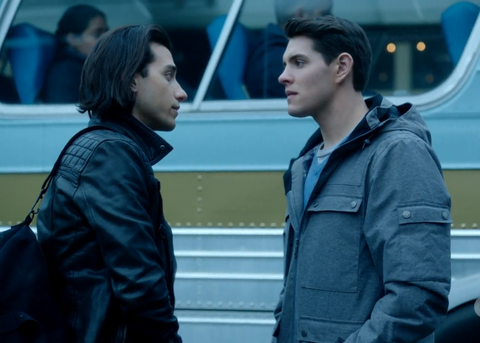 Joaquin is back and out of Juvie! Is the Kevin/Joaquin ship alive again?
I don't know if the ship has sunk, but I think that ship has docked, and I don't see it going too far any time soon. I think the part of that relationship died when Joaquin left… and when he was mopping up human blood and stuff.
But with Joaquin anything is possible.
Yea, I am not sure if Kevin will be too cool with Joaquin stabbing Archie, either…
Exactly! I think Kevin is pretty consumed by Moose at the moment.
Let's talk about that! Is Kevin going to stand Moose keeping their relationship a secret?
I think Kevin is making a lot of excuses for Moose right now, but I think there will be a point where he says, "listen here, pal! You've got to make a choice."
It's kind of fun to see what happens when Kevin finally stands up to him.
What do you want for Kevin?
I want Kevin to do something for Kevin. I feel like Kevin is always a part of someone else's drama. I'd like to see a plot line of Kevin really going for something…or solving a mystery…or seeking a relationship and getting it!
I just want to see Kevin do something amazing and big for himself. Also, I'm surprised Kevin hasn't had his own [musical] number yet, and I'm very much waiting for that. I love singing as Casey, so hopefully soon Veronica will own up to the pact she made with Kevin and he'll have a show stopping number.
It does seem like Josie and Kevin and Reggie are teaming up!
True! You know, it's so fun being a few episodes ahead of where the viewers are at, because it's hilarious how things unfold.
I'd love more of that trio coming up, it'd be a blast!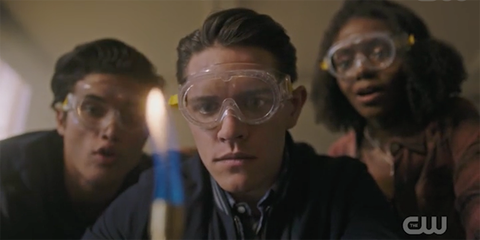 How far ahead are you?
We start episode 12 tomorrow, so we are officially halfway done with season 3
So do you know who the Gargoyle King is?
I can't tell you that!
You can't even tell me if you know who it is?
I can't tell you that because if I know who it is then you'll know if we know by episode 12 who it is. I see your tactic, but you're not smarter than me! I got you. [laughs]
I can say that I've got a good idea.
I was just going to ask if you didn't know, what your wildest theory would be!
My wildest theory is that the Gargoyle King is Jellybean Jones. It's wild because she'd literally be a 7 foot 2…10 year old girl. So that would be really strange.
Riverdale airs Wednesdays at 8 P.M. EST on The CW.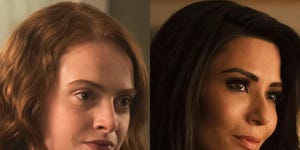 Source: Read Full Article