When celebrities hang out at Bustle, we want to give them the chance to leave their mark. Literally. So we hand them a pen, a piece of paper, a few questions, and ask them to get creative. The rest is up to them. This time, singer-songwriter Lennon Stella is leaving her mark in the Bustle Booth.
She's only 19, but Lennon Stella has already gone through some pretty huge stages in her life. There was the Youtube era of the early 2010s, when she and her younger sister Maisy became viral sensations due to their covers of songs like Robyn's "Call Your Girlfriend" and Charli XCX's "Boom Clap." Then there was the Nashville era, the six years when the sisters starred on ABC's hit show as Connie Britton's daughters, up until this summer's series finale. And now, there's the solo era — in which Stella, for the first time, is branching out on her own with an EP called Love, me.
On the new record, out now, Stella delivers catchy, heartfelt tunes like singles "Bad" and "Fortress" that show off her talents as both a singer and songwriter. The tracks have garnered praise from celebs like Meghan Trainor and Liam Payne, and Stella has also released a song with Jonas Blue and Payne, "Polaroid." With all this, the singer is proving that she can find success without her sister by her side, but that doesn't mean she's totally confident about about doing her own thing.
"Yeah, 100 percent," Stella says when I ask if she's nervous about going solo, chatting recently at Bustle's New York office. "It's different. With [Nashville], being on that since we were so little — I was 12 when it started — [since] we made music on the show as our characters, and then people were fans of that, it's like a weird expectation that's already built up. It's not a bad thing by any means, but definitely, there's a little bit of pressure."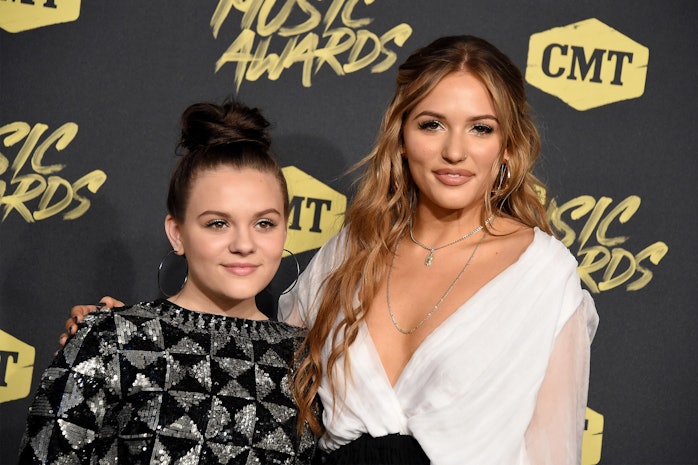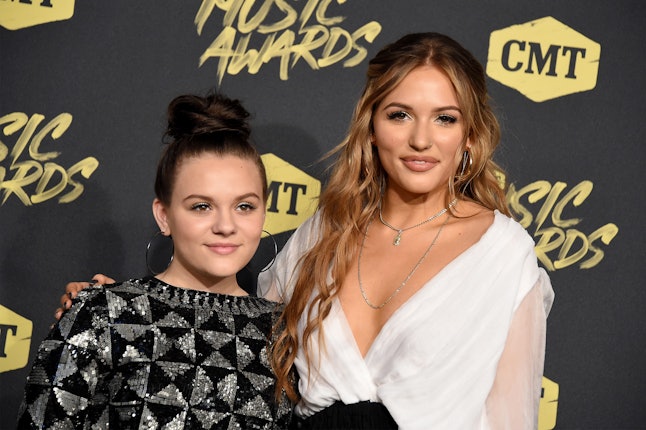 That said, Stella is more psyched than anything else to be releasing her own music for the very first time. "I'm so excited, I feel really good about what I've been making and putting out," she explains. "And the response has been so positive, like way more than I honestly could've imagined."
Yet while critics and fans have expressed their admiration for Stella's new music, it's the praise of little sis Maisy, now 14, that matters the most to the singer. "She's the most supportive, and it's so genuine and it makes it so much fun," says Stella. "As much as I want the people I don't know [the music] to love it, it's different when it's your sister."
Maisy's favorite track off the EP is "Feelings", but her sister is, naturally, proud of them all. Much of Love, me has to do with darker periods in her life — family drama, relationship struggles — and so the album, she explains, gets pretty deep. "It's pretty emotional and vulnerable. I think lyrically, there's a lot of sadness in there," says Stella. "[The songs] have this certain heaviness to them."
Stella is glad that Love, me goes to dark places, though. "I write a song and people resonate with it, and it helps them through their breakup, or whatever it is. It's so cool to me that it has that effect," she says. "And for me, it really is so therapeutic."
It makes sense that Stella would choose to learn from her experiences in this way, considering that millions of people watched her grow up on-screen in Nashville. Looking back on those years now, Stella has a few minor regrets — "maybe a couple spray tans I shouldn't have gotten," she says with a laugh — but overall, she doesn't mind that her teenage years were documented so publicly. "I feel good about everything that's been out there, and at the end of the day if you stay true to yourself, there's nothing to regret," she says. "And for the duration of the show and just until now, I've stayed pretty solid to who I am."
And anyone who listens to Love, me will find out exactly who that person is. For more on Stella, check out her Bustle Booth below.
Source: Read Full Article