And the winning destination of the year is … Leeds! Well done to its boss, council leader Judith Blake. Well done, Yorkshire. The fairy godmothers of Whitehall have sent Channel 4 kicking and screaming north of Potters Bar. Its executives must now wander the steps of the Headrow and the banks of the Aire, like Ovid in exile. No one can begrudge Yorkshire a PR victory over the titans of Manchester and Birmingham. But there is something depressing in London tossing the north these crumbs from its groaning sideboard, as if Leeds could not stand on its own feet.
Ever since the 1980s, when Michael Heseltine recast local councils as grovelling Treasury supplicants, they have been appeased with garden festivals, city of culture awards and Commonwealth Games. Now they get 200 television luvvies, and are expected to say yippee.
In truth, Leeds is the wrong choice. It goes against the grain of "creative hub theory". This holds that creative industries must build up a critical mass if they are to resist the overpowering magnet of London. A decade ago, the government decided to attempt just that in Manchester. It created a media city in Salford as the provincial base for both the BBC and ITV. The Leeds decision is hardly a big deal, but a chance to enhance Manchester's creative hub has been botched.
The north-south divide is not a cliche. It is the single biggest handicap to Britain's growth. The economist Paul Collier told the BBC this week of "a vicious new rift between a metropolis that is increasingly booming, and provincial cities and towns which have mostly been broken". That is why Britain's productivity is so low, why the north languishes ever further behind in the wealth stakes, and why it voted so overwhelmingly to leave the EU. It was fed up with London's bias towards London.
The government cannot stop itself showering money and jobs on the capital. It gives more for Crossrail, more for Heathrow, and a secretly doubled budget for the London-focused HS2. No spending is too extravagant for the Treasury's adored London. Now Philip Hammond proposes the last thing an overheated south needs, a sprawling, low-density, energy-guzzling "corridor" city from Oxford to Cambridge, a concept from planning's dark ages. And if so, why not a Manchester-Leeds corridor? I can see the Treasury holding its nose.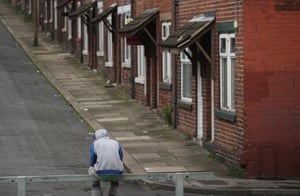 The revival of any modern economy depends on its regional cities.In 2002, the urbanist Richard Florida pointed up the role of the "creative classes" as the yeast in city centre renewal. It meant accepting inner area gentrification, restoring attractive, usually historic streets, as well as supporting the arts, museums and universities. These are not fripperies, but magnets to the design, marketing and media skills of the new service economy. The north's two chief economic centres, Leeds and Manchester, should be prospering as Britain's Hamburgs, Munichs, Toulouses and Milans. They are not. However, Leeds, with a metro population of 1.7 million, has grown into England's biggest base for banking, financial services and law firms outside London. It is emerging as the capital of a newly confident "One Yorkshire". What it most needs is better roads and railways, not exiled television executives.
Manchester has a different personality. It has a regional population of 3.2 million, and a pre-eminence in the media, arts and sciences, aided by booming universities. While Yorkshire's cities are persistently feuding, Manchester's leadership under Richard Leese and Howard Bernstein was able to induce George Osborne to the first real act of English devolution in half a century – management of its own NHS.
Other northern cities are more problematic. Liverpool, Newcastle, Sheffield and Hull are still finding their feet. More serious challenges are depressed towns such as Barnsley, Rotherham, Oldham and Blackburn. All these places have seen budgets devastated by 30% to 50% under austerity. Unlike other cities in Europe, they are forbidden by central government to fill the gap by raising local taxes. Britain's civic leaders have been systematically humiliated and infantilised by Westminster, , and this is despite polls showing local politicians are consistently more trusted than national ones. The latter, Labour and Conservative, simply cannot bring themselves to devolve power downwards. Yet they demand to "bring back control" from Brussels.
Harsh though it may be, attention must be concentrated on Manchester and Leeds. Manchester is clearly the northern hub for media and creative industries. It has become the true northern powerhouse. But Leeds can capitalise on its strength in administration and commerce. It should attract national agencies such as those covering justice and financial services. Every civil service department that does not have to be in London – which is most of them – should decamp to Yorkshire.
Meanwhile there is a better scheme that Whitehall can plot. A British fiction is that its public spending is not corrupt, but is distributed on a basis of fairness and reason. Rubbish. It is distributed by familiarity and preconception. That is why so much goes to London.
Government now has a golden opportunity to correct this bias. It is proposing to spend tens of millions of pounds gutting a listed building, Richmond House in Whitehall, merely as a temporary home for parliament, while Westminster is being rebuilt. It is inexcusable. Not just Manchester, Birmingham and Leeds, but Liverpool, Sheffield and Newcastle should be asked to bid to host it. That would be a real competition.
The experience would be traumatic. It would jolt parliament into confronting its greatest failure since the second world war, the yawning gulf between the north and south of the country. It should go north, and sense a very different England.
• Simon Jenkins is a Guardian columnist
Source: Read Full Article