Kristen Bell is back on the case and she wants all her Marshmallows to follow right along. Luckily, they don't have to be super sleuths like Veronica Mars, they just have to have an Instagram account. Thanks to Bell, fans are already getting to see the latestVeronica Mars set videos that are sure to get them even more excited for the new season.
On Monday (Nov. 19), Bell was feeling a little nostalgic about returning to the set of Veronica Mars. So, she did what any actor of a popular revival series would do: she posted on Instagram. Using the official Veronica Mars Instagram, Bell shared a series of behind-the-scenes images with fans, teasing the upcoming revival coming to Hulu in 2019. Sprawled out on the couch in Mars Investigations in one video, Bell said, "Being in the investigation office brings up a lot of memories and nostalgia and feelings of who on Earth let us do this again!" The zoom in on that last line was a nice touch.
But, the caption to the Veronica Mars Instagram post promised there would be more of these videos to come. "It's all happening!!!!!!!!!!!!!!!!!!!!!!!!!!!" it reads. "Investigate our stories for more from the set of #VeronicaMars." Already, Veronica Mars's Insta Stories include Bell having fun with filters and taking fans on guided tours of the new set while wearing a very nice jacket, of course.
As Bell pans the camera around Veronica and her dad, Keith's office, she noted that much of what fans will see will look familiar. "And they actually got all of these things from the original set," she says, flashing on desks, lamps, photos, and knick knacks like a ship in a bottle.
"Oh man," she says as she films the desk where Keith Mars worked, making sure to put the statue of Lady Justice back on the desk. "Lady Justice was prominently featured in all three seasons of VeronMars," she says to camera. "They found her in some prop house. And she's back as a main character." Don't worry, this time around, Veronica is going to have her own office, right alongside her dad's.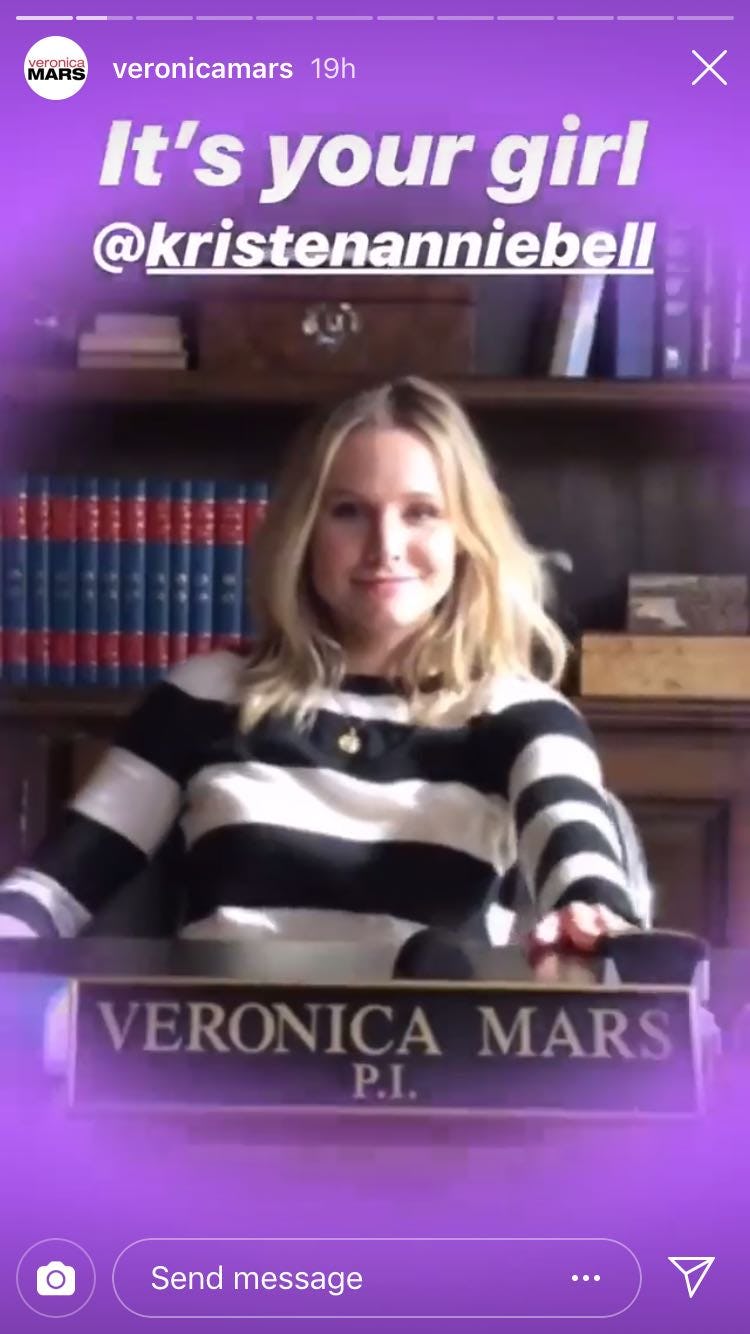 Fans also got to see Enrico Colantoni, who's returning as Keith Mars as a bunny in the Instagram stories, standing alongside his TV daughter. Told you Bell was having fun with those Instagram filters.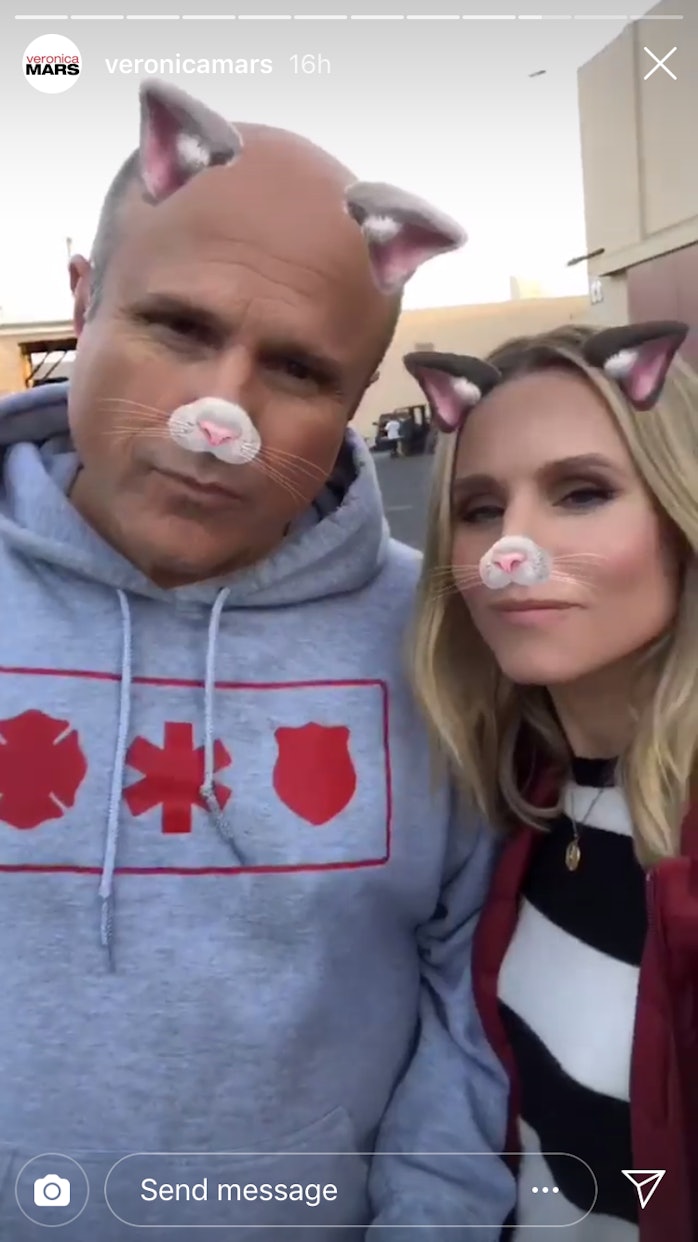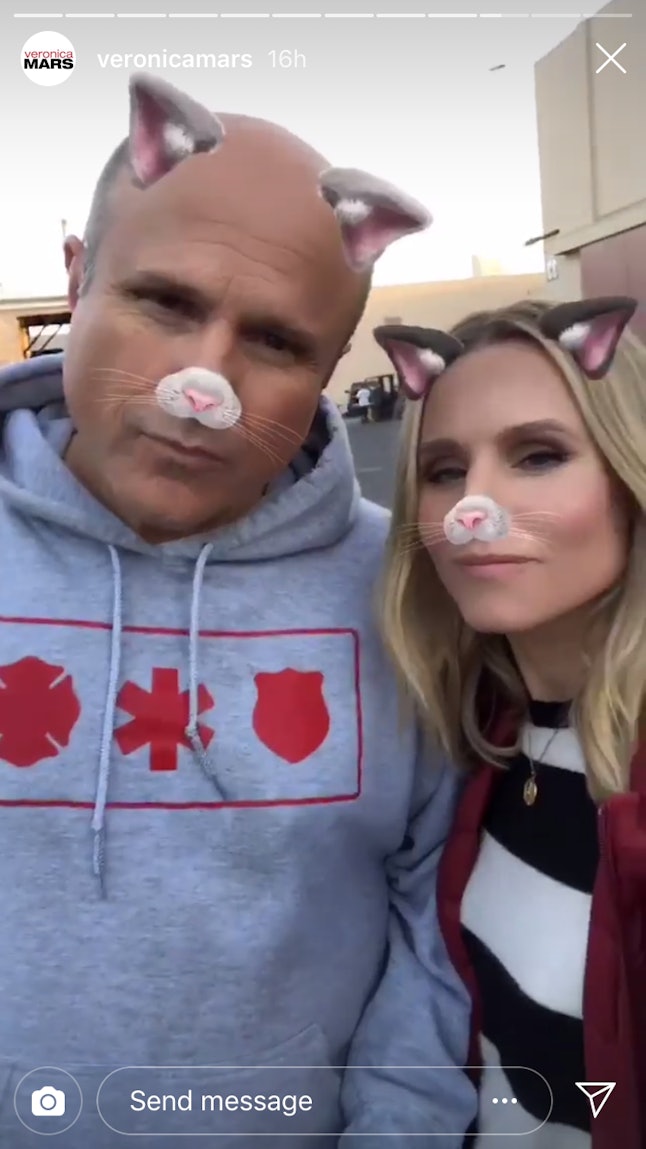 While fun, these behind the scenes videos don't give much away, but they are clues. The Veornica Mars account also shared a photo from Bell that shows the cover of her script for Episode #101 "Spring Break Forever," written by creator Rob Thomas.
She also shared a snapshot of the first page, but don't expect to make out any details beyond the fact that Veronica will be heading to a mansion in the first act of the episode. Not all that surprising, since Thomas revealed on Twitter that the reboot will be a "hardcore So-Cal noir" and will follow "one big case" that tries to figure out who is killing the spring breakers who have come to Neptune.
Back in September, Bell told SiriusXM's Entertainment Weekly Radio that the Veronica Mars revival will be much darker than previous seasons. "It's going to be a bigger world. It's definitely not going to be what we did on UPN or The CW," Bell said then. "So I want to brace fans for that, that it's going to be darker and bigger and more cinematic and definitely a little bit different."
For starters, the show is adding a few new characters, including one that will look familiar to fans of The Good Place. Kirby Howell-Baptiste, who played Simone, was cast in the recurring role of Nicole, the owner of a Neptune nightclub where spring breakers love to hang out. iZombie's Dawnn Lewis was also cast as Neptune's new police chief Marcia Langdon.
They'll be joined by past Veronica Mars favorites like David Starzykm, who played Richard Casablancas, Percy Dags III who was Veronica's best friend Wallace Fennel, Ryan Hansen reprising his role as Dick Casablancas, and Jason Dohring, who plays Logan Echolls, Veronica's on-again, off-again boyfriend.
There's still a lot to learn about this new Veronica Mars season, but it's clear the show's official Instagram might be able to hold you over until 2019. After all, there's so many more Instagram filters Bell can play with.
Source: Read Full Article