Kylie Jenner and Travis Scott have basically been hinting they're already married for the last eight months, but according to the HBIC Kris Jenner, there are actually no plans for a wedding ceremony anytime soon.
She went on the Kyle and Jackie O. morning show yesterday, and the hosts asked her how Kylie and Travis were doing.
Could @kyliejenner & @travisscott be getting married soon? @krisjenner pic.twitter.com/76vckK8YJT
"Oh, they're so great," she said. "They are really terrific." Good to know! But then, when Kyle asked her if there are any wedding plans in the works, she said she doesn't know what's up with that.
"Not that I know of," she said, while also mentioning that she doesn't know everything her daughters are up to (good one, Kris), so it's possible they do have plans that she just doesn't know about. "So, if you hear something, you better call my cell," she joked.
Okay, so that clears that up?? Travis did mention a while ago that he's looking for a "fire" way to propose to Kylie, and one writer on Twitter had a very interesting theory as to what that could mean…
Hello, I am launching a conspiracy theory: Travis Scott is looking for a "fire" way to propose to Kylie Jenner. He is also performing at the Super Bowl. Last year, Kylie announced Stormi's birth before the Super Bowl. Get ready for a live Super Bowl proposal…
Do what you will with that info!
Follow Emma on Instagram.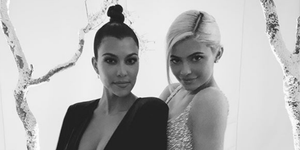 Source: Read Full Article