So after Kanye West went on that Twitter rant against Drake because the Toronto rapper had allegedly insulted him and never apologized, Kim Kardashian decided to get involved. So, yes, sure, she jumped in to defend her family and to tell Drake to step off, but that doesn't mean she's on board with Kanye's drama and his Twitter-happy thumbs.
@drake Never threaten my husband or our family. He paved the way for there to be a Drake.
My husband is the most brilliant person, the most genius person that I know. He has broken so many boundaries, everything from music, stage design, fashion and culture and will continue to change the world.
According to a People source, Kim is sticking up for Kanye because they're married and supposed to be a unified front, but in all honesty, she "can't stand when he starts drama like this." That's totally fair considering she has had to defend her husband in public quite a lot in recent memory.
The source said, "She believes this is what she needs to do as his wife. They are a team and she will stick up for him….that doesn't mean that Kanye's drama doesn't affect her negatively."
Kim previously said that Kanye means well, but that he doesn't always communicate that in the best way. Um, I guess you could interpret his latest tweets as him doing what he thinks is right for his family, so, yeah, sure.
People's source added, "It's very stressful for her because she doesn't know when it will stop and what he will do next. She has no control over his social media drama."
All in all, it sounds like Kim basically wants to do this when it comes to being involved with Kanye's social media presence:
Leaving the office on Friday like …. #FridayFeeling https://t.co/j9xiBDcgsi pic.twitter.com/sdggeURcim
LOL. Best of luck with everything, Kimmie.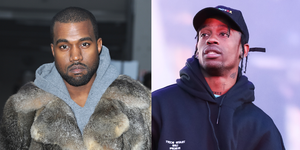 Source: Read Full Article