Jenni "JWoww" Farley and Angelina Pivarnick are always DTF: Down to fight.
The Jersey Shore Family Vacation co-stars have had an ongoing feud that started back when the MTV reality hit first premiered in 2009 and over a decade later, it's more heated than ever thanks to the recent controversy involving Zack Clayton Carpinello, Jenni's boyfriend.
In a recent episode of JSFV, Angelina accused Zack of hitting on her and touching her inappropriately, a claim JWowww refused to believe, with the two women almost coming to blows as their roommates had to hold them back and wine glasses were shattered.
Well, she refused to believe Angelina's version of events until she reviewed the tape and saw the alleged groping footage for herself.
While the gang was out at a club, Zack, who had been making comments about Angelina since meeting her, including questioning her about her sex life with fiancé Chris Larangeira, got a little too close to the reality star on the dance floor as a drunk JWoww was sleeping on a nearby couch.
'So we're all dancing and having a great time. Jenni is obliviated drunk, passed out on her man right now. And all of a sudden, I just feel this big hand just, like, right on me," Angelina, 33, recounted in a confessional. "I was surprised because his hands are so big. It was, like, on my a– and my side. And Jenni's like right there."
Some of the other Jersey Shore stars also witnessed the encounter, including Deena Cortese and Vinny Guadignino, who noted JWoww would not be pleased.
And JWowww, who split from husband Roger Mathews in September 2018 and began dating Zack in April, was devastated after watching the episode, deciding to end her relationship with Zack.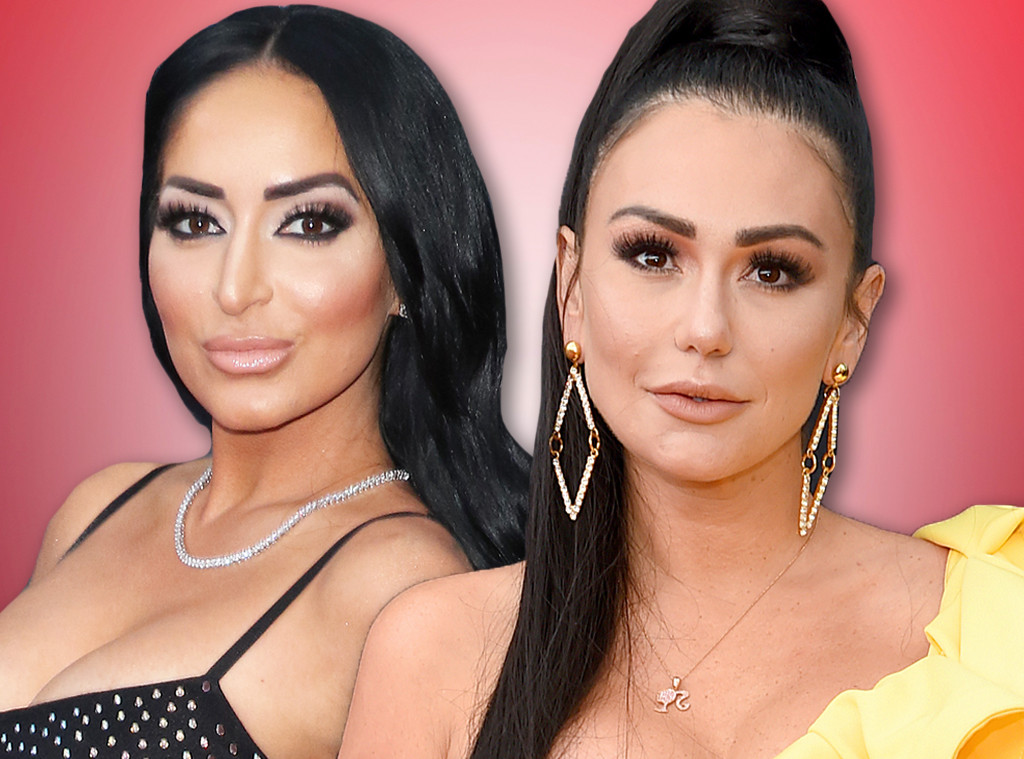 Jim Spellman/FilmMagic, Jamie McCarthy/Getty Images for MTV
"After seeing tonight's episode I'm pretty hurt. I feel disrespected by someone I called a friend and by someone who stated they loved me," said JWoww. "For 5 months I was kept in the dark about this. For 5 months I was naïve, probably laughed at and made into a story line that will forever haunt me."
She then added, "My heart hurts on so many levels. One thing I learned from tonight's episode is know your value. Don't ever lower your standards."
View this post on Instagram
A post shared by Jenni JWOWW (@jwoww) on
Zack, 24, also took to social media after the episode aired on Oct. 10, issuing an apology to both Jenni, 33, and Angelina.
"I made mistakes that I cannot take back, which I take full responsibility for. Jenni does not deserve any damage from anybody else. This is on me. I sincerely apologize to Jenni. I apologize to Angelina as well," he wrote. "I love Jenni, with everything I have, I make this known to her every day. I will continue to do everything to make this known to her and her kids, who also have my heart. I will make it certain that nothing like this ever happen again, in any way regardless of the outcome."
Though she announced their split, JWoww and Zack were then reportedly spotted out with her two kids, daughter Meilani, 5, and son Greyson, 3, according to Us Weekly.
But the odds of a reconciliation between JWoww and Angelina? Hm…how do you say "when hell freezes over" in Italian?
As the dramatic episode aired, the reality stars battled it out on social media, with Jenni calling her "pathetic" and then responding to a commenter, "She stirred the pot knowing it would end up on tv. If she was a true friend, she would've checked him and then came straight to me. She lived for the drama and straight disrespect."
This epic clash of the tanned titans is just the latest in a long string if blow-ups between them over the course of 10 years.
When Jersey Shore first fist-pumped its way into pop culture in 2009, it was clear that there was one roommate who wasn't really vibing with the rest of the cast: Angelina.
"When she left last summer, she was running her mouth like crazy," Nicole "Snooki" Polizzi said in season two, "and she was blasting everybody in the house."
While they managed to make it a few weeks without any major blow-ups—save an epic screaming match in the back of a cab, with JWoww saying, "You want to take this f–king outside right now?" before the girls all leave Angelina alone in the taxi—things came to a breaking point in the middle of season two, with the tension between JWoww and Snooki vs. Angelina taking over the house. The BFFs accused Angelina of constantly talking smack about them and being two-faced, while Angelina called them bullies.
Finally, JWoww and Snooki confronted Angelina on the deck, with JWoww delivering this classic Jersey Shore quote: "You can stay, get your ass beat, you can stay get your f–king ass beat."
Stay and get her "f–king ass beat" she did, but not by JWoww, who also warned her to "sleep with one f–king eye open," as it was Snooki and Angelina who engaged in the iconic fight that went two rounds, kicking off with Snooki infamously saying, "Hold my earrings, please," and ending with her saying, "I'm still pretty, b–ch."
While the match was pretty even, Snooki and JWoww ultimately proved victorious as Angelina once again chose to leave the house and the show.
After it was announced that MTV was officially bringing back Jersey Shore, fans wondered if Angelina would make an appearance even though she exited the series. Of course, she did, with her highly anticipated reunion with her former co-stars being teased in the first official trailer for Jersey Shore Family Vacation.
Ahead of JSFV's premiere, Jenni was less than enthused to talk about Angelina in an interview with E! News, blankly staring at the camera before saying, "She was a real s–tshow." (We would later learn she was actually a literal s–tshow, pooping her pants during her one night out with the gang.)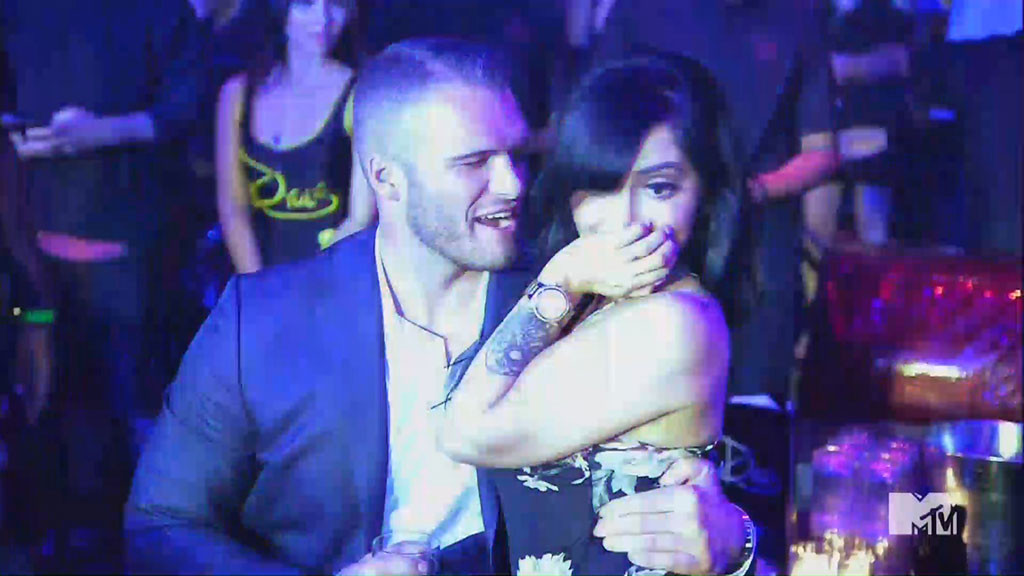 MTV
In the first season of Jersey Shore Family Vacation, the boys decided to pull the ultimate prank of JWoww and Snooki by inviting their former rival Angelina to Miami while they were on a break visiting their kids. And when they returned, Jenni was less than pleased to see Angelina back in the mix. "Why the f–k are you here?" JWoww asked, calling out Angelina for never attempting to apologize to the roommates in the eight years since they last saw her. "You're here because you're a f–king chew toy! get the f–k out of this house."
So why was she so pissed to see the "dirty little hamster" back in Miami? Well, JWoww and Snooki had been paying attention to all of the stuff Angelina had been saying about them (and their looks) on social media.
"Not once did you try to make amends," JWoww said, with Angelina saying she just wanted to "redeem" herself.
While they ultimately called a truce, Jenni lead the charge in the roomies deciding Angelina didn't have to go home but she couldn't stay in the house (or on the show) for the remainder of the vaca.
"You are a good person," she told Angelina. "I would like to get to know you more, but I don't want to get to know you more here."
Except MTV did want them to get to know Angelina more on-camera, bringing her back as a full-time cast member in season two.
Right from the jump, Angelina and JWoww had a quick back-and-forth, despite Snooki, who "secretly" invited the former roommate to Las Vegas, trying to place peacemaker, despite her BFF alleging Angelina had called her "a Jersey Whore" in between seasons.
"We have things that we have to sort out," Angelina said before even saying hello to JWoww, who quickly fired back, "It's a wonderful day because we're actually dealing with family…you wouldn't know, before you're not part of the family. Round one!"
Alas, they kind of sorted out their issues, though Angelina vowed to never be JWoww's "chew toy" again.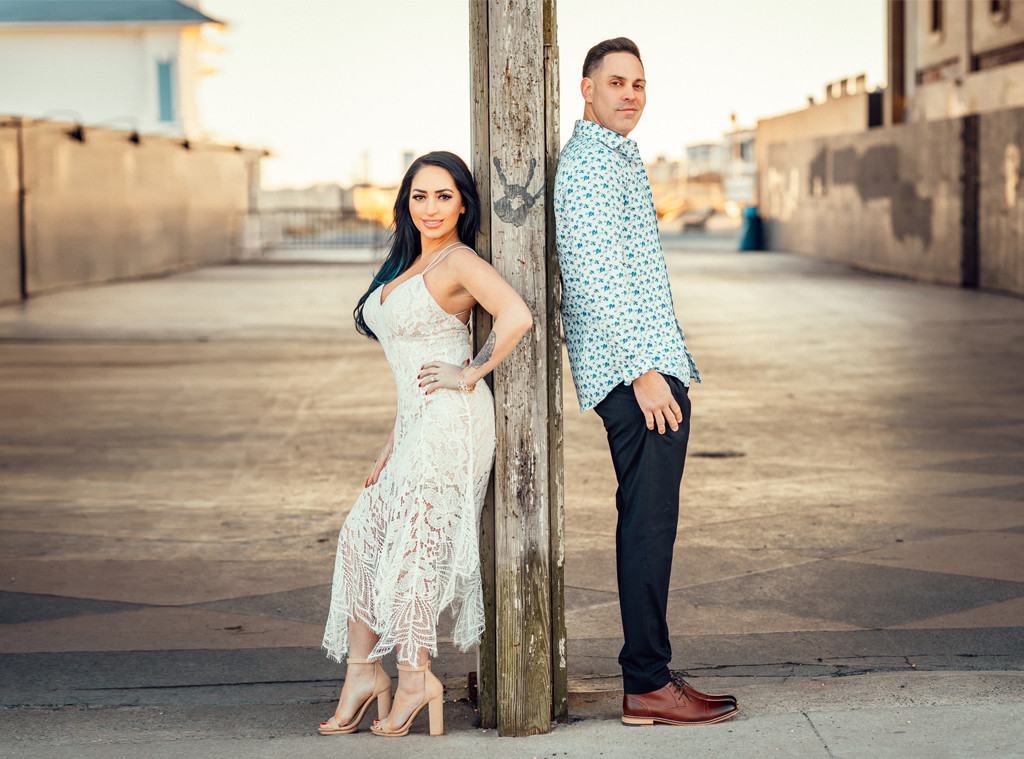 Anthony Serrantonio
While things started out cordial enough, JWoww and Angelina once again had a war of the words in season two's midseason return after JWoww, who was trying not to talk about her marital issues with Roger on-camera at the time, claimed Angelina was disrespecting her fiance by saying she would smush Ronnie Ortiz-Magro.
"My relationship is great. Stop talking about my relationship! Thanks," Angelina fired back. "I could go in right now, but I'm shutting my mouth. I'm shutting my mouth…I'm shutting my f–king mouth."
Never one to back down, JWoww retorted, "Chew toy! Like, he's actually dumb to stay with you."
The tension spilled over into season three, especially after JWoww saw how often Angelina and Ronnie discussed her divorce from Roger on-camera, something she had asked the roommates not to do.
"Going into the dude ranch, I asked all my roommates to keep quiet about my divorce for the sake of my kids," she said in a confessional. "I wanted to tread lightly because I just didn't wanna talk about it on TV. But you know, Roger decided to post 12 videos. So now that it's all out there, yeah, I'm gonna clap back at Ron and Angelina!"
She apparently clapped back via text messages, which Angelina shared with Snooki on-camera. "If I see anything about my marriage come out of your mouth, you better pray you never see me after," one read, and another saying, "Keep my name out of your f–king mouth, and tell Ron to stop f–king bitches, and maybe he won't get his ass run over." Yikes.
While the two eventually broke bread over lunch and went on a trip to Las Vegas together, they still were getting small jabs in at one another's expense before Zack's debut on the show proved to be the match needed to reignite their feud.
Still, in an interview with Hollywoodlife in August, Angelina remained positive about the future of their friendship.
"I wouldn't say everybody's hunky dory, but you know, we are a family…families fight and I do feel like me and Jenni, are just always going to be like that. And I hope, hopefully eventually, maybe not," she said. "But you never know. I don't know. I don't know what the future holds."
Jersey Shore Family Vacation airs Thursdays at 8 p.m. on MTV.
Don't miss E! News every weeknight at 7, only on E!
Source: Read Full Article