Not everyone was pleased with Jennifer Lopez's performance at the Grammys on Sunday, but it sounds like she's okay with that. Jennifer Lopez responded to criticism of her Motown tribute performance, and it's clear that she feels happy with her tribute, even if others weren't.
"The thing about music is that it inspires all. Any type of music can inspire any type of artist," Lopez said to Entertainment Tonight on Sunday. "You can't tell people what to love. You can't tell people what they can and can't do, what they should sing or not sing. You gotta do what's in your heart."
The two-time Grammy nominee added that she listened to Smokey Robinson with her mom growing up, and she was thrilled to be able to perform alongside him. Robinson, Alicia Keys, and Ne-Yo also participated in the Grammys' Motown tribute.
"Singing up there with Smokey Robinson, like, I gotta pinch myself," Lopez told ET. "I grew up on all those songs, and because my mom loved him so much, she passed him on to us." The singer shared a similar sentiment with E! News on the red carpet ahead of the awards show, telling Ryan Seacrest that she, her mom, and her sisters used to sing to The Temptations' and The Supremes' songs together.
The "Limitless" singer also said that it was "OK" if not everyone liked her performance. "They know how much I have been influenced by that music and so it was a natural fit for them," Lopez said to ET, referring to the Grammys' producers. "But for some people, [it wasn't], and that's OK. I'm just very humbled and honored to be able to have sung those songs."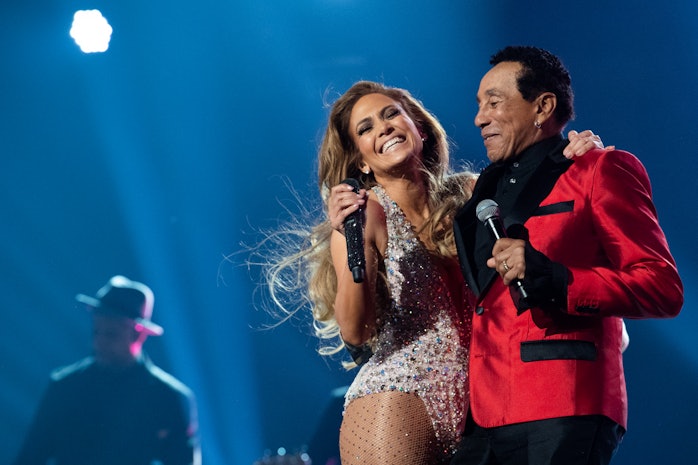 After seeing Lopez on stage during the Motown medley, a number of people tweeted their dissatisfaction with her inclusion in the tribute. Some Twitter users pointed out that having a black artist perform songs like "Please Mr. Postman" and "Dancing in the Street" might have been more appropriate. Others shared the names of Black musicians who they thought would have been more fitting for the tribute.
One person who is on Lopez's side, though, is Robinson himself. During a conversation with Variety, Robinson spoke out against the Motown tribute's critics. "I don't think anyone who is intelligent is upset," he told the outlet. "I think anyone who is upset is stupid."
Robinson added that "Motown was music for everybody," and as a pioneer of the genre, he would know. Still, it's understandable why some people aren't thrilled with the Grammy producers' decision. And, as Jeremy Helligar pointed out in a column for Variety, other Motown legends, like Diana Ross, are still alive, too, and they could have been asked to participate in the tribute instead of Lopez.
In the end, Helligar speculated that the decision may have come down to what producers thought viewers wanted to see. Lopez is "a huge superstar," he noted, which was likely on people's minds when they invited her to participate in the tribute. After all, tributes during the Grammys are often performed by artists that might not be those one would expect. But there are plenty of Black musicians who are superstars, too. And they could just as easily have sung the Motown tribute on Sunday.
Source: Read Full Article