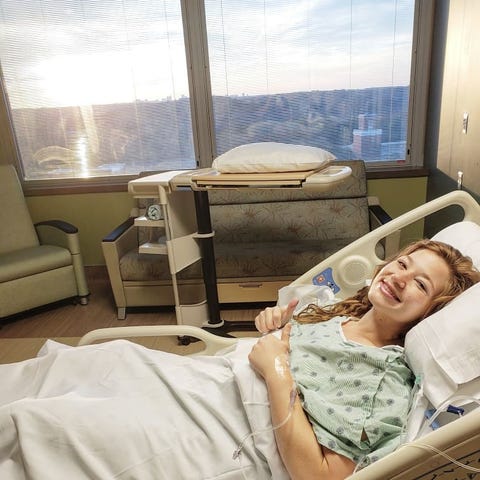 Lexi Reed just got seven pounds of loose skin removed from her abdomen and outer thighs during a skin removal surgery—and posted pictures to prove it.
After shedding more than 300 pounds, Lexi, 27, best known for her Instagram account @fatgirlfedup, was left with loose skin on her stomach, legs, and arms. And when it started getting in the way, she decided to ditch it.
Earlier this week—on Halloween, to be exact—Lexi went under the knife for a lower body lift performed by board-certified plastic surgeon, Joseph Michaels, M.D. In the nine-hour surgery, Michaels removed excess skin from her abdomen and outer thighs, contoured her butt and bottom half to follow the new curves of her body, and even gave her a new hole for her belly button.
If the surgery sounds like a pretty big deal, that's because it is. "[It's] the biggest operation we can do to change a person's body following weight loss," says Michaels, adding that it leaves a 360-degree incision." That, btw, is why it's sometimes known as a 360 bottom lift, as Lexi described it in an Instagram post.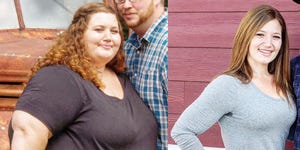 In a video filmed during surgery, Michaels holds up the skin he removed from Lexi's abdomen and places it on a scale (Lexi was totally fine with that, btw—she even regrammed it). That portion of skin alone, which was three feet wide, and one and a half feet tall, according to Michaels, weighed in at 2.725 pounds
View this post on Instagram
A post shared by Lexiiiiiii. ❤ (@fatgirlfedup) on
Lexi started losing the weight when a friend challenged her to cut out unhealthy foods and exercise, and she stuck to it. But, as happens with many instances of extreme weight loss, her skin didn't follow suit.
According to Lexi, her loose skin had become painful and cumbersome, especially when she hit the gym, so surgery was the best option. While she was nervous about the procedure, she was super excited about the results.
View this post on Instagram
9 hours or surgery and a 360 bottom lift tomorrow. This is a major surgery and I will have to spend 6 weeks recovering before I am able to hit the gym. This surgery is something that is not easy for me to do as it means I have to take off time from the things I love, my work, my workouts, my routine, my life, and my many responsibilities. However I know that it'll be worth it. 5AM HERE I COME. Dont miss my last live at 9pm eastern featuring a surprise guest! PS NOT GONNA MISS THAT LOOSE SKIN BLOAT after my water goals or any amount of sodium. WOO. #weightloss #plasticsurgery #fitfam #fedupfam #weightlossjourney #buttlift #drjosephmichaels #fitspo #motivation #weightlossjourney #fitfam #dietbet #stomach #tummytuck #abs #gym #plastics #looseskin #diet #extremeweightloss #surgery #transformationtuesday #fattofit #obesetobeast
A post shared by Lexiiiiiii. ❤ (@fatgirlfedup) on
Michaels followed up the video with a photo of every section of skin removed arranged on a table with labels pointing out which parts of Lexi's body each portion came from—he even labeled her "old belly button."
The amount of skin removed would have been higher, Michaels writes, but he used "excess tissue to form buttock flaps that were then rotated into her buttocks to give enhanced projection and contour." In his caption, the surgeon suggests keeping an eye on Lexi's account for photos of her new body.
View this post on Instagram
A post shared by Lexiiiiiii. ❤ (@fatgirlfedup) on
For now, Lexi's posting on her page about resting up and even catching the sunset from her hospital room post-surgery…but it's not all rest and relaxation: According to a post-surgery Instagram, Lexi revealed that she's in a lot of pain, following the surgery.
"I've never had surgery before and I've cried daily multiple times," she wrote, but added that she's "determined to heal and give recovery [her] all."
Here's to wishing Lexi a speedy recovery!
Source: Read Full Article