In the era of social media, running out of "I Voted!" stickers is a travesty. Unfortunately, it's a phenomenon that's happening all over the country today as a record number of voters turn out for midterm elections.
It happened to me. I dragged myself out the door this morning at 10:30 AM, hoping to make it to my polling place after the morning rush. Surprisingly, there was still a line of people even at that off-time. With the intention of entering a contest to win a free vacation by posting a photo of my "I Voted!" sticker, you can understand my disappointment at learning they ran out of stickers before 8 AM.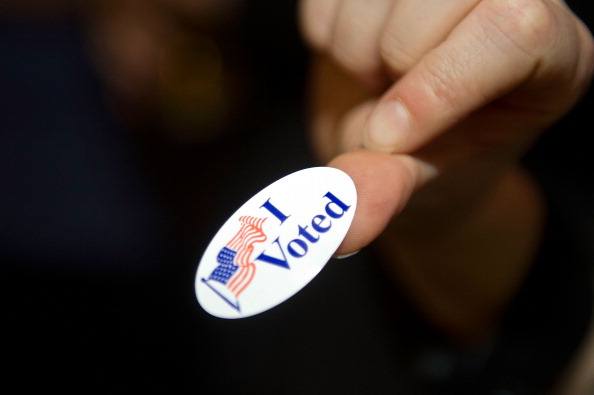 I Voted sticker | Bethany Clarke/iStock/Getty Images
There's a nationwide shortage of 'I Voted' stickers
My situation was far from uncommon. Thanks to the huge voter turnout, many places are reportedly running out of stickers and people are feeling irritated about it. Some districts cite "budget constraints" as one reason that they're running out of stickers. However, this seems like a suspect excuse — after all, Intab, a manufacturer of election supplies, sells a roll of 1,000 'I Voted' stickers for just $7. They distribute more than 30 million stickers per year.
'I Voted' stickers could earn you free stuff
It may not seem like that big of a deal to wear the "I Voted" sticker. But in some instances, it could be the difference between getting something for free or having to pay for it. While this practice is technically illegal (since it could encourage corruption), certain businesses like Uber and Shake Shack offer free stuff on election day regardless of whether you have a sticker or not. But there are some that will only allow you to get a free treat like a coffee or donut if you're wearing your sticker.
Then there's Contiki, a travel company for millennial and Gen Z travelers. They're running a contest for a free vacation to one of several international destinations plus $1,000 in airfare credit. However, participants must post a selfie with their "I Voted" sticker in order to enter. Without that sticker, you can't enter the sweepstakes.
Where did 'I Voted' stickers come from?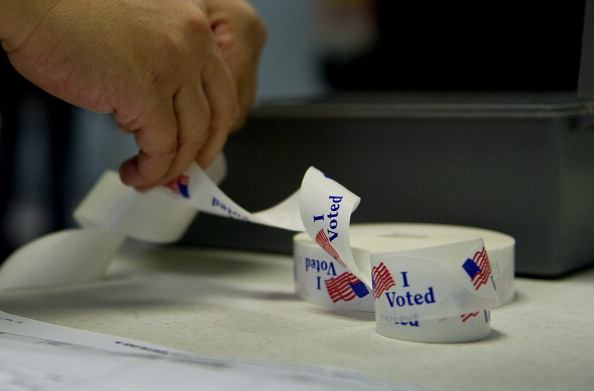 I Voted sticker | Jim Watson/AFP/Getty Images
The Phoenix Association of Realtors claims they're the first to start using the now ubiquitous "I Voted" stickers back in 1985. But some sources claim that they stickers go back even farther than that, with business owners in Miami offering discounts to anyone wearing a sticker in 1982. The stickers became mainstream by 1988.
An election law in Illinois states that if a polling place offers "I Voted" stickers to some people, it has to offer them to everyone. One polling place in Chicago refuses to hand out the stickers but will give voters bracelets with the same message.
There's a way to get your own sticker
Of course, there's not much you can do about your polling place running out of "I Voted" stickers or never stocking them in the first place. There are a few places where you can print them out online so you can post that proud selfie. Some people are taking photos with signs outside of their polling places to make up for the lack of a sticker.
Just remember that it's illegal to take a photo of the polling machine or of casting your ballot. But other than that, make sure you get out and vote today – sticker or no sticker.
Source: Read Full Article