Bravo's Unanchored premieres on December 3, and it's almost guaranteed to get you dreaming of your own luxurious yacht vacation. The all-new show follows a group of friends as they set sail on the catamaran Blue Ocean. Their destination? The island paradise of the Bahamas for BucketLust, one of the world's most exclusive floating festivals.
What is BucketLust?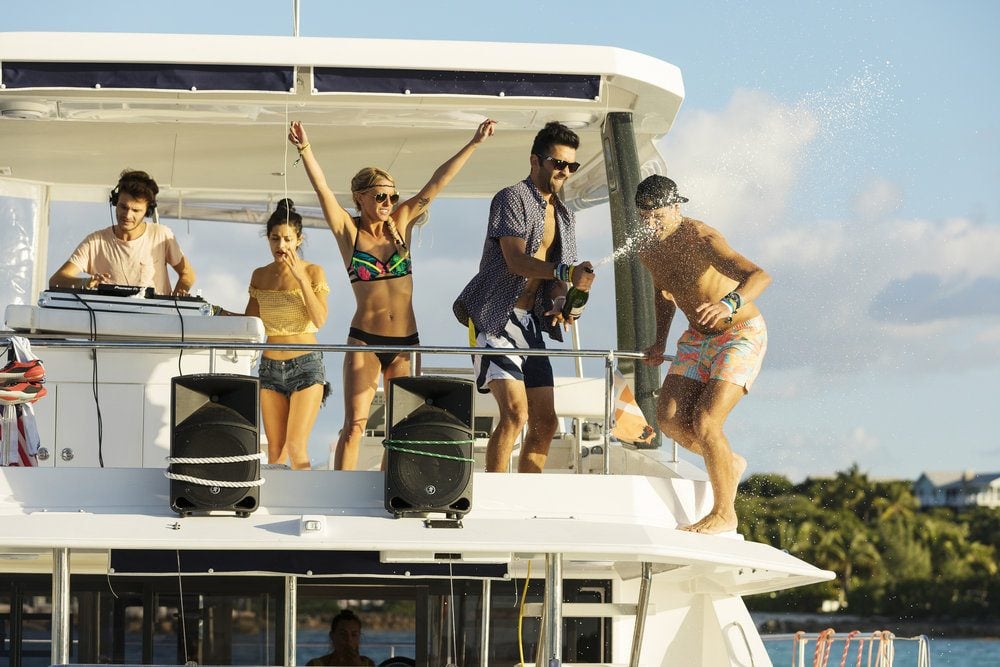 Barrett Young, Danielle McNeill, Rachel McGowan, and Korey Warzala from Bravo's Unanchored | Greg Endries/Bravo
On Unanchored, the cast is joining 350 people on 35 other yachts for a huge floating party in the Bahamas called BucketLust. So what's the deal with BucketLust? It's a one-of-a-kind vacation for people who want something totally unique from their next trip.
"Our mission is to deliver unique sailing events, in bucket list locations around the world, with like-minded adventurers, party lovers, brave souls, trend setters and trail blazers," per the BucketLust website.
Essentially, it's an "epic AF" party on the high seas, according to BucketLust organizers. "Basically, we want to redefine what mind-blowing means so that the next time you Google it, you're tickled by a photo of us in a hazardous amount of dayglow, a 30-strong flotilla of yachts docked in the middle of the ocean, lasers cutting through the stars, and an army of fists punching the sky as our resident DJ makes the high-heavens bounce, shake and goddamn quake."
In addition to the Bahamas, BucketLusters have traveled to Mykonos, Belize, Sardinia, and Lake Tahoe.
How you can attend a BucketLust event 
If Unanchored has you itching to get off of dry land and onto the ocean, we have good news. You can experience BucketLust for yourself. The company has two future events on the horizon.
First up is the St. Martin route. The week-long trip heads to St. Martin, Anguilla, and St. Barts over the New Year's weekend (December 29, 2018 through January 5, 2019).
The Dodecanese route starts from the Greek island of Kos and hits stunning islands in the Aegean sea. There are two sailings, one from June 29-July 6, 2019, and the second from July 6-13.
To join the BucketLust party, you and your friends need to book an entire yacht. Normally, that means a group of 8 to 10 people, half men and half women.
Yachts are sold out for the St. Martin route, but if you check the BucketLust crew finder page on Facebook, you'll still find some people looking to fill spaces on their boat.
Yachts are still available for the Dodacanese route. Prices range from about $6,997 to $13,375 for an entire yacht, or $875 or $1,672 per person. That fee includes the yacht, the skipper, some meals, and access to BucketLust events. But you'll need to pay for most of your food and drinks, marina fees, fuel, and transportation costs to and from the event. You can also book a chef for an additional $738.
How to experience BucketLust for free  
To celebrate the premiere of Bravo's Unanchored, BucketLust is giving away one cabin for two on the Dodacanese route. You can enter by signing up for the BucketLust email list, following The BucketLust on Instagram, or liking them on Facebook. Entries are open until January 15, 2019.
Check out The Cheat Sheet on Facebook!
Source: Read Full Article