What's happening: Tonight, the Moon is in sensual earth sign Capricorn, and on Saturday it scoots into airy, social Aquarius. On Sunday, Mercury, the planet of communication, dips into the chilling waters of sexual, intense, mysterious Scorpio—oh, and FYI, it'll be retrograde in Scorpio in a couple weeks. JSYK. On Monday, the love planets Venus (romance) and Mars (sex) harmonize, but on Tuesday, the ~good vibes~ come to a halt because Mars squares off with Saturn, the planet of blockages and restriction.
Aries
Work's your top priority this weekend (sry), but the Aquarius Moon on Sunday is perfect for making new connections if you're single! And single or not, you're paying close attention to your sex life/intimate relationships for the next several weeks. Monday's an especially great time for sexting, going on a date, or getting cozy with your boo, because the ~good vibes~ coming from Venus and Mars make you feel more romantic, horned up, and eager to love others—both physically and emotionally.
Taurus
Your love life is heating up, Taurus! Tonight, the Moon in Capricorn makes you feel more adventurous. You might match with someone suuuuuuper sexy but totally not your regular type, or you might try out a new kink with your boo. On Sunday, Mercury enters Scorpio and begins its trek through your chart's relationships zone. This is usually "cuffing season" for your sign because you're focusing on starting or strengthening your relationships…but Mercury will go retrograde soon, so starting new relationships is not the move. Dating, meeting new cuties, and flirting/sexting is just fine, but wait 'til after the retrograde is over to DTR. Take it slow, Taurus.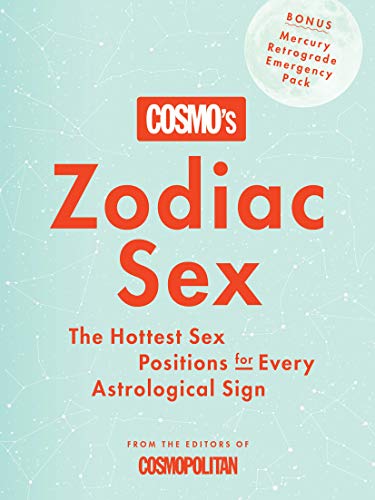 Gemini
The vibe is emo, intense, and intimate this weekend. Sex feels much better, it's easy to get emotionally deep. If you're boo'd up, this is a great opportunity to get way closer to bae. If you're single, however, be careful about who you hook up with, because catching feelings is practically guaranteed. This weekend is your golden opportunity to have amazing sex or share a romantic experience. Once Mercury enters Scorpio on Monday, your focus slowly starts shifting more to life on the job, and your relationship may have to be placed on the back burner for a hot minute.
Cancer
It's been a quiet couple of weeks for you, but this weekend's astro-weather is helping you spice up your love life. The Capricorn Moon makes you want to be with others, so spending time with your crush/boo/FWB is 100% the move this weekend. On Sunday, Mercury enters Scorpio, which livens up your love life a ton. For the next several weeks, you're having more romantic (or sexy!) conversations with others. You could meet your next potential boo, or make an already-existing relationship feel more fun and exciting. There's one speed bump you have to get over before you can fully enjoy these ~good vibes~, and that's on Tuesday, when Mars and Saturn square off. This can manifest as arguments, disagreements, or a lack of libido (either on your end or your partner's). If you feel like there are ton of little issues popping up this week, DW—Mars' and Saturn's yucky influence only lasts for a couple of days.
Leo
You're working your tail off this weekend, unfortunately, until Sunday when the Moon enters Aquarius—make sure you use Sunday's nice astro-weather to spend time with your crush/S.O.. Your life slows down a ton starting this week, thanks to Mercury's entry into Scorpio, and life at home becomes a much bigger priority. Venus is still in your sign, guaranteeing that you're still getting some action, but don't expect anything super exciting. Sure, things are less ~fun~ and ~upbeat~ right now, but your love life can benefit if you're able to focus on romance, intimacy, and taking things slowly.
Virgo
There's a lot of love in the air this weekend, Virgo, thanks to the Capricorn Moon's influence in your chart's zone of romance, sex, and fun. Sex feels incredible this weekend, so enjoy! Starting this week, Mercury is in Scorpio, helping you make new connections and communicate with others more easily. Since Scorpio's an emo water sign, a lot of these connections will revolve around your feelings. This makes it easier for you to find someone to hook up with, but it also makes you more likely to fall hard for your fling. If you're just interested in having fun, choose your partner wisely, but if you're looking for something serious, you can make deep connections with new potential lovers. Don't rush into any new relationships, though, because Mercury goes retrograde in a few weeks, which will definitely bring TONS of drama! One final thing—Monday's astro is great for intimacy, but Tuesday's astro-weather suggests that you're facing some kind of major rejection, so be careful about who you're fooling around with!
Libra
HBD, Libra! It's a pretty quiet weekend until the Moon enters Aquarius on Sunday, kicking of the week with a romantic, lovey, and kinda sexy vibe. You're benefiting a ton from spending time (in or out of bed) with someone you like a lot. Not only is it a ton of fun, but it's also helping you to strengthen your relationships with others because of how eager you are to give and receive affection. Have fun with it—these vibes are super nice, and you gotta take advantage of 'em! Mars Retrograde is still making your love life unnecessarily stressful—especially on Tuesday when it absolutely kills your libido—but there's a quick moment of relief when lovey Venus connects with the red planet on Monday. In short, this is a lucky day for all things re: your love life! If you're single, your next potential lover might wander into your life, and if you're already boo'd up, you can simply expect a good ass time with your partner.
Scorpio
This weekend starts out okay, Scorpio. The Capricorn Moon's influence is helping you make new connections, including romantic ones. Things slow down when the Moon enters Aquarius, but not in a bad way—you're feeling way less interested in sex and romance, and way more interested in ~vibing~ at home. All of the Libra astro-weather is making life feel pretty meh (or maybe even straight-up bad), but this week, Mercury dips into your sign! This makes life a little easier, and it's especially exciting astro-weather for the single Scorpios out there, because meeting your next potential boo can easily happen right now. Just be careful, though—any new connections you make now might not be as amazing as they initially seem, because Mercury will go retrograde in your sign in a few weeks. You might have a great connection with your next date now, but don't start any LTRs right now unless you want this retrograde to seriously screw things up.
Sagittarius
NGL, this week isn't looking too hot for your love life (though DW, it's not bad, exactly). First of all, work is a big, big focus for a lot of the week. Sorry 'bout it. Second, Mercury enters Scorpio on Sunday, activating your twelfth house, which in English means that you can expect an ex or two (or more) to find their way back to you. This lasts for several weeks, and it also makes it really tough to make new connections because you're so focused on the past. You hate to see it, I know, but there's one glimmer of hope for your love life this week on Monday, when the love planets, Venus and Mars, harmonize with each other. This influence brings a ton of luck to your love life, both on a romantic and a sexual level. You're feeling more horned up and eager to try new things (or people) in bed, so take advantage of it! Have phone sex with your latest right-swipe or take your crush on a cute picnic, and the romance and pleasure will be out of this world! Mars pulls a 180º turn on Tuesday, causing trouble in your relationship after being so sweet the day before. This influence is brief, but be careful, or you could end up in a big fight with your boo.
Capricorn
This weekend is nice for you, Capricorn. The Moon's in your sign, helping you connect with others, so spending time with your boo (or just fooling around with someone sexy) is suuuper fun. Mercury moves into Scorpio on Sunday, allowing you to make new connections more easily than ever for the next few weeks. For the happily boo'd up Capricorns, this transit has you focusing on your crew, but if you're single, this is a huge opportunity for you to find someone new. Whether you're looking for love, a FWB, or a NSA hookup (get a COVID test first though) doesn't matter—whoever/whatever you're looking for right now, you'll find! This week's astro-weather is preeeetty emotional, JSYK, and on Monday, you're feeling more lovey and romantic. Make sure to pencil in some time with bae, because Tuesday's astro-weather is, well…a little chaotic. The easy, breezy, beautiful vibes from Monday disappear and get replaced by feelings of frustration and a total loss of libido. Cancel your plans and take some "me time."
Aquarius
This weekend really ain't it, Aquarius, because the Capricorn Moon is literally killing your mood. All you wanna do is be alone, and you know what? That's okay! Rest and relax now, because you'll want to be fully energized on Sunday when the Moon enters your sign, helping you connect with others much more easily—including in the bedroom. There's a super romantic vibe in the air on Monday, giving your love life a major glow up if you play your cards right. You're more likely to find a super hot match on your fav dating app, and you can expect to have a real blast getting it on with bae! On a more practical level, it's a great time to talk things out with your boo if there are any issues, or find clarification on your situationship from that person you've been casually dating. Take advantage of the more practical aspect of this transit as well as the fun, exciting side, because the frustrating, argumentative astro-weather on Tuesday can make even the tiniest issues get blown way out of proportion!
Pisces
If you've been thinking about asking out your crush, you're in luck this weekend! Tonight and tomorrow's Capricorn Moon makes it easier to communicate with others, so shoot your shot! Although the Aquarius Moon on Sunday tends to put you in a "bleh" mood, its negative influence is being overshadowed by Mercury's vibes as it scoots into Scorpio. This is a major mood-boosting transit for you and it lasts for several weeks, making you feel more outgoing and adventurous. This is great astro-weather to ask out your crush or take your dates to the next level (wink, wink). You can seriously improve the state of your love life with your more optimistic attitude. The rest of the week is, in a word, unremarkable—you're most likely focusing a ton on work. Luckily, Mercury's exciting influence lasts for a pretty long time, so even if this week is a little boring, DW, the fun astro-vibes will be back soon.
Source: Read Full Article