It took Gunnar Gehl two years to create his debut EP, 'One Second of One Day.' The rising singer-songwriter revealed the many inspirations that shaped the project along the way, and other fun facts, in an EXCLUSIVE interview!
Gunnar Gehl "really committed" to his singing-songwriting career in 2018, and in just two years, this commitment has birthed his debut EP One Second of One Day. The eight-track project is one you'd turn to while daydreaming — or lamenting — over a certain someone, but Gunnar makes romantic angst fun with his bright vocals that puts him in the same league as pop kings like Justin Bieber and Shawn Mendes at just 19 years old.
While many of the songs on the One Second of One Day EP "come from a place of relationships," Gunnar EXCLUSIVELY tells HollywoodLife about how his "most vulnerable" song on the track list was actually not inspired by romance "at all." He's not always floating on cloud nine; the talented artist is grounded here on Earth as well, very much aware of the harsh realities people his age are going through in the midst of the COVID-19 pandemic.
This inspired Gunnar to launch a livestream campaign between the months of August and October, named after his EP, which was a curation of performances and honest chats about these pandemic hardships with stars like Nessa Barrett (whom Gunnar had an especially memorable conversation with). The singer explains why — and also goes into detail about the many inspirations for his EP's songs and fun facts about his various new music videos — in an email interview with HollywoodLife below:
HollywoodLife: You started working on your debut EP, One Second Of One Day, two years ago! Can you tell me more about the journey it took to complete this project?
Gunnar: Yeah! So much has happened this last year or so, and the only thing holding me together was music and just the continuation of songwriting. So when we finally were ready to put music out, I was set on picking my favorite from the last two years. A couple songs came from a little songwriting camp I did last December, a couple came from a more recent time, and "Missing Someone" is the oldest song on the project. I actually wrote that song two years ago, and it held such a special place in my heart for so long I knew I had to include it.
HollywoodLife: You show a lot of vulnerability in this EP, since many of the songs are quite romantic. What experiences inspired the tracks on this project?
Gunnar: Haha very observant!!! Yes, a lot of these songs come from a place of relationships and love which of course is a place of vulnerability. There's a couple songs that come from downs in relationships but also a lot of positivity. One of my favorite "relationship" songs is "Pleasure & Pain" because it plays both sides. It's that feeling of accepting anything thrown at you, including all the bad just for the moments of good. Although, I think the most vulnerable song on this project is "Good Enough" which doesn't come from a relationship place at all. This song is about the feeling of not thinking or not knowing if you / what you're doing is enough. I think this is something that everyone has been through and it's a real thing that I was going through at the time, so it's really special to see people connect with it.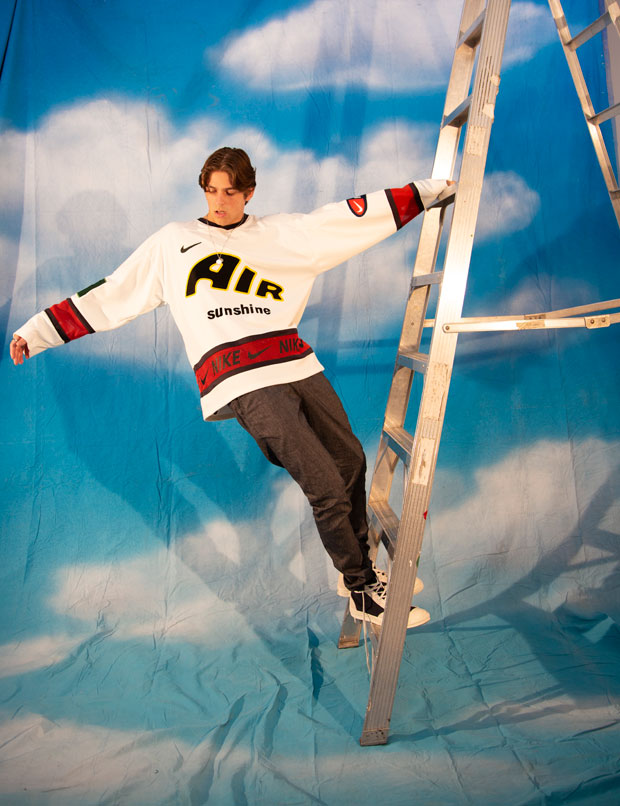 HollywoodLife: Is there one song among the One Second of One Day track list that is especially personal, and why?
Gunnar: "Good Enough" for sure. I was just going through it with the label I used to be with and every song I wrote got the same reaction of "keep writing keep writing." So after months of making music and hearing that, I was just at a breaking point. I walked into this session and had all these emotions built up and just broke down and wrote this song. "It's time to be honest, I'm anxious just thinking about it, I'm pacing, I'm tired of wondering is this good enough…."
HollywoodLife: Your two most recent music videos, "Missing Someone" and "Not Even In My Dreams," were both filmed around water. Is there special meaning behind this?
Gunnar: YES THERE IS!!! We recorded both of those videos in Tahoe where we were writing a lot of what will be my debut album. We had some of my favorite songwriters and producers all in a house for about 10 days and we created some of the best music I have ever made…I know we are focusing on the [One Second of One Day] EP but I have to say how excited I am for the next round of music.
https://www.youtube.com/embed/cvbw2bsEEUk?version=3&rel=1&showsearch=0&showinfo=1&iv_load_policy=1&fs=1&hl=en-US&autohide=2&start=76&wmode=transparent' allowfullscreen='true' style='border:0;' sandbox='allow-scripts allow-same-origin allow-popups allow-presentation'>
Gunnar: We did something really really cool for the "one piece" music video coming out. I can't say too much other than there are 4 Gunnar's in one video :)))
HollywoodLife: You were simultaneously wake surfing and mouthing along to the words of your song for the "Missing Someone" music video! Are you an avid surfer?
Gunnar: I surfed a lot growing up, and being in Tahoe wake surfing and being on the water was such a good throwback feeling, we had to make a piece of content around it. "Missing Someone" was kind of the perfect song because it was like I was singing about an old version or hobby.
HollywoodLife: You launched a livestream campaign, named after your debut EP, to help youth struggling amid the COVID-19 pandemic. You also invited a number of musical artists to perform and chat with you for the livestream series! What were some standout conversations you've had with these guests, and who were they with?
Gunnar: Yes!! The summer series was the absolute best thing we could have done during this time. During Covid, so many people experienced challenges mentally, some that have never really experienced them before, like me. Because of all this going on, I just wanted to give people an outlet to see artists they look up to talk about things they're going through. There is such a divide with social media because it's so easy to look at someone and think their life is perfect, so hearing first hand that everyone goes through the same thing was a really special thing. I think one of my favorite episodes was with Nessa Barret talking about the things she battles with. She talked about her struggles with Bipolar 2 and I think it meant a lot for her to tell people the things she deals with. It also was so amazing and important for her audience to see that she goes through things like anybody else. No amount of followers or fame or money can fix what humans deal with internally, so I was really happy that she opened up like that.
https://www.youtube.com/embed/F9HCJZ0M4K8?version=3&rel=1&showsearch=0&showinfo=1&iv_load_policy=1&fs=1&hl=en-US&autohide=2&wmode=transparent' allowfullscreen='true' style='border:0;' sandbox='allow-scripts allow-same-origin allow-popups allow-presentation'>
Gunnar: It's definitely helped me learn patience on a level I was not on haha. I've actually been really fortunate to be as productive as I have during this time with music and the [One Second of One Day] show. Like I said, I had so much music piled up from the last two years I was just focused on getting it out to the world. I'll tell you the hardest part about this pandemic has been the inability to see fans and perform like we used to. On stage and in that environment is where I feel the most comfortable and "at home," so I miss that beyond words. I miss hugging and being face to face with everybody.
HollywoodLife: Let's backtrack a bit, now. When did you first start singing, and when did you get really serious about this path?
Gunnar: I think I really started singing when I was like 14… but it was HORRIBLE ahahah. I was just making music and having fun. It really started to get serious in 2018 when I started to take songwriting into my own and really committed to this. It was later that year when my first tour with Prettymuch happened, and from the first moment of the first show, I knew with complete certainty I would never stop doing this. On stage I felt a comfort that I had never felt anywhere else. After that I spent time just honing in on my sound and writing a bunch of music and practicing non-stop…Now we're here two years later at the real beginning. 🙂
HollywoodLife: You also play the guitar! How long have you been playing?
Gunnar: I've been playing guitar since I was 7! I've loved the guitar forever, it will always be a part of me, my music, and my shows.
HollywoodLife: Finally, are there any future projects or performances that you can tease?
Gunnar: Oh yes. 2021 is going to be an exciting year and I couldn't be happier about the music on the way.. STAY TUNED !!!!!!
Source: Read Full Article