Carrie Underwood's had a wild year: After a fall down the stairs resulted in more than 40 stitches to her face, Carrie took some time off to recover.
Now, the singer, who's pregnant with her second child and promoting a new album, Cry Pretty, says her face injury affected her ability to sing for a while.
"I had stitches inside my mouth, outside my mouth. It was physically impossible," Carrie told Vulture. Though she was eager to return to the studio, she said that overcoming her injury was a real mental challenge.
View this post on Instagram
Ready to cheer on the boys tonight! Especially that #12! I hear he's alright! 😘 @mfisher1212 @predsnhl #LetsGoPreds
A post shared by Carrie Underwood (@carrieunderwood) on
"It was a mind game: 'Do I sound the same? Is my diction the same? Does my mouth move the same as it did before?' I would sing something and then look at David [Garcia, a writer-producer on her album] and be like, 'Did that all come out clearly?'" Carrie said she initially had difficult saying words with "m's and b's and p's."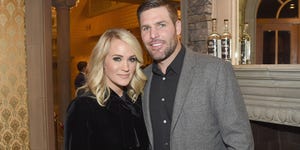 Though she worked with a vocal coach while rehearsing for her role in The Sound of Music, Carrie said she didn't go that route this time. "I feel like you just kind of have to find your way through it. I don't like it when people try to tell me how to sing, because it should be natural."
Luckily, Carrie bounced back, and said she hopes her voice will only continue to improve. "I kind of expect I'm not always going to sound like I'm 22 coming off of American Idol. Hopefully I get better," she said.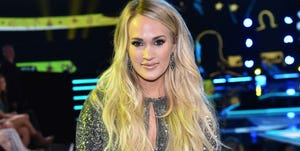 She also spoke about her decision to open up about her miscarriages on her recent album. "It wasn't a conscious thing. It wasn't like, 'I'm gonna write about this, because this just happened.' It would be completely inevitable," Carrie told Vulture. "I'd have a terrible day at the doctor's office and then come into a writing session and be like, 'I'm sorry guys. I might suck today. I just got some bad news.'"
She said her album is a direct reflection of the struggles of the past year: "Things aren't literal, but I look at a song like 'Low,' and that was my year last year," she said. "I listen to that song now, and there's a good chance I'll cry, because it was just so personal."
But with a new baby on the way in 2019, hopefully things are all looking up for Carrie from here.
Source: Read Full Article