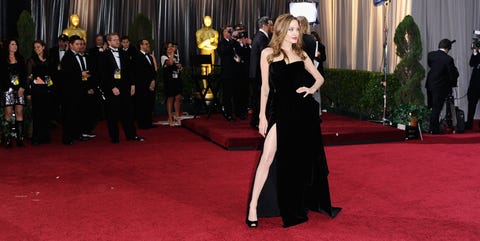 There comes a time during every red carpet and star-studded party when a celeb makes an entrance exposing a little (read: a lot) of leg in a thigh-high slit, or sheer ensemble. Those moments only ever make me want to beef up my #legday routine (you know, after I wonder what they're using to keep that revealing outfit in place).
I regret to inform you that looking at photos of these chiseled legs won't actually tone yours, but there's no shame in trying. At the very least, it may inspire your next workout.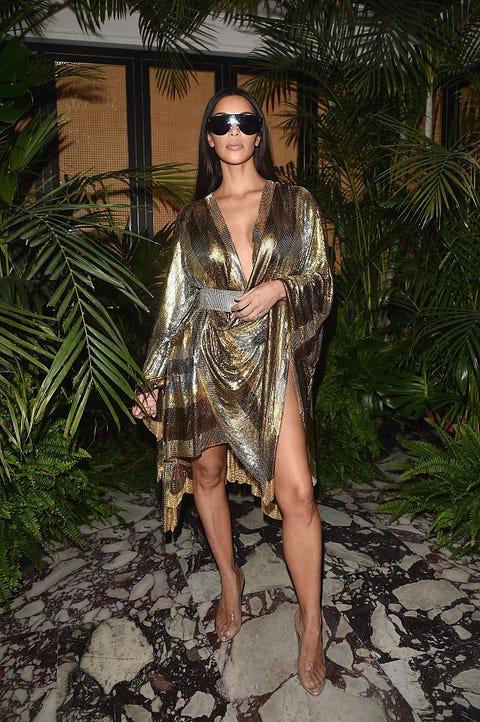 Getty ImagesJacopo Raule
Kim Kardashian at the Balmain Paris Fashion Show After Party in 2016
Understandably wearing sunglasses to block the reflection of her dress, Kim stepped out in this slinky chainmail lewk (fresh off the runway, per Vogue) that came complete with a hip-high slit. Kim works out six days a week, which explains that muscle tone.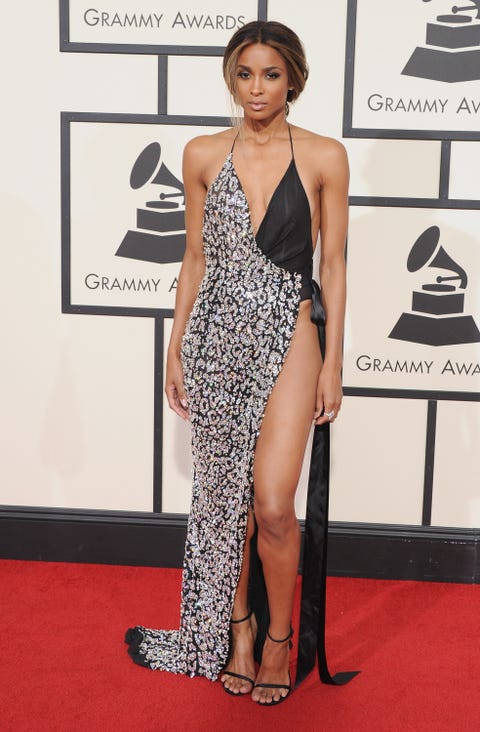 Getty ImagesJon Kopaloff
Ciara at the Grammy Awards in 2016
Ciara offered up the most leg of the night on the Grammys red carpet in this practically one-sided wrap dress. Her body had fans questioning her status as a mere mortal, per Us Weekly. Same.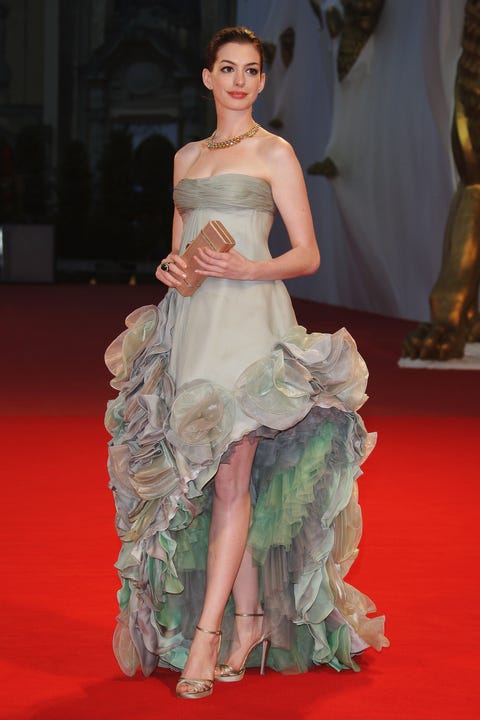 Getty Images
'Anne Hathaway at the 'Rachel Getting Married' premiere in 2008
For the premiere of her film "Rachel Getting Married," Anne donned this green asymmetrical gown. The dress offered the best of both worlds—a floor-length look from one side and a whole new shape when she turned. As great a year as this was for her legs, it was an even better one for Anne, who was nominated for an Academy Award for this role.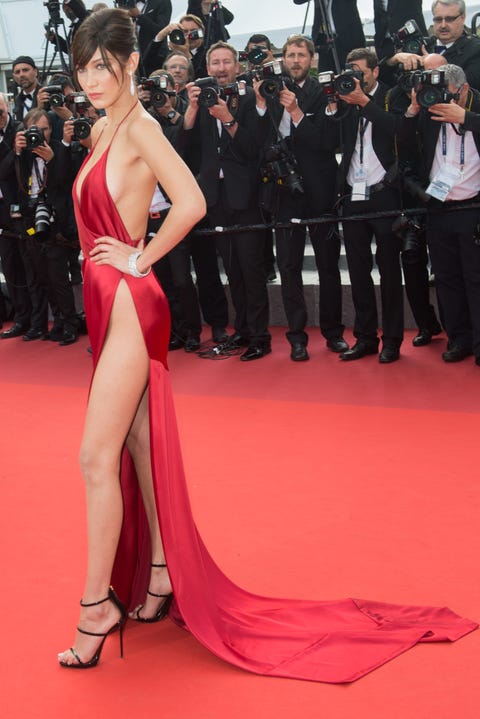 Getty ImagesSamir Hussein
Bella Hadid at the Cannes Film Festival in 2016
Bella served looks in this risqué red dress. While I kept my fingers crossed hoping the wind was on her side, her stylist spoke to Vanity Fair and revealed the model was fully covered down there thanks to the dress's built-in bodysuit.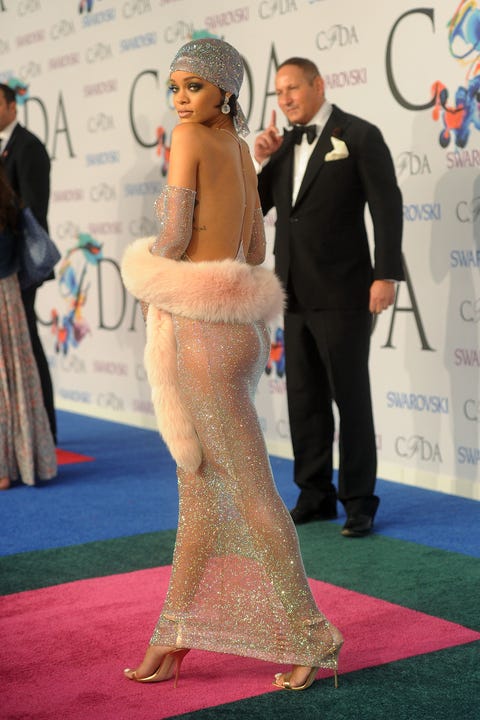 Getty ImagesJamie McCarthy
Rihanna at the CFDA Fashion Awards in 2014
The Bad Gal shined bright like a diamond when she received her fashion icon award in nothing but 200,000 Swarovski crystals (even on her gloves), a fur shawl, nude underwear, and gold sandals, per The Washington Post. The risk-taker has never been afraid of showing off her legs, and this number showed just how far she's willing to go. Keep 'em coming.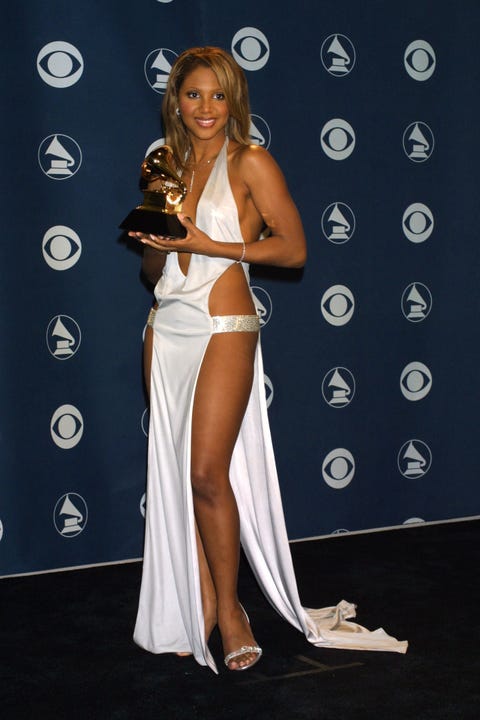 Getty ImagesKMazur
Toni Braxton at the Grammy Awards in 2001
Toni was nominated for her R&B album The Heat—and that's exactly what she brought to the Grammys. In a white dress with a plunging neckline, cutouts, and slits all the way up both her legs, Toni accepted her award and earned her spot in the #LegGoals hall of fame.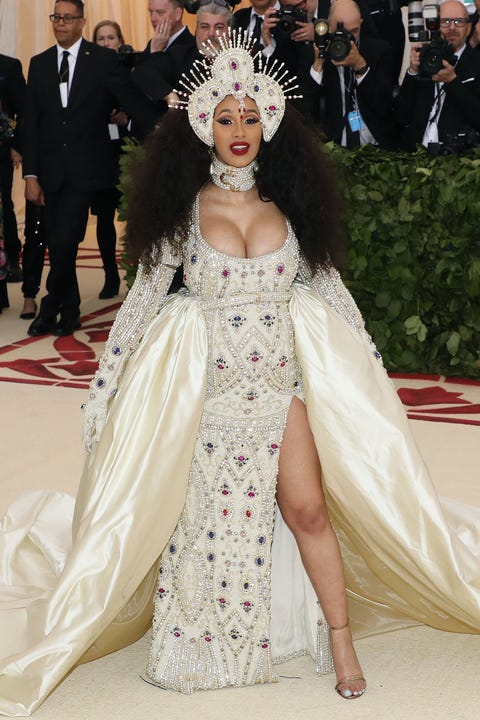 Getty ImagesTaylor Hill
Cardi B at the Met Gala in 2018
Thank you, Cardi, for reminding everyone that subtlety is boring. The rapper displayed her baby bump and an entire leg through a sky-high slit at her first ever Met Gala appearance, per Vogue.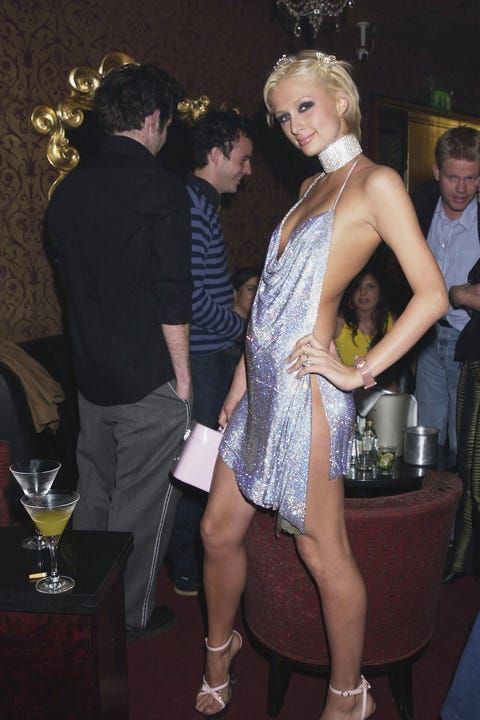 Getty ImagesDave Benett
Paris Hilton at her 21st Birthday Party in 2002
A 21-year-old Paris wore a barely-there chainmail dress which may as well have been her birthday suit. This look is actually making a comeback right now, per Vogue, and it's no wonder—look at those stems!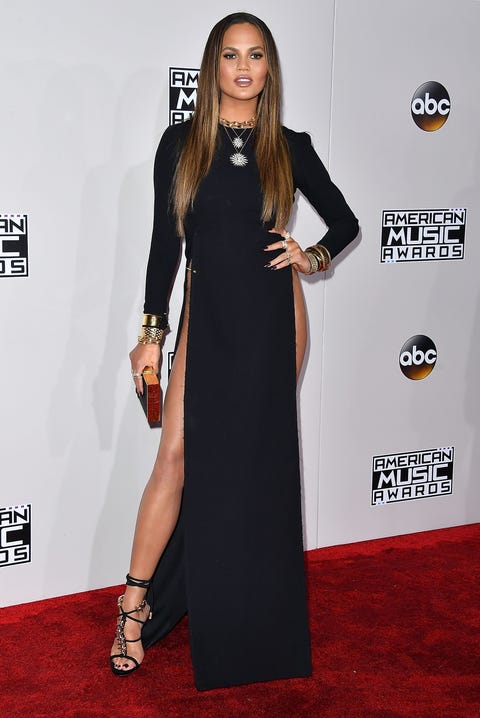 Getty ImagesSteve Granitz
Chrissy Teigen at the American Music Awards in 2016
This dress was so revealing that Chrissy gave a shout out to her laser hair removal spa on Instagram. For those who got a little more than they asked for, she offered: "apologies to anyone harmed mentally or physically by my hooha."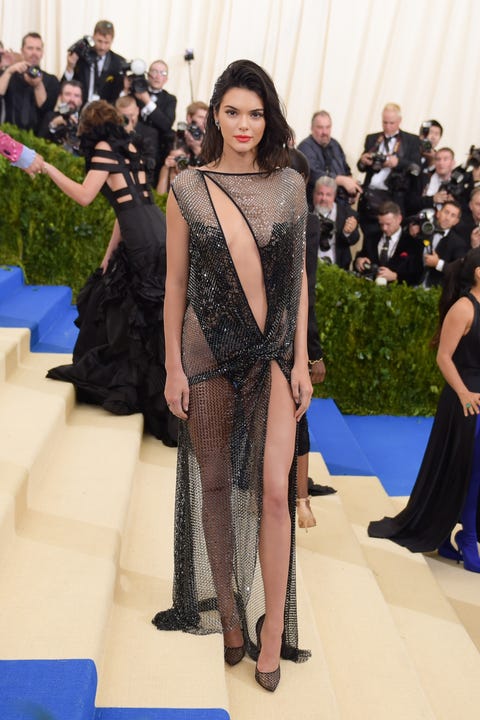 Getty Images
Kendall Jenner at the Met Gala in 2017
Kendall's beaded dress included a slit AND sheer fabric, which gave onlookers a view of both legs. The model once spilled that she'll workout even when she's traveling—so, that explains a lot.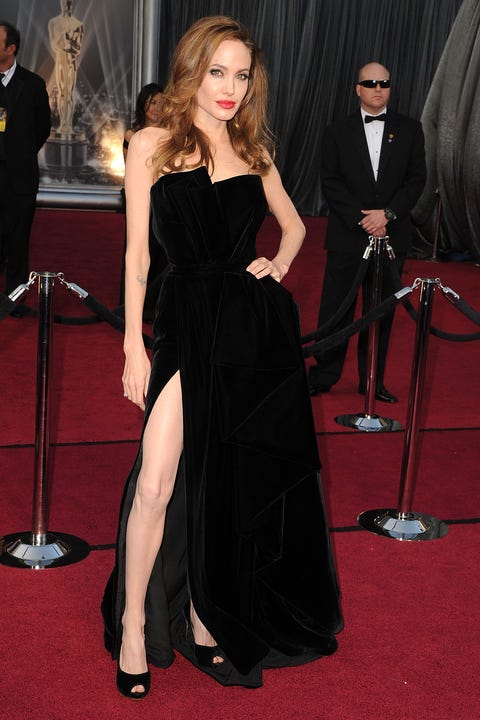 Getty ImagesSteve Granitz
Angelina Jolie at the Oscars in 2012
This Oscars leg moment quickly went viral and even earned itself a verb, according to ABC: "Jolie-ing." Winners got on stage and mocked her pose, while someone at home was busy creating a Twitter account for her right leg. Love it or hate it, not showing that toned leg would have been a disservice to the world.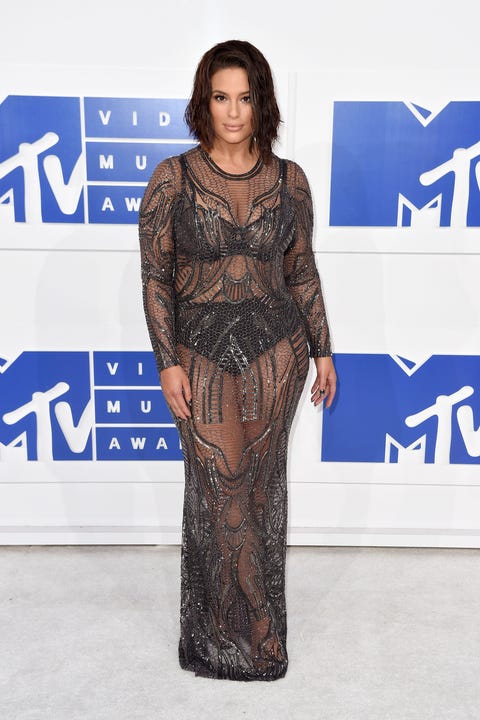 Getty ImagesNicholas Hunt
Ashely Graham at the MTV Video Music Awards in 2016
The model wore a 'naked' dress to the VMAs and reminded everyone why those dresses are gifts. Ashley's long legs, accentuated by intricate beading courtesy of Naeem Khan, per Glamour, didn't quit.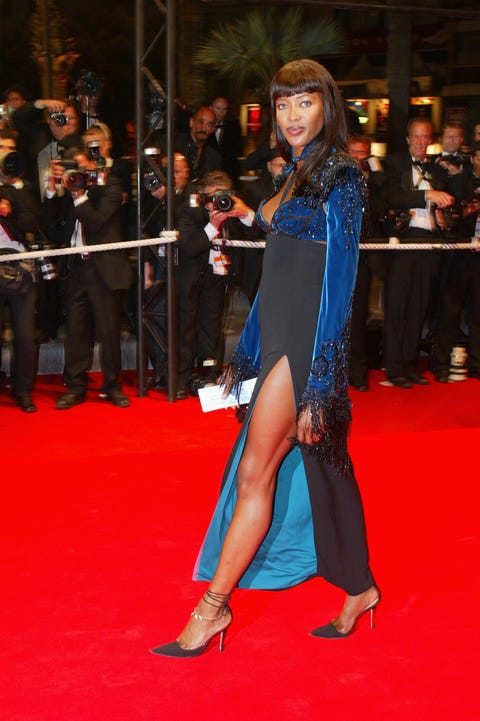 Getty Images
Naomi Campbell at the Cannes Film Festival in 2002
Just when you thought you were used to Naomi's stunning legs, they wowed again in 2002. She brought them out to play at Cannes, according to Vogue, in a blue and black dress with a slit up to there that showed off her muscle.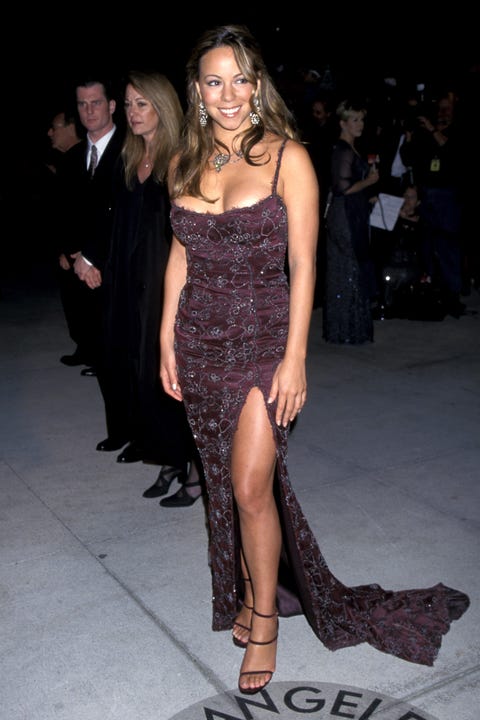 Getty ImagesJim Smeal
Mariah Carey at the Vanity Fair Oscar Party in 1999
Mimi wore a form-fitting and leg-baring gown at the after-party following her Academy Award performance of the Oscar-winning song "When You Believe" with Whitney Houston.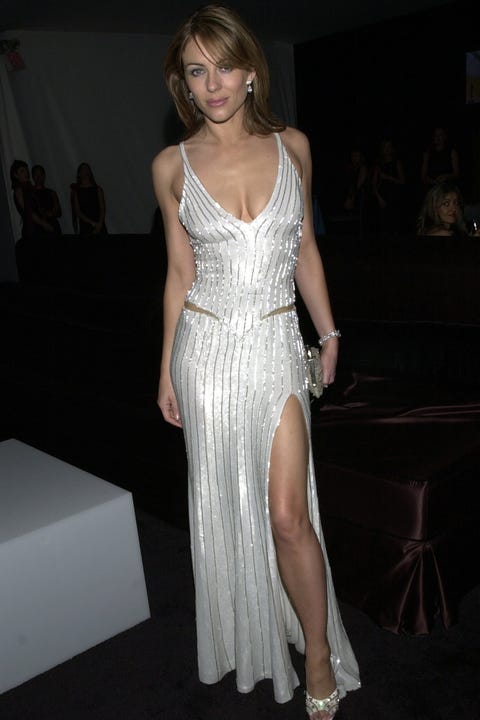 Getty ImagesKMazur
Elizabeth Hurley at Elton John's Oscar Party in 2001
Elizabeth partied at Elton John's sixth annual Oscar Party in a shimmery white gown. I can only imagine that her leg, on full display, told everyone in attendance that she came to slay.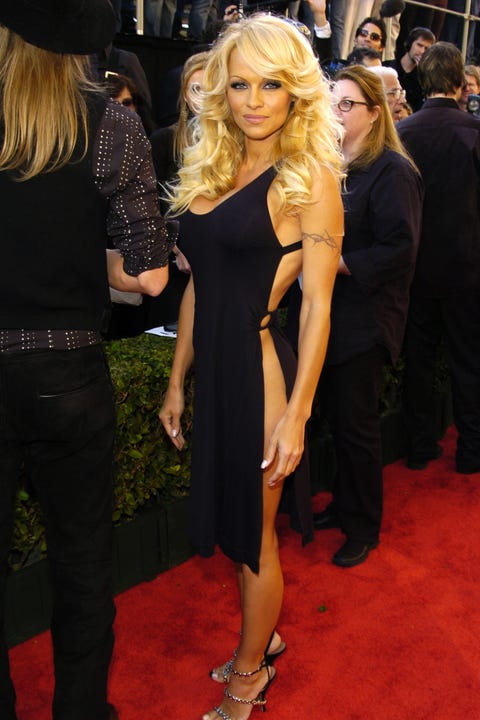 Getty ImagesKMazur
Pamela Anderson at the American Music Awards in 2003
Pam attended the awards show with her then-boyfriend Kid Rock and left her underwear at home. The bombshell turned heads in a short black dress that showcased her legs between waist-high slits on each side. While her boyfriend was nominated for two awards, per Billboard, I'm pretty sure I know what everyone was really focused on.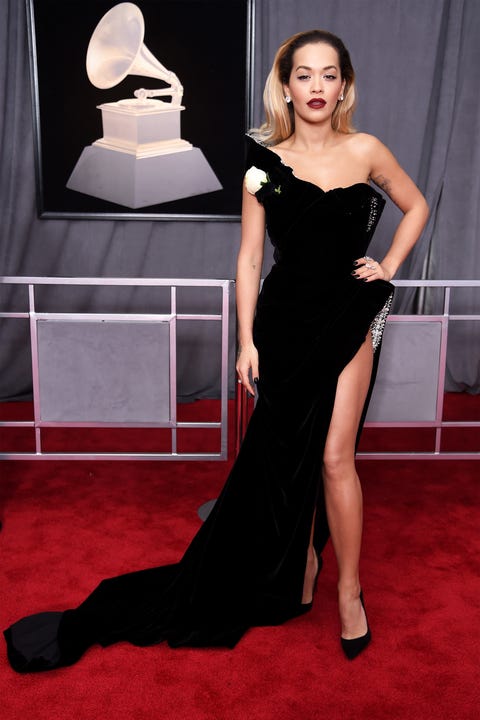 Getty Images
Rita Ora at the Grammy Awards in 2018
Rita's leg stole the show. Not only was her leg exposed via a super-high slit, but it was also accentuated by crystals, thanks to designer Ralph & Russo, according to Rolling Stone. With a leg like that, no one would have missed it, but the crystal-encrusted signal was a nice touch.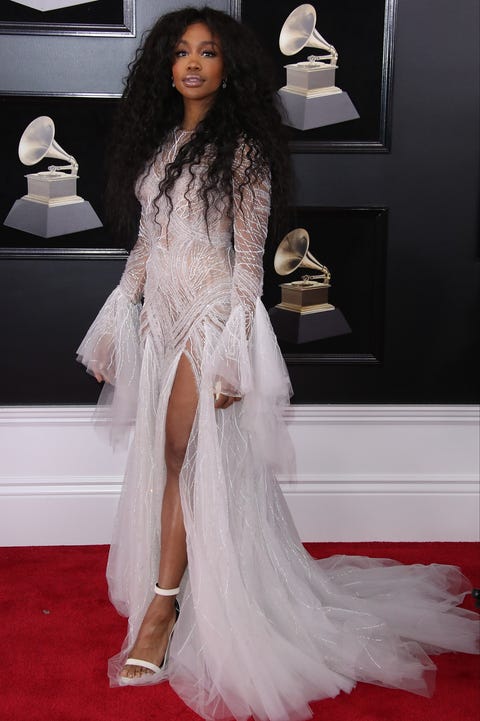 Getty Images
SZA at the Grammy Awards in 2018
The singer offered a gauzy peek at her legs in the gown she wore to the Grammys. SZA was nominated for five awards for her debut album—the most that year, per TIME. And though she won none, her legs got their time in the spotlight as they rightly deserved.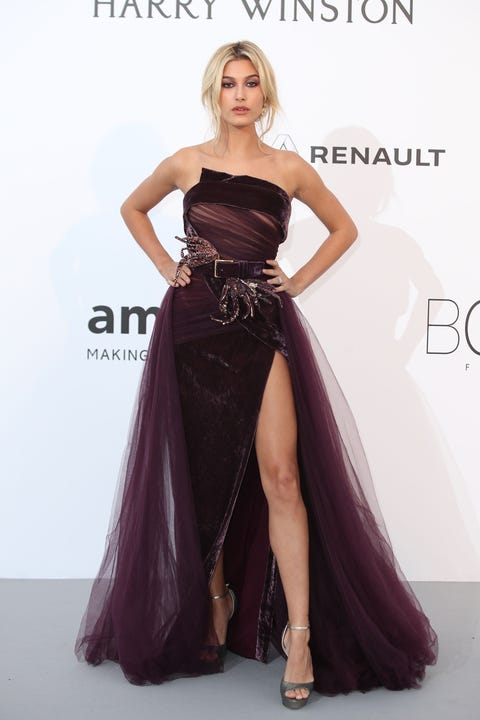 Getty ImagesMike Marsland
Hailey Baldwin at the amfAR Gala in 2017
Hailey's proven she's not slit-shy, and she's damn proud of those toned legs. Even when aubergine tulle and velvet tried to cover them at this gala, Hailey's legs wouldn't be stopped—they just looked too good.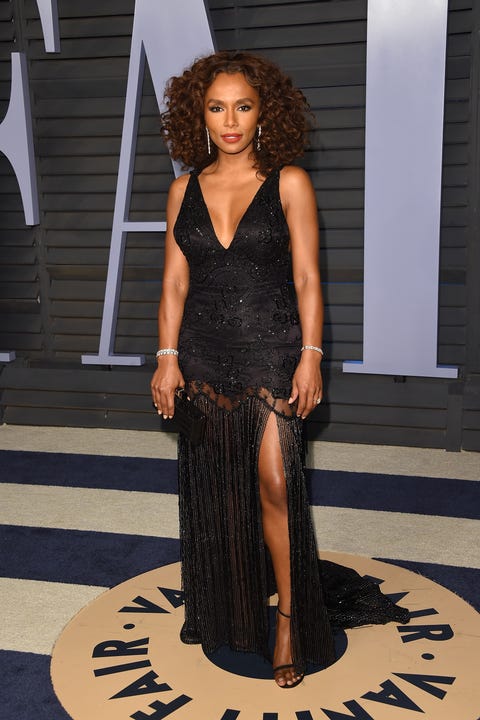 Getty Images
Janet Mock at the Vanity Fair Oscar Party in 2018
Janet put her gorgeous leg forward at the afterparty following her first Oscars. The trans activist and television director had another iconic moment on stage, when she was one of 10 activists asked to join Common and Andra Day's powerful performance of "Stand Up for Something," per them.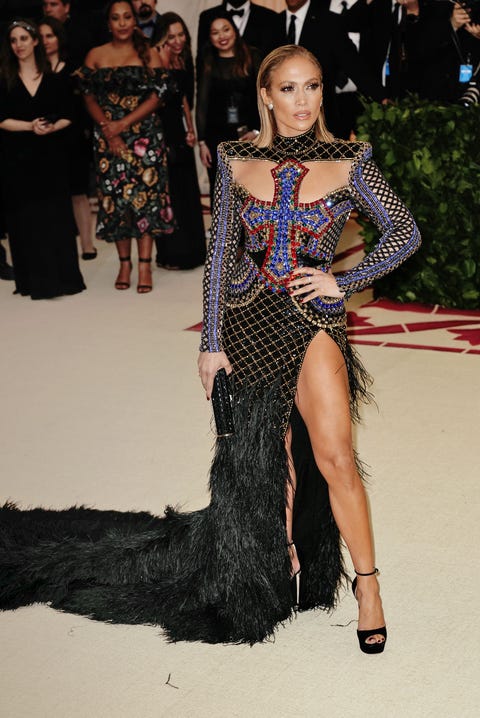 Getty ImagesJackson Lee
Jennifer Lopez at the Met Gala in 2018
Love for J.Lo's legs don't cost a thing. She thankfully brought them out (or at least her left one) for the 2018 Met ball, per People, where she posed that chiseled beauty for all to admire.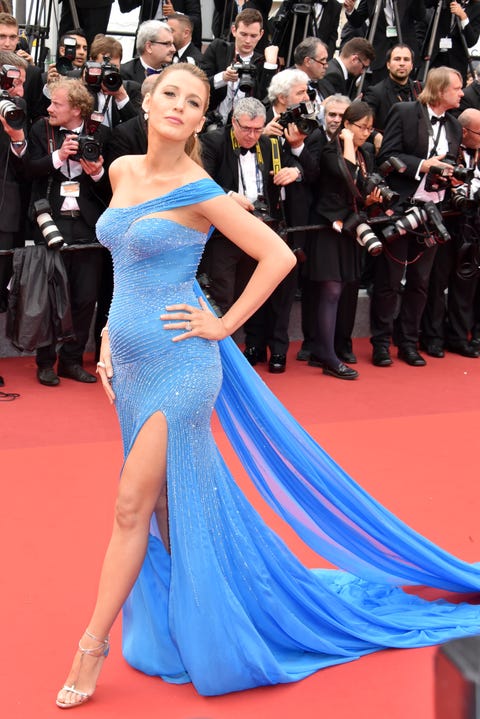 Getty ImagesFoc Kan
Blake Lively at the Cannes Film Festival in 2016
Blake's ethereal gown highlighted her baby bump…and her jaw-dropping legs. The actress was in a film nominated for the festival's top prize, and though it didn't win, Blake's legs sure did.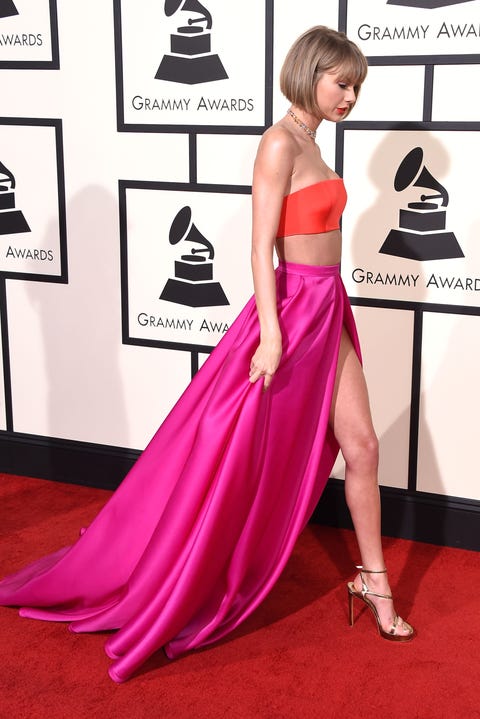 Getty ImagesSteve Granitz
Taylor Swift at the Grammy Awards in 2016
Taylor took home three Grammys, according to the Washington Post. And anyone watching at home got all the #legday inspiration they'd ever need.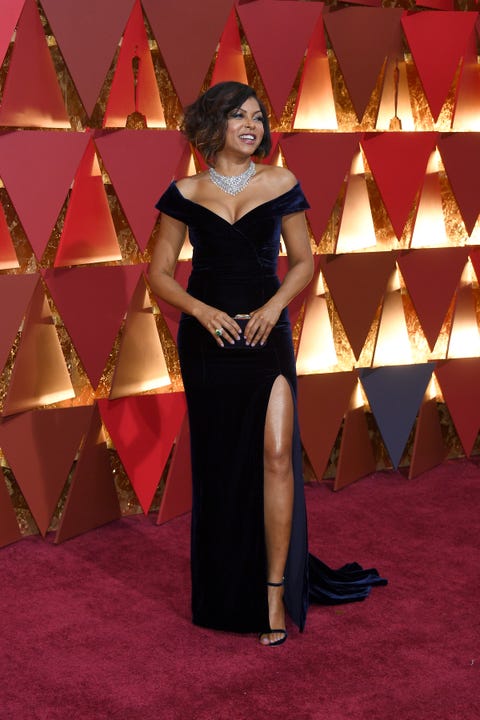 Getty Images
Taraji P. Henson at the Oscars in 2017
And the winner is… Taraji's legs. The actress channelled old Hollywood in a gown that gave her leg all the attention. Her movie Hidden Figures sadly didn't win best picture, but her badass look certainly stole the show.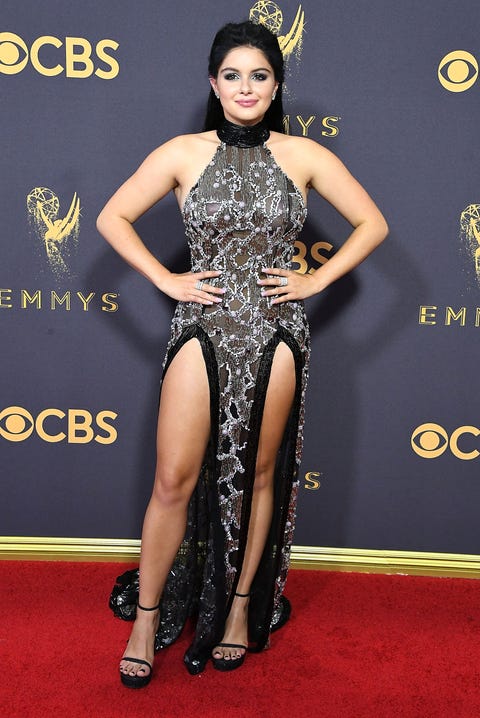 Getty ImagesSteve Granitz
Ariel Winter at the Emmys in 2017
Damn, girl. Was there anyone not taking notes from Ariel on how to pose when your legs are looking fire? Her hit show Modern Family was nominated (again), but the 2017 Emmys also brought viewers both of Ariel's legs, a first for the award show regular.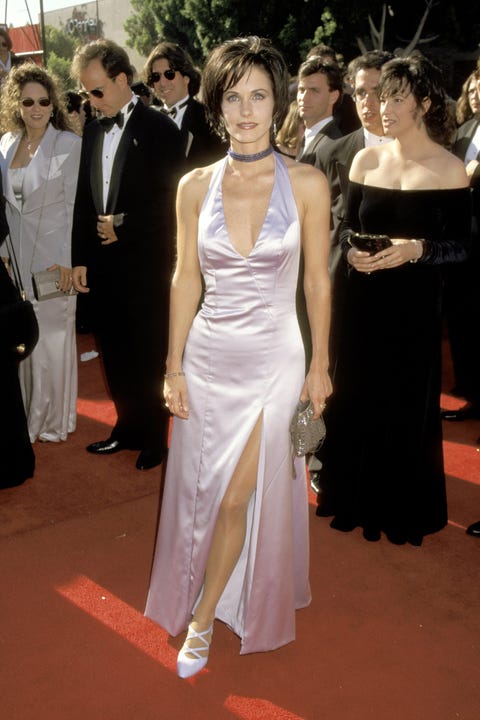 Getty Images
Courteney Cox at the Emmys in 1995
Courteney's show was nominated this year, and her look just proves leg-baring slits and celebrities have been friends for a long time.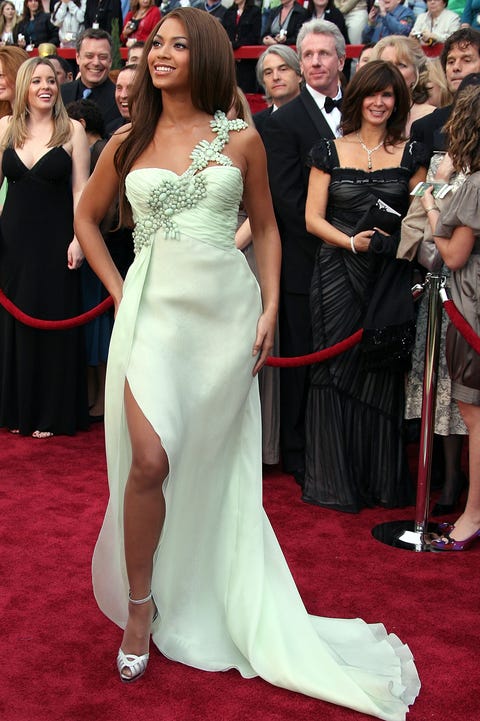 Getty ImagesFrazer Harrison
Beyoncé at the Oscars in 2007
Queen B showed some leg before hitting the stage and performing music from Dreamgirls, which was recognized five times at the award show.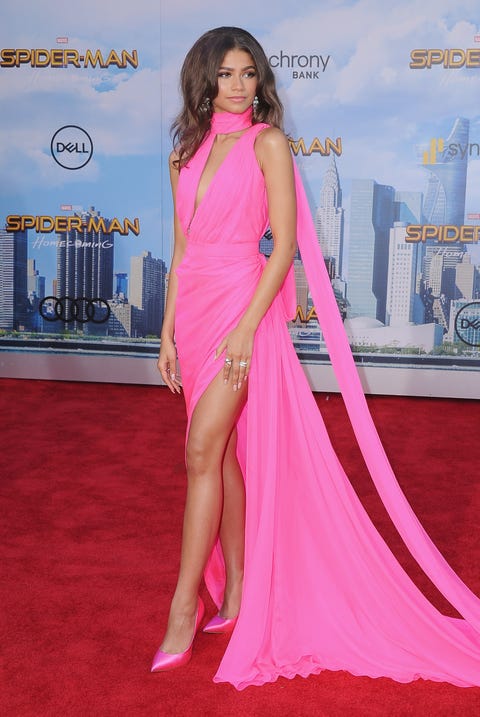 Getty ImagesJon Kopaloff
Zendaya at the 'Spider-Man: Homecoming' Premiere in 2017
Zendaya sizzled in this hot pink gown, according to Vanity Fair. After a peak at those legs, I needed a superhero to save me.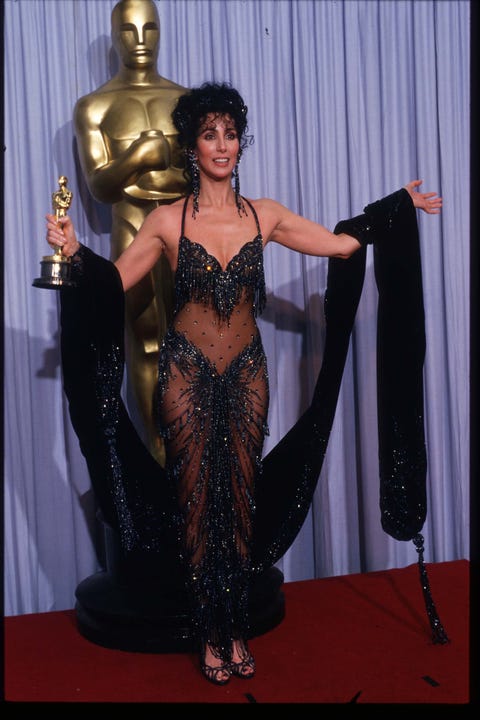 Getty ImagesJohn T. Barr
Cher at the Oscars in 1988
This outfit paved the way for all the 'naked' dresses, according to CR Fashion Book, and I couldn't agree more. The singer and actress took home an Oscar for her role in Moonstruck and, decades later, she's everyone's leg-baring outfit inspo.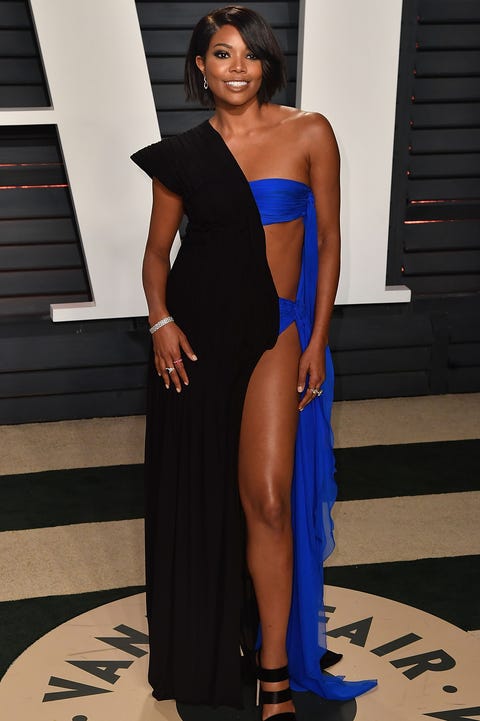 Getty Images
Gabrielle Union at the Vanity Fair Oscar Party in 2017
The actress showed off more than just leg, and I'm here for it. Gabrielle works hard to look this good, and this dress was the perfect way to show off that bod.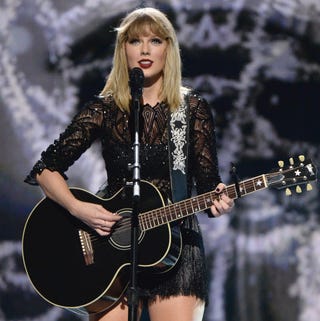 Source: Read Full Article