When I first set out to write this piece — which was before we knew the results of the midterm elections — I knew that no matter the results, I needed to be hopeful. America needed to be hopeful, if only to send a message to the Trump administration that its rhetoric dividing the country along racial lines is not what the majority of citizens want to see in their leaders. That hope, it turns out, was well placed.
It was tempting to view the election solely as a referendum on Donald Trump. As others have noted, the president positioned it as such. If he's made one thing obvious, it's that he loves nothing more than being the center of attention, and he loves a fight. But this election was bigger than Trump. The 2018 midterms was the first national referendum on the white male power structure that has existed for so long in this country, of which Trump is just the most visible emblem. More than 100 women were elected to Congress, by far the most in history. At least 95 women were elected to the House out of 435 available seats, up from the current number of 84. Thirteen women were elected to the Senate for a new high of 23 women out of 100 senators, up from 21. Democrats gained a majority in the House of Representatives for the first time since 2011. All of that means that, amid the ongoing national reckoning around sexual assault and harassment, amid vitriolic defenses of a mostly white, mostly male power structure that protects perpetrators, there will finally be at least one check on the Trump administration's power and all that it represents.

Specifically, there will likely be numerous investigations of cabinet-level officials who are wasting taxpayers' dollars on first-class flights and soundproof phone booths, and Trump may finally be forced to hand over his tax returns. And Democrats will take over control of crucial House panels like the Intelligence Committee, which abruptly ended its investigation into Russian election interference, as well as the Oversight and Banking Committees. Now that Trump has let go of Attorney General Jeff Sessions, the future of the the Mueller probe is uncertain. The House could establish a special committee to ensure the investigation isn't abruptly halted before all investigative threads are run down by federal investigators.
It's easy to forget that these results are the result of almost two years of groundwork. In response to Hillary Clinton's electoral college defeat, a record number of women ran for office, and a record number won their primaries between Trump's inauguration and Tuesday's midterms. They included many first-time candidates for office but also lots of women with strong past experience in the federal government.
The mostly Democratic women victors include veterans of the wars in Iraq and Afghanistan, former officials in the the Obama administration's CIA, and women like 32-year-old Lauren Underwood, a nurse who served in the Department of Health and Human Services under Obama and ran on protecting the Affordable Care Act and people with preexisting medical conditions. She is the youngest black woman ever elected to the 14th Congressional District in Illinois, and she's just one of the multitude of women who made history on Nov. 6.
The story of the midterms is the women, as many have observed since the last votes were counted early Wednesday morning and as grassroots organizations and journalists have promised it would be since the Women's March. The thing is, in this moment, deep in the Trump years, it's become hard to believe that anything can really change. The president's Twitter feed alone and the total inability or unwillingness of anyone in elected office to sanction him, leads to a certain hopelessness. Rarely has a public figure been given such latitude to spout the opposite of the truth and declare it fact. This president has taken gaslighting to a truly unforeseen level.
If our representatives — the supposedly brightest, most capable (mostly male) people in the country — are powerless to follow through on their promises, if the voting public elects a president caught on tape describing how he assaults women, was there really any chance that the dream of a female wave on Tuesday night could find a foothold in reality? America had started to feel like a place where that sort of thing just doesn't happen.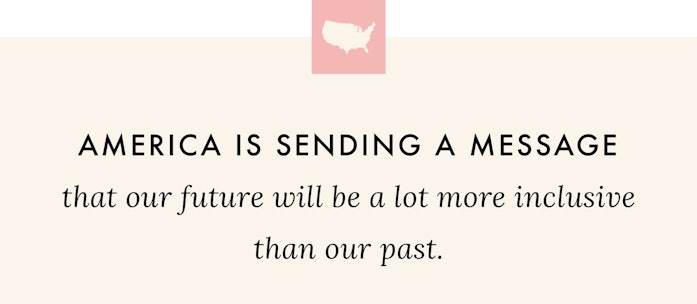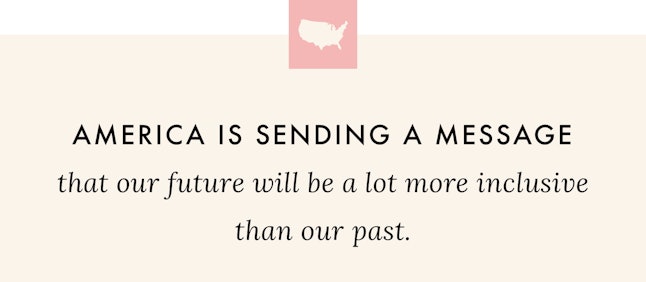 But it happened. In a political environment where so little makes sense anymore, finally, this electoral behavior makes sense. In 1992, the original Year of the Woman, 24 women were newly elected to the House and the number of women in the Senate tripled. That wave was considered a response to the confirmation battle over Supreme Court Justice Clarence Thomas and the treatment of Anita Hill by an all-white, male Senate Judiciary Committee. This 2018 wave comes on the heels of the battle over Brett Kavanaugh's confirmation, in which the sympathetic and credible Dr. Christine Blasey Ford accused him of sexually assaulting her. (He denied the allegations.)
Yes, Kavanaugh was confirmed. That decision was in the hands of the majority Republican, white, male Senate Judiciary Committee. And on Tuesday, through their ballots, the majority of American voters delivered their assessment of that decision and elected the most diverse and female Congress in American history. The vote Tuesday was a rejection of old-fashioned male leadership (remember Sen. Chuck Grassley's get-off-my-lawn demeanor through that whole hearing?) that allows for persistent mistreatment without accountability.
The overarching message of the midterm outcome is that women are going to lead us into the future, and we aren't going to wait for permission. That is what the last year has been all about: women stepping forward to tell their truth, to run for office, and to win. Courage is contagious.
And that is why Tuesday night's results are so significant. Not only were a historic number of women elected to offices, they were women whose identities are not usually represented at the highest levels of government — black, white, Native American, Latino, Muslim, and LGBTQ. Even Guam elected its first ever woman governor. These firsts were not only long overdue, but they also represent a rejection of Trump's regressive message of male dominance and "toughness." They make it less possible for him to claim that people who are different are un-American and fundamentally not "us." As our lawfully elected representatives, these women could not be more "us."
Our post-Nov. 6 America is sending a message that our future will be a lot more inclusive than our past. The 2016 presidential election that put America in this position of hyper-partisanship, the final month of white nationalist terrorism leading up to the midterms, the stoking of division and fear — none of it will cower us. Trump can tweet all he wants, but he likely cannot stop the charge, steadily fueled by so much earned, carefully titrated female anger, toward a more evolved America. Tuesday's results help to turn the direction of the country toward becoming a place for everyone of all backgrounds. This is a place where we do hard things that matter, and women accomplished many hard, good things this week. And Tuesday was just the beginning.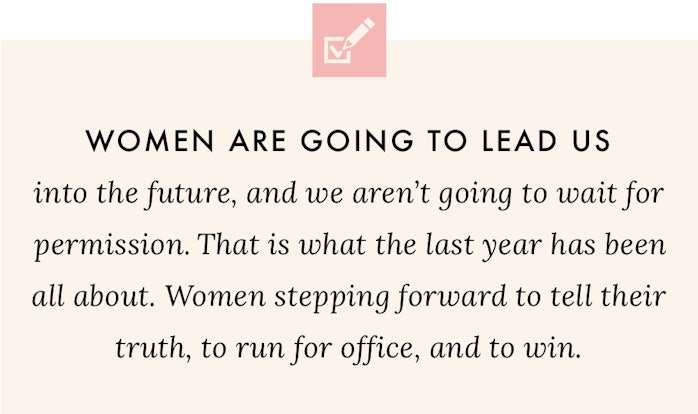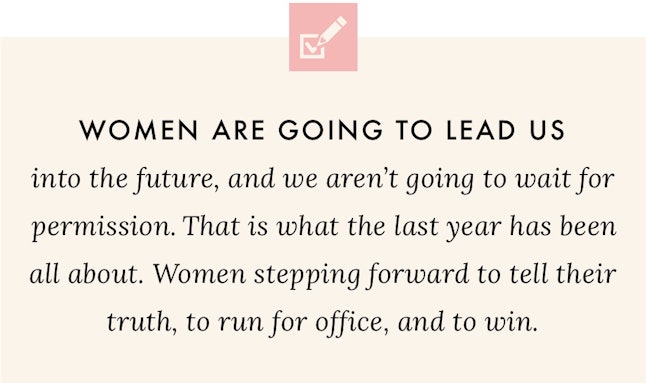 It's unlikely that Trump will moderate his rhetoric after Tuesday's results because it wasn't a complete repudiation given that the Republicans maintained their Senate majority. The GOP — and thus, Trump — did retain significant ground Tuesday night. Rep. Steve King (R-Iowa) and Republican Ron DeSantis won by running campaigns modeled after Trump's that played to a base of voters moved by divisive and racist rhetoric. There were some major Democratic letdowns as well, with Beto O'Rourke coming up short in the surprisingly (some argue triumphantly) competitive Texas Senate race and Andrew Gillum conceding the Florida governor's race to DeSantis, whose main pitch to voters was his closeness with Donald Trump.
But there were also signs that the future is bright and inclusive: We elected the youngest woman ever to Congress, Alexandria Ocasio-Cortez. We elected the first black congresswoman in Massachusetts, Ayanna Pressley. We are going to have the first-ever Native American women in Congress, Sharice Davids and Deb Haaland, and the first ever Muslims, Rashida Tlaib and Ilhan Omar.
These aren't small feats.
When millions of Americans left their homes to protest the newly elected president in pink pussyhats, the GOP's white male leadership knew they had a problem, even if they didn't let on that they knew. That problem didn't end up being the much-discussed, almost mythical blue wave of Democrats coming to oust Republicans. The GOP's problem — the real wave — was women stepping up to be the candidates themselves. They were inspired by #MeToo, the Access Hollywood tape, Clinton's defeat, Trump's election, the Women's March, the Muslim ban, and countless other events that made the necessary action so clear. But then, unlike so many of our elected incumbents, they did the work, often stepping up without the blessing of state or national party leadership. That is a sign of a future very different from our past.
With significantly more women in our state and federal legislative bodies making the laws that govern our lives, we will begin to see a tangible impact, especially on critical issues like health care. If the midterm election didn't exactly hobble Trump, it was, at last, an incontrovertible response to the misogyny, bigotry, and discord that his presidential leadership has encouraged. Just like the fact of his election isn't open to interpretation, the election of these women — and the 7.1 percent Democratic margin in the popular vote for the House — can't be paved over with mendacious tweets. This victory cannot be lied away.
The results of this year's election show that, unlike most of the pre-Nov. 6 Congress, women won't just reject the racist and misogynistic rhetoric and, worse, actions from the sidelines. As we have promised for two years, we are not having it. We will step forward and step up, just as we've done with our #MeToo stories. What Tuesday taught us is that even when women don't wait to be asked, they can and will run — and win.
Source: Read Full Article