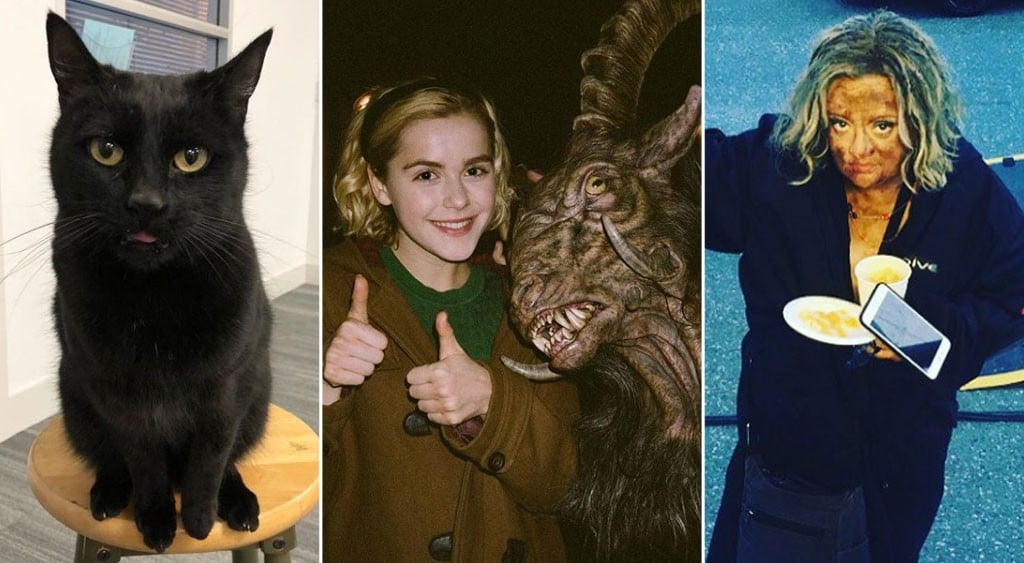 35 Behind-the-Scenes Photos From Chilling Adventures of Sabrina You NEED to See

Chilling Adventures of Sabrina has finally premiered, which means your Netflix queue is now likely full of witches, demons, and villainous high school teachers. But if you need a break from all the "Hail Satan" chants and the love triangle between Sabrina, Harvey, and Nicholas Scratch, might we suggest diving into the deeply entertaining behind-the-scenes photos the cast has been posting constantly on Instagram?
Kiernan Shipka, who plays Sabrina, has basically turned her account into a veritable treasure trove of sneak peeks at what goes into filming the series (from what we can gather, it mostly consists of fake blood and a LOT of napping). Lucy Davis (aka Aunt Hilda) also hasn't been shy about sharing snapshots of the inside of the Spellman mortuary, and Jaz Sinclair (Rosalind) has made sure to post some seriously cute photos of her costars. From glimpses of the dashing, house-arrested Ambrose and even Salem Saberhagen, keep reading to see them all!
Source: Read Full Article