When it comes to getting married, choosing the right engagement ring is one of the biggest decisions ever. Obviously, it's the man who actually goes out and purchases this incredibly important piece of jewelry, and the weight of the decision is fully on his shoulders. But we all know who the ultimate judge of this ring is going to be… That's right, the bride-to-be gazes over this symbolic gift with unparalleled scrutiny, and if it isn't up to her standards, you can bet there will be hell to pay. Like we said, it's a very important decision to make.
It can be quite tempting to go for something bold, unique, even eccentric. But while these engagement rings are marvelous and interesting to look at, we must remember that this is a piece of jewelry that you will (hopefully) have for the rest of your life. Novelties wear off with time, and trends are quick to fade. That's why most women favor a more traditional, timeless wedding ring that they'll always be happy with. That being said, there's nothing wrong with taking a look at some of the more "out there" designs of 2018. Just don't expect us to actually wear them…
20

TAP By Todd Pownell
Kicking off our list, we have the TAP series by Todd Pownell. This taps into the 2018 trend where engagement rings prominently feature uniquely shaped stones and off-kilter settings. This is something we're seeing a lot of, and the TAP series takes this to a completely new level. This is only one example of an engagement ring from this series, and it's one of the most adventurous. There are simpler and more conservative designs by Todd Pownell, but this one fully captures the theme of this article. Yes, it looks cool, but the majority of people probably wouldn't go for it.
19

The Shanhan Collection – Alezan By SK
Take your pick. The entire Shanhan Collection from Alezan By SK is filled with all kinds of eccentric oddities, and there are many of them which could be used as an engagement ring. Especially relevant is the Chevron ring, which you can see on the lower middle finger of the model. This ring is in keeping with the popular "bold band" trend of 2018, where the engagement ring focuses on keeping the diamonds on the band, rather than making a particular stone the center of our attention. This style is said to favor women who want a more practical, subtle engagement ring, while still packing in tons of diamonds. It's a really interesting idea, but most women want that one, big stone.
18

The Grand Hero By Eva Fehren
There are engagement rings, and then there's this behemoth. Whoever said bigger is better kind of got it right, although most people would agree that there is a point where it just gets too massive to be practical. Although there are probably many people out there who would love to rock this (very expensive) engagement ring by Eva Fehren, the majority of people would probably feel a little strange wearing such a massive diamond. We feel like the novelty would wear off after a while.
17

Highland Ring By KatKim
Another big trend for 2018 in the world of engagement rings is uniquely shaped stones. We all know the basics – princess cut, pear cut, marquise, etc, etc. But nowadays, it seems like some of the more adventurous jewelry designers are inventing their very own, totally unique stone shapes. One fine example of this is the Highland Ring by KatKim. This one goes for a cool $6,800, and that's probably due to its unique and customized design, featuring not one but two trilliant style diamonds. It's an interesting ring to look at, but we feel that most people would favor a more traditional design instead.
16

Marquise Overlap Ring By Lizzie Mandler
Marquise-cut diamonds are making a big comeback in 2018, and tons of new and interesting engagement rings designs are sporting this iconic diamond shape. The cut is unique, modern, and gives any ring a flair of classiness. This particular ring by Lizzie Mandler makes sure that everyone within 10 feet notices that beautiful marquise diamond, and that's in part due to the huge, chunky "overlap" design of the ring's band. While definitely eye-catching, we feel that most women would opt instead for a smaller, subtler, and more feminine design.
15

Marquise Crescendo Pave Ring By KatKim
Here's another engagement ring that is banking on the trend of marquise-cut diamonds, and this one also features a very unique and interesting band. Although the diamond is without a doubt a spectacular stone, the thing that really steals the spotlight here is that incomplete ring band. It's another very refreshing and brave choice for those who designed this ring, but is it what most women what? Probably not. In fact, a fair few women would probably feel ripped off by the fact that the ring seems "incomplete!"
14

Diamond And Black Guatemalan Jade Ring By Monique Pean
Yep, now we're venturing into some truly strange territory. Yes, this does in fact "count" as an engagement ring, and unique doesn't even begin to describe this particular piece of jewelry. While this strange ring might seem like it doesn't fit in anywhere, hexagon cuts such as this one are actually trending in 2018, and the shape is popping up on engagement rings all over the place. But that's really where any semblance of normality ends. The stone is off-kilter, and features a one-of-a-kind "shard," which blends its attachment to the band.
High School Bans Expensive Coats To Prevent Poverty Shaming

You Can Soon Book A Stay In The World's First Underground Hotel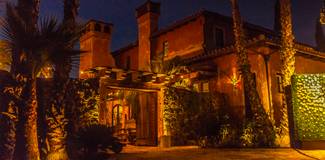 'The Bachelor' Mansion Unharmed From California Wildfire

13

Rubellite And White Diamond Ring By Tate Union
Speaking of which, a perfect example of this "two-colored" diamond system is the Rubellite and White Diamond Ring by Tate Union. Rubellite is that brilliant red gemstone you see above the diamond, and while it's not as valuable as a diamond, it's a great choice for those who want to add a splash of color to their engagement ring. But most people shy away from adding colorful stones to their rings, choosing instead to stick to white diamonds and gold. This is without a doubt a beautiful ring, but it would only appeal to a select few.
12

One Of A Kind Large Old European Diamond Ring By WWAKE
Here's another stunning engagement ring that doesn't actually venture too far into the realms of eccentricity. In fact, a lot can be gleaned from the ring's name: "One Of A Kind Large Old European Diamond Ring. A mouthful to be sure, but WWAKE clearly set out to make a "vintage" style engagement ring that has slightly medieval vibes. The two stone setting is again in line with current trends, and it's definitely conservative – at least by this article's standards. While the vintage inspiration is refreshing, we feel that most women would favor a bit more modernity in their engagement ring.
11

The Ezzat Ring By Eva Fehren
Here's a ring that will definitely get people's attention. Geometric cuts are very in right now, and in 2018 we're seeing sharp lines and hard edges in tons of new engagement ring designs. The Ezzat Ring by Eva Fehren takes that trend to its maximum, creating one of the edgiest rings we've ever seen. Seriously, you could poke someone's eye out with that thing! There's no doubt that rings like these are super modern-looking in 2018, but we're doubting whether many women would choose to go for this very trendy ring, especially when these pieces of jewelry are meant to be timeless.
10

Libra Ring By Spinelli Kilcollin
If you thought you'd seen every weird design an engagement ring could possibly have, think again. We're just getting started. Our next entry is the Libra Ring by Spinelli Kilcollin. Where do we even begin with this one? It's hard not to be impressed by the obviously unparalleled craftsmanship needed to create a ring like this. The precision, the attention to detail, the beautiful design vision – everything comes together to create a real piece of art. This ring takes advantage of yet another trend in 2018 – "stacking." This of course refers to multiple bands, and even though it's amazing to look at, it's not exactly practical for the common woman.
9

Harvest Two-Row Ring By Repossi
Another example of "stacking" can be found in the Harvest Two-Row Ring by Repossi. But while this engagement ring definitely falls under the classification of this trend, it does so in a completely unique way. These rings are not loosely tied together, but instead held apart by a single gold "bridge." A neat touch that will keep these two rings from bunching together and scraping against each other. The ring is definitely beautiful, and each ring actually looks pretty conservative when looked at alone. But put them together, and you're going to be asked that awkward question – "Why are you wearing two wedding rings?"
8

Custom Diamond Cluster Ring By Bario Neal
This amazing ring comes from the esteemed workshop of Bario Neal, and it's one of their many Custom Diamond Cluster Rings. These are truly incredible rings, and the clustered nature of the stones' setting gives the impression of rawness, like your ring is a rare mineral deposit found deep within the Earth's crust. There's also the fact that stones in Bario Neal's Cluster collection come in all different colors, from grey to rose pink as we can see with this particular stone. It's a ring you don't see every day – but most women would probably opt for something a little more traditional with a straighter setting.
7

Cushion Hazeline Ring By Anna Sheffield
Even if you're not a fan of uniquely colored diamonds, it's impossible to look at this particular stone and not feel a sense of wonder. Grey diamonds are some of the rarest and most beautiful varieties, and this color is actually trending heavily for engagement rings in 2018. The Cushion Hazeline Ring by Anna Sheffield isn't only a rich, shimmering grey; it's also quite massive in size. This 4 carat diamond might explain why this extravagant ring costs over $7,000, and while it's beautiful it's probably a bit too over-the-top for most women out there.
6

Nico Ring By Digby And Diona
This is another ring that isn't actually all that exotic. But there's just enough flair here to make it stand out, and perhaps it's not the choice that most women would make. We can see some unique design flairs on the Nico Ring by Digby And Diona, including several diamonds clustered closely together, and some characteristic shapes etched into the ring's band. Although this ring has a very classy and extravagant flavor to it, it also has a "rough and ready" vibe, almost as if it was hammered together by the town blacksmith of a medieval village. Because of this, we feel that most women would give it a pass.
5

Garden Of Eden By Misahara
This has to be one of the most spectacular engagement rings in this entire article. Even the name evokes an emotional response: Garden of Eden by Misahara. Those stunning green emeralds twist and twirl around the band, mimicking wild vines as they reach up to the "sun" of the awe-inspiring diamond at the top of the ring. The independent jewelry design house behind this ring clearly poured their passion and creativity into this one. As beautiful as it is, we're still unsure whether or not most women would be willing to risk wearing this slightly "out there" engagement ring – although mixed metals are very trendy right now.
4

Dark Moon Black Diamond By Trabert Goldsmiths
Here it is, ladies and gentlemen – that one ring that seems to too crazy to be real. But rest assured, the "Dark Moon" Black Diamond by Trabert Goldsmiths is in fact a legitimate engagement ring, and it'll only set you back $8,000 or so. This signature black 571 carat diamond is flanked on both sides by two "crescent moon" diamonds, which give the ring its name. If you're going to go big, you might as well throw caution to the wind and opt for an engagement ring like this one. But we're willing to bet that most women couldn't actually picture themselves wearing this behemoth for years on end.
3

Rose Gold Tiara By Trumpet And Horn
Trumpet and Horn seems to have blended all of the trends we've mentioned so far with this stunning and interesting engagement ring. Let's see, there's the clustered stone trend, the marquise trend, the two stone setting… The Rose Gold Tiara Ring brings everything on board, and somehow it doesn't end up looking like a crowded mess. In fact, some women will probably love the look of this ring. But again, we're willing to bet that when given the choice, most women would give this one a pass, opting instead for a more traditional engagement ring.
2

Precious Dotted Oval Stone Wrap Ring By Natalie Marie
Another eye-catching engagement ring that we just had to include was the Precious Dotted Oval Stone Wrap Ring by Natalie Marie. This designer is well-known for making all kinds of innovative designs, but this one in particular is one of her most adventurous designs. Once again, it's amazing how many different styles and possibilities there really are when it comes to engagement rings, and this unique design is one more to add to the list. But as interesting as it is, we don't really envision women choosing this instead of a more traditional engagement ring.
1

Prive Luxe Diamond Ring By Jemma Wynne
Although it definitely isn't what we would consider a traditional engagement ring, the Prive Luxe Diamond Ring by Jenna Wynne is actually one of the more conservative options in this entire article. This ring takes advantage of another engagement ring trend in 2018 – the two stone setting. With this design, you can have two stones instead of one! Pretty simple, but not everyone will go for it. However, unique rings are possible for the more adventurous, especially for those who want to mix two diamonds of different color.
References: glamour.com, southernliving.com
Source: Read Full Article